1. Four Score: How Elusive Clips Sit Now In West
LOS ANGELES -- Maybe the Los Angeles Clippers take more of their cues from Blake Griffin than we think. When the Clippers lose, it doesn't feel like he was the reason they lost. Then again, you don't often find yourself pointing to Griffin as the reason the Clippers won, either.
The Clippers occupied that same middle ground Sunday night when they beat the Minnesota Timberwolves in overtime without playing winning basketball. They also somehow managed not to lose even though the Timberwolves had a four-point lead with 18 seconds remaining in the fourth quarter and were ahead by two points with the ball with 10 seconds remaining.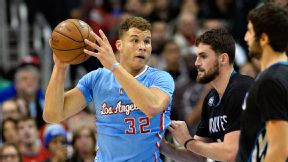 Richard Mackson/USA TODAY SportsBlake Griffin had 32 points and a scoring duel with Minnesota's Kevin Love (45 points).
It led to some seemingly contradictory quotes from Clippers coach Doc Rivers, which included:
• "It was a great lesson for us."
• "We scored 120 points, and I'm complaining. And I should. I thought the way the game was going, we should have been better."
• "I just like that our team's coming together."
• "We have a long way to go as far as play."
The words fit a team that has been fighting with itself for an identity. The Clippers came into the season wanting to be better on defense but found the victories came easier when they allowed the offense to lead them. Then their best shooter, J.J. Redick, got hurt, and points were harder to come by. So they got it together on defense and became a unit that's in the top 10 in opponents' points and field goal percentage.
"We've had the effort, in my opinion, all year," Rivers said before the game. "We just weren't in the right places all year. And now we're just starting to get to the right spaces, the right places. Our talk, defensively, has been phenomenal. Weakside defense is improving."
Then again, after the game, Rivers said: "We were bad in our traps. We were awful at it."
The Clippers were overly emotional, with technical fouls on Rivers and DeAndre Jordan and a flagrant foul 2 by Matt Barnes. They allowed Kevin Love and Nikola Pekovic to destroy them inside and rack up a combined 79 points. They let Minnesota grab 19 offensive rebounds and beat them 54-45 overall on the boards. Then again, in a classic case of "don't let the other guys hurt you," there were two Timberwolves starters (Corey Brewer and Ricky Rubio) who combined for three points.
The Clippers, meanwhile, kept finding new volunteers. A slumping Chris Paul scored 13 points in the fourth quarter and overtime, and made the steal from Kevin Martin that enabled the Clippers to tie the score in the final 10 seconds of regulation. Darren Collison scored 18 points. Jared Dudley made the go-ahead 3-pointer in overtime after missing his first six attempts on the night.
Griffin carried them early on and was the best player on the court for much of the first half, right up until he inexplicably fouled Love while Love tried a desperation heave from the backcourt right before the second-quarter clock expired. Love made the three free throws, which pushed him ahead of Griffin in the first-half scoring column, 22-20.
Before then, Griffin had been effective driving and scoring on counter moves when his direct path to the basket was cut off. He had to manufacture more on his own, once the Clippers' offense got stuck in the second half. He created chances when none existed, such as the backcourt steal (one of four steals in the game) that he turned into a basket to salvage what had appeared to be a fruitless trip downcourt. He had 32 points and 10 rebounds. He cashed in on 10 of his 11 free throws.
"That was the key for me," Griffin said. "I just picked and [chose] some spots in the second half. A couple of times, I settled, just being tired. That's something I've got to learn."
We can allow a 24-year-old time to learn, can't we? As popular as he is with enough NBA fans to have an All-Star voting lead over Love and LaMarcus Aldridge, there's also a backlash from those who feel Griffin is overrated. There's nothing wrong with averaging 20 points and 10 rebounds a game for a winning team.
Sunday was evidence that he doesn't quite have it all together yet. As successful as he was at the free throw line, he made only one of his five jump shots during the game. He had mixed results in the fourth quarter, making two of five shots. He caught an elbow from Love that opened a cut on his forehead (but didn't prompt a video review to check on an upgrade to a flagrant foul, to the Clippers' dismay). He fouled out less than a minute into overtime.
Griffin lost the power forward matchup to Love, who finished with 45 points, 19 rebounds and six assists. But his team won the game. And as good as Love continues to be, he's facing the prospect of yet another postseason spent at the crib. At some point, that will come to define him.
If we struggle to define the Clippers, that's on us. It's a product of exuberant expectations by some, nasty dislike by others. The Clippers have the fourth-best record in the Western Conference (20-9) and the fourth-best scoring margin (plus-6.0). That feels about right. Upper echelon, but not elite. In position to win a playoff series, but not in the same company as Oklahoma City and San Antonio, which appear to be the Western Conference finalists.
They have their flaws, including frontcourt depth and a tendency to over-rely on Paul late in games. They also have a winning streak that stretched to five, courtesy of a hard-to-describe game that only Griffin found easy to summarize: "We didn't give up."
Dimes past: Dec. 1 | 2 | 3 | 4 | 5 | 8 | 9 | 10 | 11 | 12 | 15 | 16 | 17 | 18 | 19
ESPN Senior Writer
ESPN.com senior writer since 2007
Around The Horn panelist
Formerly at Los Angeles Times
2. Around The Association
| | | | | |
| --- | --- | --- | --- | --- |
| Minnesota Timberwolves | 116 | FINAL | 120 | Los Angeles Clippers |
---
MVP: Chris Paul was up to his usual tricks. The passing savant dished 13 assists and anchored the Clippers' offense all night. Despite his shooting woes, Paul was crucial down the stretch. Nine of his 19 points came in overtime, including five free throws.
Defining moment: It's an old adage: All the Wolves had to do was hold on to the ball and nail their free throws. They couldn't. Over the course of 18 seconds, Kevin Love split a fair of free throws and Paul stole an inbounds pass that led to Jamal Crawford's dunk, sending the game into overtime.
That was ... offensive. The two squads combined for 126 points in the paint, 51 assists on 91 field goals and 47 percent shooting from the field. Love and Nikola Pekovic combined for 79 points.
| | | | | |
| --- | --- | --- | --- | --- |
| Boston Celtics | 79 | FINAL | 106 | Indiana Pacers |
---
MVP: Really, the Pacers won by simply overwhelming force, but Paul George was spectacular in an 18-point third quarter. He hit all six of his shots from the floor as the Pacers pulled away from the outmanned Celtics.
Defining moment: Early in the second quarter, the Celtics were hanging tough, tying the score at 23 with 8:49 left. Over the next 1:37, the Pacers scored nine straight, with four of their five players getting buckets, and the fifth -- Lance Stephenson -- getting three assists. It was over after that.
X factor: Danny Granger had played only five games over the previous 100 or so games before returning Friday night. After a 1-for-7 shooting night in his return, Granger scored 12 and hit four of five treys to lead a suddenly potent Pacers bench.
| | | | | |
| --- | --- | --- | --- | --- |
| Toronto Raptors | 104 | FINAL | 98 | Oklahoma City Thunder |
---
MVP: The Thunder lost, but Russell Westbrook was this game's most dynamic player. With Kevin Durant struggling, Russ poured in 27 points on 17 shots thanks to repetitious assaults on the basket.
X factor: Easy points. The Raptors took 15 more shots than OKC, but the Thunder managed to stay in the game thanks to free throws. They made their first 26 free throws and finished an impressive 35-of-36 from the charity stripe.
That was ... a seesaw. Toronto led by six at the half. Then Oklahoma City outscored the Raptors 28-13 in the third quarter. Not to be outdone, the Raptors outscored OKC 29-14 in the fourth quarter to get their six-point lead back and the win.
3. Sunday's Best
Love
Kevin Love, Timberwolves: Went 15-of-23 from the floor and 13-of-15 from the line en route to a season-high 45 points. He also had 19 rebounds and six assists in the 120-116 overtime loss to the Clippers.
4. Sunday's Worst
Jackson
Reggie Jackson, Thunder:
With Kevin Durant struggling with his shot and his team coming off a big win over the Spurs, OKC did not get a home run off the bench from Jackson. He made 1 of 11 shots in the loss to the Raps.
6. Tweet Of The Night
Christmas shopping done! Why do I always wait this long to get my family stuff?

— Channing Frye (@Channing_Frye) December 22, 2013
7. Quote Of The Night
"It just seems it's almost like we can't [catch] a break. There's always something."
-- Nets guard Joe Johnson, on the loss of Brook Lopez for the season.
8. Granger In Range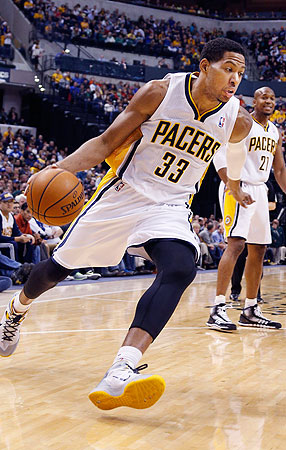 Brian Spurlock/USA TODAY SportsPacers forward Danny Granger, playing in his second game of the season after returning from a strained left calf, sank 4 of 5 3-point attempts in a 106-79 win over the Celtics.
9. Stat Check
Lance Stephenson scored 12 points and added 10 rebounds and 10 assists in the Pacers' 106-79 win over the Celtics. Stephenson also recorded a marginal triple-double the last time Indiana faced Boston -- 10 points, 11 rebounds and 10 assists. But a triple-double it was, and Stephenson has become the first player with two triple-doubles in one season against the Celtics since Kevin Garnett did it in 2006-07, his last season with Minnesota before joining Boston.