1. Is Portland Ready To Join Elite Company?
PORTLAND, Ore. -- The evolution from upstart to contender in the NBA occurs on an uncertain timetable, and nobody knows exactly when an aspirational team crosses that invisible boundary.
Should we wait until the All-Star break to check the standings? Hold off until a team shows it can head down to Texas and Oklahoma over the course of a week and knock off a couple of heavyweights on the road? Watch and see where it ranks offensively and defensively and take note when both those numbers are single digits?
With a typically dramatic 116-112 overtime win over the Los Angeles Clippers on Thursday, the Portland Trail Blazers ran their record to 24-5. That's tops in the NBA -- better than Miami or Indiana in the East, Oklahoma City and San Antonio in the West, and better than a Clippers team Trail Blazers coach Terry Stotts deemed "elite" after the game.
Despite victories over the Pacers, Thunder, Spurs, Rockets and now Clippers, and despite banking 12 wins on the road in 15 tries, the Trail Blazers are reluctant to affix that label to themselves. The other four NBA teams in the league playing .750 ball have implicitly or explicitly stated that their goal is to win a championship. But the Trail Blazers continue to be demure about their goals, adopting the ol' chestnut, "Stay in the moment," as their unofficial mantra.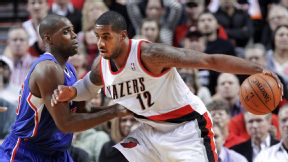 AP Photo/Don RyanLaMarcus Aldridge poured in 32 points in the Blazers' overtime win over the Clippers.
"We're not trying to get too far in front of ourselves," LaMarcus Aldridge said. "If the chips put us in a position to play for a championship, then we'll do it, but we're not going to go off and start making these crazy goals right now. We're staying in the moment, going game to game."
Aldridge's reticence is understandable, and not just because he's a comparatively reticent guy. There's something unseemly about a team winning a couple dozen games before New Year's and declaring itself ready for June basketball. Yet there's always the danger of humility becoming a self-fulfilling prophecy. If five or six other squads truly believe the Larry O'Brien Trophy is within their grasp, what possible chance does a team in the scrum stand if it doesn't regard itself as championship-caliber?
Aldridge turned in another massive performance Thursday. Despite having his wisdom teeth extracted on Sunday and subsisting on soup for the better part of four days, he continued his reign over the left side of the Moda Center floor. He scored 32 points and collected 10 rebounds in 40 minutes while playing nearly the entire second half with four fouls. Aldridge joked that with 31 shot attempts anyone can find a groove after a couple of forgettable shooting performances before the holiday. Whether he's talking about his team's larger objectives or just a high-volume individual shooting night, Aldridge does self-deprecation well.
Center Robin Lopez, Aldridge's counterpart in the frontcourt, was a bit more assertive when asked if the Trail Blazers were "elite."
"You could say that, I suppose," Lopez said. "I think we'll be tested in the next few games."
Even with an affirmative response, Lopez offered a disclaimer of "I suppose." But like Aldridge, Lopez is cautious for a reason. Two of the Blazers' final three games in 2013 come against Miami and Oklahoma City, the latter on the road. Then, in mid-January, the team plays four games in five nights away from home against San Antonio, Dallas, Houston and Oklahoma City again.
The source of the Blazers' restraint isn't their offense. Portland is a team that knows how to score and, feels confident it can find a quality shot in the half court virtually every time down the floor. What's less certain is the Blazers' defense, which is currently ranked 22nd overall in the NBA. For those who doubt whether the Trail Blazers belong in the rarefied air of the elite, this is what they'll reference.
Thursday night was another mixed bag for the Portland defense. There were crucial stops down the stretch that inspire hope. Lopez had a valiant moment inside of three minutes of regulation when a hungry Chris Paul got him on an island off a switch. Paul loves nothing more than to attack a hapless 7-footer in open space, yet Lopez survived the encounter as spidery Nicolas Batum flew in from the weak side to swat away Paul's layup attempt. The play was the embodiment of the Trail Blazers' "bend, don't break" defense: Tread water, compete like hell and the length may save you.
"In the fourth quarter, it was going back and forth," Stotts said. "I think both teams were good defensively and both teams made good offensive plays. On the whole, look, if we win the game, our defense is better than their defense. That's Mike D'Antoni's line."
When shown the iffy overall numbers, the Trail Blazers will say that they get big stops when they need them, pointing to their overwhelming success in close games. There's a fair amount of truth to this. Inside of three minutes leading or trailing by three points, the Trail Blazers have the third-ranked defense in the league, giving up a minuscule 79.8 points per 100 possessions.
For the Trail Blazers, the next month is about figuring out whether findings like this one is real or an outlier. Is the prolific jump-shooting really this good, or will percentages catch up to the likes of Wesley Matthews and Damian Lillard? Can the defense truly get a stop when it needs to, or is it tempting fate? Then there's the big one:
Forget about the rest of the league and public perception. Are the Trail Blazers ready to come out to themselves as contenders?

ESPN Staff Writer
NBA writer for ESPN.com since 2008
Former contributor and editor at NPR
2. Around The Association
| | | | | |
| --- | --- | --- | --- | --- |
| Los Angeles Clippers | 112 | FINAL | 116 | Portland Trail Blazers |
---
MVP: Chris Paul posted an epic 34-3-16-6 line. Paul did just about everything right all game, and his clutch heroics threatened to seal it. Credit the Blazers for withstanding CP3 and forcing overtime.
Defining moment: Paul put the Clippers up three with 9.3 seconds left in regulation. But Nicolas Batum ran off a double screen by Damian Lillard and LaMarcus Aldridge to hit a clutch trey and send the game into overtime.
That was ... back-and-forth: Portland was up 11, and then the Blazers were up two. And then they were up 11 again. Basketball is always a game of runs, but this game alternated dozens of times with huge, entertaining surges.
| | | | | |
| --- | --- | --- | --- | --- |
| Atlanta Hawks | 127 | FINAL | 125 | Cleveland Cavaliers |
---
MVP: Jeff Teague. Who else but Teague, who had a career-high 34 points, added 14 dimes, the game-tying shot in the first overtime period and the buzzer-beater to win the game in the second overtime.
X factor: Kyle Korver, who had four 3s on the night, but none bigger than the two he hit in the second overtime, one of which was a four-point play.
That was ... potentially bad for the Hawks: Both Al Horford and DeMarre Carroll left the game with injuries that could result in long-term absences. Winning in double overtime is nice, but potentially losing two starters would make it a very bittersweet victory.
| | | | | |
| --- | --- | --- | --- | --- |
| Memphis Grizzlies | 92 | FINAL | 100 | Houston Rockets |
---
MVP: It's rare that a guy who goes 2-for-9 from the floor is the best player on the court, but that was the case Thursday as James Harden led all scorers despite poor shooting from the field. Harden got into the lane at will, created for others and was able to get to the line time and again. In fact, he got to the line more than the entire Grizzlies team (25 to 20) and was able to score a game-high 27 points despite making just those two field goals.
X factor: Memphis took control early because it was dominating the offensive glass, grabbing 16 offensive rebounds in the first half. Chandler Parsons helped change all that in the second half as he continuously hit the boards and battled Zach Randolph down low. His 11 defensive rebounds led all players in this game, and the Rockets couldn't have won this game without them.
That was ... a turning point: With the Rockets down 11, Dwight Howard picked up his fifth foul with 7 minutes, 52 seconds left in the third quarter. From that point on, the Rockets outscored Memphis 50-31 as Kevin McHale spaced out the rugged Grizzlies defense with shooters. In fact, the Howard-less lineup was playing so well, Howard never returned to the game.
3. Thursday's Best
Teague
Jeff Teague, Hawks: On a night that saw plenty of players put up huge numbers, Teague -- who finished with 34 points and 14 assists -- was one of the few that got the win ... in thrilling fashion.
After hitting a tying 3 in the first overtime, he sank a buzzer-beating jumper to take down the Cavs in Cleveland.
4. Thursday's Worst
Howard
Dwight Howard, Rockets:
Houston eked out the win at home, but no thanks to Howard, who was stuck in foul trouble most of the night and finished with just two points in 18 minutes.
7. Quote Of The Night
"It was the refs tonight. Eight against five. The game in the second half, a man was shooting free throws every time. We were out there playing hard, and they were dictating the game. It can't be like that. We are out there playing, too.
-- Grizzlies forward Zach Randolph, on the officials during Memphis' loss to Houston, where James Harden hit 22 of 25 free throws.
8. Teague Of His Own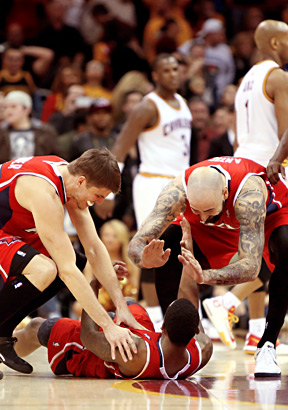 Photo by Mike Lawrie/Getty ImagesAtlanta's Jeff Teague earned the right get off his feet after playing the hero in Cleveland.
9. Stat Check
Green
Danny Green had a perfect night on Thursday, hitting all seven of his field goal attempts (including five 3-pointers) and all three of his free throws. He's the fourth player since the 3-point line was introduced in 1979 to go perfect from all three areas while attempting that many shots.
---
MVP: Tim Duncan with 21 points and 13 rebounds. His calm, purposeful play led a San Antonio attack that seemed unfazed by repeated Mavericks runs. As the game wore on, it was clear Dallas had no answer for Duncan's post play and passing.
Defining moment: Dallas went on a 12-0 run to close the San Antonio lead to three with 3 minutes, 54 seconds remaining. After a Spurs timeout, Duncan responded with six points, a block, and an assist to Danny Green, who hit a corner 3 to put the game out of reach for Dallas.
X factor: Green torched the Mavericks for 22 points on a perfect 7-for-7 night, including hitting all five of his 3-point attempts. If Gregg Popovich hoped to motivate Green by moving him to the bench from the starting lineup, it worked.
-- Kirk Henderson, TrueHoop Network