1. Kevin Durant Leading From The Front
By
Michael Wallace
| ESPN.com
OKLAHOMA CITY -- A strong case could be made that the defining moment of Kevin Durant's performance Sunday was the vicious dunk he threw down over former teammate James Harden.
It could also be argued that the biggest takeaway for Durant were his 33 points or the season-high-tying 13 rebounds he snagged in Oklahoma City's 117-86 dismantling of the Houston Rockets, a victory that propelled the Thunder to the league's best record through 30 games.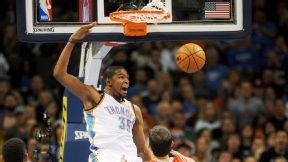 Mark D. Smith/USA TODAY SportsWith Russell Westbrook out, Kevin Durant helps mold a Thunder team without its star point man.
And it's debatable whether there's been anything more resounding than the remarkable spike in Durant's recent efficiency, showcased by his 11-of-17 clip from the field in 38 minutes.
But none of those numbers and highlights -- as impressive as they are -- encapsulates the more aggressive approach Durant has taken amid his team's latest challenge of life without star point guard Russell Westbrook than the scene that unfolded early in Sunday's blowout.
Moments after he was taken out for a rest late in the first quarter, Durant walked toward the scorer's table and demanded that third-year forward Perry Jones leave his position near the basket and meet him near midcourt as Rockets guard Aaron Brooks was between two free throw attempts.
"I missed a block-out," Jones later said of the intense message Durant delivered. "He got on me, man. I'm like, 'The coaches already do that enough.' But he needed me to do more."
That's Coach Durant for you these days.
Conventional wisdom in Oklahoma City and around the league might suggest Westbrook's expected seven-week absence to recover from minor knee surgery opens the door for Durant to boost his scoring numbers and MVP chances. Instead, Durant is leaning on his teammates now more than ever in hopes the supporting cast can use this valuable time to bond and build confidence for the playoffs.
That much has been obvious over the past two games the Thunder have played since Westbrook left the lineup after the Christmas win in New York to have his third surgery on his right knee since last spring. Oklahoma City has since beaten Charlotte and Houston and is now 4-1 on the season in games Westbrook has not played. Along the way, there have been more points from Durant.
And just as many pointers from him, too.
Durant suggested Sunday that he learned from last season's playoffs, when Westbrook initially tore the lateral meniscus in his knee in Game 2 of a first-round series against the Rockets. The Thunder won the series, but were eliminated by Memphis in the second round as Durant put up huge numbers but was largely inefficient and struggled to get adequate help from his teammates.
Durant is drawing from that painful experience now, and doesn't believe the answer is simply for him to try to do more to fill the void of Westbrook's 21.3 points, 7.0 assists and 6.0 rebounds. The more logical approach, Durant insists, is to spread the wealth and teach every step of the way.
On Sunday, there wasn't a timeout that started or finished without Durant pulling aside Jones, Reggie Jackson or Jeremy Lamb for a few private moments to correct mistakes or encourage progress. With Westbrook not expected back until after the All-Star break, the Thunder view this stretch of 27 games as an opportunity to show growth more so than a burden.
"Both times kind of hit us out of nowhere," Durant said Sunday as he reflected on the shock of losing Westbrook that lingered throughout last season's playoffs. "We don't want to make any excuses, don't get me wrong. But having a guy there for so long and then suddenly, he's not there ... We came into practice that day preparing for him to be there, and they were saying he was out for the rest of the playoffs. That was a big change for us."
This time, the sudden change is easier to embrace.
"Going through that kind of prepared us for this time," Durant said. "It's still tough not having him here, but we know what we have to do now, and we learned from our mistakes last time. Hopefully, we'll just keep getting better. And when he comes back, hopefully, it's a seamless transition for him."
That transition is taking shape throughout the rotation.
Jackson, who has played well as Westbrook's backup, is now a starter who had already found a comfort level alongside Durant before the latest injury setback. Jackson had 16 points and a game-high eight assists in 26 minutes. At one point this season, Durant and Jackson had registered as a more efficient and productive tandem than Durant and Westbrook.
The bulk of Westbrook's scoring load now falls on Lamb, who has been groomed for this opportunity since he ranked among the scoring leaders during the Orlando Summer League in the offseason. Lamb outperformed Harden on Sunday and finished with a career-high 22 points off the bench for OKC, which had six players score between eight and 33 points.
A Western Conference scout said there's a noticeable difference between how Durant is approaching his initial games without Westbrook the past few days, and the way he played in the playoffs last season.
"He thought he needed to win games by scoring every point last year after Westbrook got hurt, but that made them easier to key on, although scoring is what Durant does easily," the scout said. "But now, you can just watch how he brings the ball up the court. You can see he's looking to make plays. His passes are like lasers. He's pointing out openings and is directing guys. He's seeing plays develop."
Thunder coach Scott Brooks said it's part of a natural maturation process of learning and growing, although he also said Durant doesn't have to change a thing about his game. What stood out to Brooks on Sunday were his team's 28 assists. Durant had five, but set up another dozen plays that led to scores.
"We know how we have to play to be successful," Brooks said. "Kevin is one of the best players in the world. That's not an earth-shattering statement there. I don't think I have to explain the confidence he has in himself, but he has confidence in his teammates. He loves competing and he loves inspiring his teammates. He wants to fill the stat sheet up every night. He could probably score 35, 40 points every night on demand. But he wants to share the ball, he wants to defend, he wants to rebound."
A similar description also fits the man Durant has finished second to in MVP voting three of the past four years: LeBron James. And even though Durant could distance himself from other challengers such as Indiana's Paul George, Portland's LaMarcus Aldridge or Los Angeles Clippers guard Chris Paul, it will continue to be an uphill climb to close ground on James.
James has found a way to upstage Durant seemingly every step along the way, from winning their head-to-head matchup in the NBA Finals two years ago to sparking a 27-game winning streak last season that allowed him to distance himself from the field in last season's MVP balloting.
Even this season, while Durant is shooting a career-high 50 percent from the field, James is flirting with a 60-percent mark. And whereas Durant will try to keep the Thunder atop the West without Westbrook for the next two months, James has risen to the challenge of maintaining the two-time defending champion's high level of play as Dwyane Wade has been in and out of the lineup, managing knee issues.
These are all reasons why Durant won't get too caught up in the talk about padding his MVP candidacy. He'd much rather solidify a supporting cast that will be ready, once Westbrook returns, to get through the West and ultimately meet James and the Heat again in the Finals.
Thunder veteran guard Derek Fisher won championships with the Lakers and played alongside Kobe Bryant during Kobe's rise to historically elite status. Fisher said Durant is at the stage of his career where he accepts that the team's overall performance is the ultimate barometer of his effectiveness as a player.
"He's continuing to evolve in terms of his all-around play -- not just leading the league in scoring, but defending, facilitating, rebounding, being a leader, everything you need and want your best player to be," Fisher said. "Kevin is one of those guys. He's a quieter spirit. He's not a guy that thumps his chest a lot and wants everybody to even notice what he's doing. But he embraces being in the position he's in."
The Thunder, who have won 12 of their past 13 games, are heading in the right direction. They believe they're more prepared now to get through the Westbrook speed bump, but will learn a lot more about themselves over a stretch with 14 of their next 25 games on the road.
Durant is giving them a running start. Over the past three games, he's shooting 57.4 percent from the field, 41.1 percent from 3-point range, and averaging 32 points, 10.6 rebounds and 5.7 assists.
"I'm not one of those guys that can turn it on or turn it off," Durant said. "It's going to be good nights and bad nights. I just want to keep the same intensity level and try to do what I can for my team. There are certain ways you talk to your teammates. Sometimes you have to get after them. Sometimes you have to encourage them. I just try to enlighten them and let them know I'm with them."
In this latest Westbrook absence, Durant is ready for his own presence to loom even larger.
Dimes past: December 10 | 11 | 12 | 15 | 16 | 17 | 18 | 19 | 21 | 22 | 23 | 25 | 26
2. Around The Association
| | | | | |
| --- | --- | --- | --- | --- |
| Houston Rockets | 86 | FINAL | 117 | Oklahoma City Thunder |
---
MVP: Kevin Durant did that thing where he's clearly the second best basketball player in the world. In 33 minutes of work he finished with 33 points (on 17 shots), 13 rebounds and five assists.
X factor: Kendrick Perkins' post-defense on Dwight Howard was the unsung reason Oklahoma City won the game. Howard finished 4-of-13 and couldn't establish anything in the paint; the Thunder didn't have to double him, which kept Houston's shooters quiet on the perimeter.
That was ... dominant defense: Oklahoma City scored the game's first 13 points, then opened the second half on a 10-3 run. But the Thunder's team defense was why they won. OKC held Houston to 38.2 percent shooting, and James Harden scored only eight points on 2-of-9 shooting.
| | | | | |
| --- | --- | --- | --- | --- |
| Atlanta Hawks | 102 | FINAL | 109 | Orlando Magic |
---
MVP: Arron Afflalo, who had 22 points on 7-for-10 shooting. He also had seven assists as part of a 30-assist team effort from the Magic.
X factor: Nikola "Vucci Mane" Vucevic, who had a double-double with 16 points and 14 rebounds. Vucevic controlled the boards for Orlando and at times was surprisingly effective in guarding Atlanta's Paul Millsap.
Defining moment: Atlanta played overtime games on Monday, Thursday and Saturday. On a second game of a back-to-back, the Hawks appeared tired at times, which gave the Magic a critical advantage.
3. Sunday's Best
Curry
Stephen Curry, Warriors: Curry scored 29 points and made a clutch jumper with 13.5 seconds left that delivered a 108-104 OT road win in Cleveland. Curry nearly recorded a triple-double by adding 11 assists and nine rebounds.
4. Sunday's Worst
Harden
James Harden, Rockets:
In a less-than-triumphant return to OKC, The Beard was not the least bit feared. He posted a season-low eight points on 2-for-9 shooting in the 117-86 loss to the Thunder.
6. Tweet Of The Night
Winter focus in Dallas turns early to hoops yet agan: Cowboys have one playoff win in Dirk Nowitzki's 15-year Mavs career

— Marc Stein (@ESPNSteinLine) December 30, 2013
7. Quote Of The Night
"Thank God for the green light. He's a guy we believe in. We're not going to tell him to stop shooting."
-- Warriors coach Mark Jackson, on Stephen Curry hitting a late shot after making only 1 of his past 11.
8. Guards Of Optimism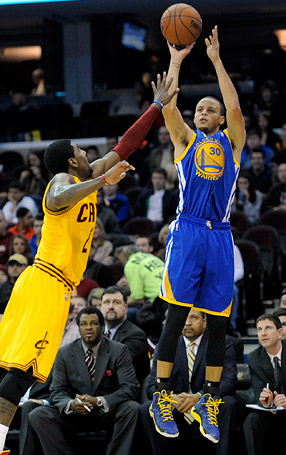 David Richard/USA TODAY SportsThough both Stephen Curry (29 points) and Kyrie Irving (27 points) made big hoops that gave their respective teams hope, the Warriors pulled out an overtime win that kept the Cavaliers reeling.
9. Stat Check
There are no guarantees, but when Tim Duncan, Tony Parker and Manu Ginobili all score at least 15 points -- and they do so at home -- there's little hope for the Spurs' opponent. That's what happened on Sunday, when San Antonio's Big 3 accounted for 67 points in a 112-104 win over the Kings. The Spurs have a 56-9 record in home games in which Duncan, Parker and Ginobili all scored 15 or more points.
Around the Association
---
MVP: Stephen Curry. He didn't have the best second half, but his 24 points in the first half kept the Warriors in the game, and he hit the shot that sealed the win for Golden State in OT. In all, he had 29 points, 11 assists and nine boards.
X factor: Andrew Bogut. Golden State got back into the game in the second half with its defense, and Bogut was a big part of that. Sure, the Warriors shot a lot of 3's, but Cleveland had just 24 points in the paint.
That was ... a roller coaster. The Cavs got out to a big lead in the first half, but the Warriors stayed within shouting distance and tightened things up in the third, which made for a fun, fantastic overtime finish.
---
MVP: Manu Ginobili has returned to form this season. Tonight was a vintage performance with an array of moves. His 28 points on 16 shots (with three steals, assists and rebounds) propelled a sputtering Spurs squad.
Defining moment: With three minutes left, the game was tied. An inbounds to DeMarcus Cousins forced him to step into the backcourt, drawing a violation. Then Tim Duncan got an and-1 over Cousins. San Antonio never looked back.
That was ... unexpected: The Kings are a young team with plenty of offensive talent. Still, from 8:49 to 2:33 in the third quarter, Sacramento scored on 12 consecutive possessions to turn an eight-point deficit into a five-point lead.
---
MVP: Thaddeus Young propelled the 76ers with a well-balanced 25-point, nine-rebound, three-assist, three-steal box score line. He helped Philadelphia earn an 18-8 edge in fastbreak points and was also part of a collective team domination near the rim.
X factor: The 76ers outscored the Lakers 52-28 in the paint. Philadelphia worked over the Lakers in the first two quarters before Jordan Hill gave L.A. a second-half spark, but the damage had already been done.
That was ... unfortunate: The Lakers, who have been plagued by numerous injuries this season, lost Xavier Henry early in the game to a right strained knee. He's scheduled to have an MRI on Monday.