1. Winning His Way Is LeBron's Best Present
DENVER -- Adversity is a relative concept for the Miami Heat.
They encounter land mines like any other NBA team, but armed with LeBron James, Dwyane Wade, Chris Bosh and a supporting cast of veterans who take discounts to play alongside them, the Heat don't command great sympathy. When a strained groin threatens to sideline James, you're more likely to feel for the kid from Fort Collins who got a pair of tickets in Section 328 for Christmas to watch James than for those who devise the Heat's game plan.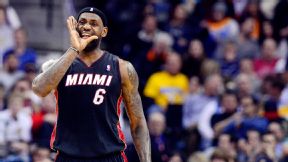 AAron Ontiveroz/The Denver Post/Getty ImagesNow hear this: LeBron James set up a clutch 3-pointer by Michael Beasley to beat Denver.
Still, the Heat have contracted the injury bug that's infected almost every team in the NBA in recent days. Though the Heat's embarrassment of riches allows them to withstand what other teams can't, the rash of injuries created some improbable storylines during the Heat's four-game western swing that concluded on Monday night with a 97-94 win in Denver.
"We had some adversity tonight," Heat coach Erik Spoelstra said. "Dwyane [Wade] took a spill at the beginning of the half and couldn't go back in. Norris [Cole] took a really hard spill that we all saw ... Other guys had to step up and we made enough plays when we were down to get back in the game."
Wade, who has been strategically sitting out about every fourth game this season to preserve his knees, left the floor with back spasms a minute into the second half. He went to the Heat's locker room to receive electric stimulation but was unable to return.
Moments after Wade's departure, Cole was carried off the floor after being fouled hard by Ty Lawson in transition. Chris Andersen, who badly wanted to play in the arena where he built his career, sat out with a bad back. Ray Allen, who's been limited in practices and shootarounds because of knee tendonitis, was cleared moments before the game.
Those injuries aren't insignificant to the Heat, but the dominant chatter in Portland over the weekend, here in Denver the past couple of days and across social media has been: Will LeBron play? Because when James is questionable, the NBA world waits.
After missing the Heat's thriller in Portland on Saturday, James suited up and took his place in the starting lineup on his 29th birthday, proclaiming prior to the game that he "felt great."
James didn't turn in the most aggressive performance of his season, but still managed 26 points on 8-for-15 shooting from the field. Nine of those 15 field goal attempts came from beyond the arc, a ratio that better resembles an Allen stat line than what we're accustomed to from James when he's on the attack.
It's always tricky to characterize a LeBron game as "passive," so let's call it "finesse." After a couple of early post-ups against Wilson Chandler, James confined himself to the perimeter for most of the game, stepping back for long shots, driving and backing out and dishing out assists. Spoelstra conceded that James wasn't 100 percent coming off the injury, but after the game James took issue with the p-word.
"I took what I wanted," James said. "They went under a lot of pick-and-rolls. They left me open at the 3-point line and all of them felt good except for the one at the end of the first quarter when I had to take the heave. The groin wasn't an issue at all. Whatever it took to help our team win, I was able to make contributions."
This is undoubtedly gamesmanship from James, who believes that a game in which he facilitates for shooters and hits five 3-pointers in nine attempts is just aggression by another name. His coach pointed out that a perimeter-oriented game from James is merely another exhibition of how he can beat you, not a capitulation of any sort.
In that spirit, James' biggest plays of the game were passes to open teammates in a tight fourth quarter, and one in particular stands out as vintage LeBron. With the Heat clinging to a 93-92 lead with 30 seconds remaining, James drove against Chandler from the left side with Michael Beasley stationed at the top of the arc to his right -- not Ray Allen or Mario Chalmers, but Beasley.
More from ESPN.com
• Markazi: Bledsoe's return to L.A. »
• White: Heat Reaction -- Grades »
• Friedell: Thibodeau's tough journey »
• MacMahon: Throwback Matrix soars »
• NBA Lockdown on Durant, Bynum

James hadn't really throttled it through the lane in the half court all night, but LeBron being LeBron and, well, Beasley being Beasley, Darrell Arthur double-downed from the top to help on James. The instant he did, LeBron kicked the ball out to Beasley, who drained his biggest shot of the season, a 3-pointer that extended the Heat's lead to 96-92 with 25.1 seconds left.
"It was a huge shot," James said. "For me, I didn't even second-guess it. I trust my teammates, and whoever is out on the floor -- if I have an open guy -- it happened to be Beasley and he knocked it down."
Nobody except James knows what kind of impact the strained groin had on his game, just as nobody knows the level of exhaustion he endures on those nights in May and June -- past, present and future -- when he might not look like himself. Maybe he's being sincere when he says he got whatever he wanted, or confined himself to the perimeter because the Nuggets were scheming him to drive.
Or maybe James is an omnivore who's happy with everything on the menu -- the killer drive, the elegant assist or the big shot.
Dimes past: December 10 | 11 | 12 | 15 | 16 | 17 | 18 | 19 | 21 | 22 | 23 | 25 | 26 | 29

ESPN Staff Writer
NBA writer for ESPN.com since 2008
Former contributor and editor at NPR
2. Around The Association
3. Monday's Best
Marion
Shawn Marion, Mavs: Dropping in 14 of 19 shots, the 35-year-old Matrix turned back the clock and scored 32 points. He even hit two big 3-pointers in the fourth quarter and blocked Kevin Love's jumper at the buzzer to help the Mavericks edge the Wolves 100-98.
4. Monday's Worst
Los Angeles Clippers:
The Clippers had 20 turnovers in the 107-88 blowout home loss to the surprising Phoenix Suns, finishing the month 9-7. That's not so bad, but pales in comparison to last year, when they went 16-0 during their December to remember.
6. Tweet Of The Night
When was the last time all of us know-it-alls missed so badly with our preseason prognostications like every last one of us did on Phoenix?

— Marc Stein (@ESPNSteinLine) December 31, 2013
7. Quote Of The Night
"While this gesture has been part of French culture for many years, it was not until recently that I learned of the very negative concerns associated with it."
-- Spurs guard Tony Parker, on his use of a "quenelle" in a photo with a French comedian/activist.
8. Soaring Pelican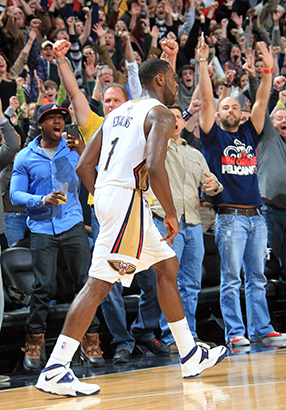 Layne Murdoch/NBAE/Getty ImagesTyreke Evans of the New Orleans Pelicans celebrates after hitting the game-winning basket against the Portland Trail Blazers.
9. Stat Check
Anthony Davis registered 27 points, 12 rebounds and 5 blocked shots to lead the Pelicans to a win over the Trail Blazers on Monday night. It marked the second time that Davis has recorded at least 25 points, 10 rebounds and 5 blocks in a game this season (he had 32 points, 12 rebounds and 6 blocks on November 8 against the Lakers). No other player in the league has done that more than once this season. Only one other player in Pelicans' history has had multiple games with 25+ points, 10+ rebounds and 5+ blocks in their career: Alonzo Mourning (15).
Around the Association
---
MVP: Shawn Marion finished with 32 points (highest as a Maverick), six rebounds and a game-deciding play (Block? Steal? Foul?) on Kevin Love's final shot. The Matrix kept the offense humming early and also managed to hit four of six 3s.
Defining moment: The final play between Love and Marion could be reviewed endlessly. The immediate review looked like a foul. Other angles show Marion's fingers on the ball. It was a strange ending to a fun game.
LVP: The Timberwolves' bench was a total nonfactor, hitting 2 of 12 shots (both by J.J. Barea) and committing nine of the teams 17 turnovers. After getting 93 points from the starters, the bench has to contribute more than five points to the box score.
-- Kirk Henderson, TrueHoop Network
---
MVP: Jimmy Butler. With Luol Deng out for Chicago, the Bulls needed buckets, and Butler obliged with a season-high 26 points, 14 of which came in the third quarter.
That was ... a gritty game of runs. Chicago opened the third quarter with a blistering 20-4 run. Memphis then awoke, rattling off 24 points to the Bulls' eight over the final minutes of the third and beginning of the fourth.
Turning point: After cutting an 18-point deficit to just two midway through the fourth quarter, Memphis had the home crowd at its back. With the shot clock expiring, D.J. Augustin hurled a 26-foot, 3-point prayer that splashed in. It was as close as Memphis would get the rest of the way.
-- Andrew Tonry, TrueHoop Network