1. Once Indispensable, Pau Gasol Awaits Fate
LOS ANGELES -- Let's start this with a flashback to simpler, happier times, like Walt and Jesse cooking in the RV again in the opening scene of Breaking Bad's climactic "Ozymandias" episode.
Pau Gasol and Lamar Odom are sitting at a news conference table in the old Orlando Arena, NBA champions for the first time. Odom felt compelled to remind the media of how those two came to be Lakers in the first place.
"First of all, I got traded for Shaq," Odom said, "He got traded for Kwame Brown."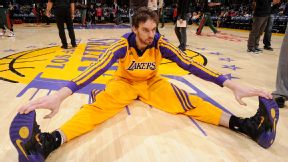 Andrew D. Bernstein/NBAE/Getty ImagesPau Gasol limbered up and matched his season high with 25 points in a loss to the Bucks.
They both laughed. It was impossible for Gasol to feel insulted when he, Odom, Kobe Bryant and everyone else knew that they wouldn't be champions without Gasol, regardless of how lopsided the trade with the Memphis Grizzlies appeared to be at the time. (History showed that the Grizzlies did well for themselves by also acquiring Marc Gasol in the deal).
Fade out. Fade in to Tuesday night.
Gasol is walking out of the Lakers locker room after his team lost a home game to the Milwaukee Bucks. Yeah, those Milwaukee Bucks. The team with the worst record in the NBA. This is the opposite end of the sports emotion spectrum from the euphoria Gasol felt after winning that first championship. His eyes are watery, his words have an added coating as he struggles through an upper-respiratory infection.
It's time to talk about trades, and this time there's absolutely nothing to laugh about.
Gasol could be on the move again, once more for a player whose greatest appeal is his expiring contract. Andrew Bynum's contract with the Cleveland Cavaliers is what some call a "super-expiring" contract, because it isn't fully guaranteed. The Lakers can acquire Bynum, waive him and get rid of the remaining half of his $12.5 million contract -- saving themselves $20 million including luxury tax expenditures in the process.
"It's not easy," Gasol said. "As much as I'm used to it after three years of several [years of potential trades], it's not easy."
He has his answers down to a routine, having been through this ever since he and Odom were included in the attempted trade for Chris Paul that was nixed by David Stern. This time feels different than the previous rounds of rumors that didn't go anywhere. Now Gasol is in the final year of his contract. The trade deadline is approaching next month, in addition to the deadline to waive Bynum before his contract becomes guaranteed next week.
This has been building since December. It felt like Bryant's contract extension was the online check-in for Gasol's trip out of Los Angeles. Bryant and the Lakers stressed that the widely criticized contract still left them with room to offer one maximum contract to a free agent next summer. Left unsaid was that would only be possible if Gasol didn't return.
"If something happens, so be it," Gasol said. "If it doesn't, I'll just try to do a better job of trying to help our team have the best chance possible.
"It's kind of out of my control. I'd like to continue to be here. It's been my home for the good and the bad and everything else. I can't control what ownership and the franchise want to do in moving forward. We're struggling right now, and that doesn't help."
The downturn in the Laker season makes a move feel necessary, even inevitable.
The notion of treading water until Kobe returns from the latest injury is gone like 2013. After six consecutive losses, the past two at home to a pair of the league's worst teams in Philadelphia and Milwaukee, the Lakers are officially submerged. They're 13-19 and 5 ½ games out of the final playoff spot in the Western Conference.
Things are getting worse, not better. Jordan Farmar's hamstring tightened up and he sat for most of the second half and he'll get another ultrasound exam tomorrow. Steve Nash said before the game that when he put up some shots the other day, his left leg still felt off. It's as if his nerves are communicating with the muscles in different languages. Steve Blake's still out with a torn elbow ligament and Xavier Henry is a week away from being re-evaluated for a knee bone bruise. Wesley Johnson was at home, sick.
As often as Bryant has piped up on Pau's behalf when the trade talks start swirling, the duo has not presented a convincing case on the court lately. They're moving in the wrong direction, having gone from the NBA Finals their first three seasons together to the second round the next two and a first-round departure last year.
So there's no incentive for the Lakers to place basketball over budgets. Apparently there's no sentimental feelings, either. It was telling that there was no organizational outcry about columns in ESPNLA.com and BleacherReport.com that called out Gasol for missing recent games with the illness. It's as if the Lakers don't want him to be missed when he's gone.
There's a cyclical nature to all of this. Gasol was brought to Los Angeles because the Lakers needed to replace an injured Bynum, who suffered the first of his many knee injuries in January of 2008. The Lakers believed that a star center could keep them in contention for a championship, and thus keep a frustrated Kobe Bryant in purple and gold. They were right. First came the championship, the next year came Kobe's contract re-up and all was well in Lakerland.
Now Bynum could be coming back to L.A. to replace Gasol ... on the spreadsheet more than the court.
More from ESPN.com
• Forsberg: Stevens' loyalty card »
• Mazzeo: Nets close '13 with thud »
• Friedell: Bulls find way to lose »
• Stats/Info: New Year's resolutions
• Reisinger: Year In Social Mamba »
• Legler on Wade, Hibbert and Gasol

"Those coincidences happen," Gasol said. "My brother was traded for me. That was kind of ironic. Life's going to have those ironic moments at times."
Gasol wasn't in much of a mood for thinking about life's whimsies. He had scored 25 points, but grabbed only six rebounds on a night the Lakers were pounded 51-39 on the boards. His missed free throws and a turnover helped finish off any semblance of a Lakers comeback attempt.
Near the end, Lakers fans chanted, "We want Phil", still yearning for a coaching ship that sailed long ago.
Fans don't chant for expiring contracts. These fans also didn't demand the Lakers keep Gasol. Maybe they should have. Even if it were just as unlikely to produce results as the Phil chants ... it would imply some deserved appreciation for the second-most important Laker of the past six years.
Dimes past: December 12 | 15 | 16 | 17 | 18 | 19 | 21 | 22 | 23 | 25 | 26 | 29 | 30
ESPN Senior Writer
ESPN.com senior writer since 2007
Around The Horn panelist
Formerly at Los Angeles Times
2. Around The Association
3. Tuesday's Best
Aldridge
LaMarcus Aldridge, Blazers: Beating the Thunder in their home building, the Blazers' big man had 25 points and 14 rebounds as Portland rallied from a 13-point second-half deficit to beat OKC 98-94 in a showdown of West leaders.
4. Tuesday's Worst
Williams
Lou Williams, Hawks:
Missed all eight of his shots in 16 minutes of action, a far cry from the hot hand that sank the Bobcats with 28 points on Saturday. Fortunately for the Hawks, Paul Millsap carried the load during a 92-91 win in Boston.
7. Quote Of The Night
"I mean this has looked like a bush league organization much of the year, they don't play with much effort at all, a very uninspired team."
-- Former Magic coach Stan Van Gundy, on the Brooklyn Nets.
8. Irving Injured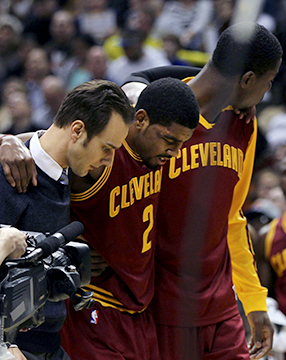 Pat Lovell/USA TODAY SportsKyrie Irving will undergo an MRI after injuring his left knee in a loss to the Pacers. Irving was helped off the floor in the third quarter after falling awkwardly on a missed layup.
9. Stat Check
The Pacers ended 2013 with a 91-76 victory over the Cavaliers. It was Indiana's fifth consecutive win, all by at least 14 points. That matches the longest such streak in franchise history. The Pacers won five consecutive games, all by at least 14 points in March 1969, while the team played in the old American Basketball Association. You remember that league, the one with the red, white and blue ball? The Pacers' streak that year came in the middle of a 13-game winning streak and against the New York Nets (125-87), Minnesota Pipers (144-113), Nets (143-114), Pipers (132-113) and Los Angeles Stars (140-124).
Around the Association
---
MVP: LaMarcus Aldridge piled up team-highs of 25 points and 14 rebounds, none bigger than a late-game grab that gave Portland a second chance in the final minute after Mo Williams missed two critical free throws.
That was ... a heck of a comeback: Early on, Oklahoma City's defense made Portland's league-leading offense look silly and discombobulated. The Blazers trailed by as many as 16 points, but they never quit.
Turning point: After being on the wrong end of a few double-digit Thunder runs, the Blazers pulled off one of their own, scoring 10 unanswered points on the home team midway through the fourth quarter.
-- Andrew Tonry, TrueHoop Network
---
MVP: Nobody really stood out all that much tonight, but Jonas Valanciunas came up big on both ends of the court. He scored 15 points and grabbed nine rebounds. He also chipped in with two steals and two blocks.
Turning point: The fourth quarter. The Bulls led by 5 at the start of the fourth, but they simply stopped scoring. Through the first seven minutes the Raptors limited the Bulls to four points as they pulled away.
X factor: Greivis Vasquez was great off the bench and sparked the comeback for the Raptors. He made some timely passes, hit some key shots and had a big rejection on Kirk Hinrich.
---
MVP: DeMarcus Cousins took over late, lifting the Kings to an impressive win in Houston. Cousins had 17 points and 16 rebounds on the night, energized by the prospect of facing Dwight Howard.
Defining moment: When Cousins nabbed an offensive board and put it right back in with 56 seconds left, it put the Kings up for good, 105-104.
That was ... a Rocket misfire: Just when it looks like this team is fully capable of nabbing homecourt advantage in the first round of the playoffs, it loses at home to the Kings.
-- Andrew Ayres, ESPN.com