1. Raptors Hit New Year On A High Note
By
James Herbert
| Special to ESPN.com
TORONTO -- Amir Johnson saw it coming.
"We know this is the best team in the East, and we definitely want to go out and get this win," Johnson said before he and the Toronto Raptors hosted the Indiana Pacers on Wednesday night.
"With the support of our fans and hard play, we're gonna do that tonight."
At the final buzzer, Johnson raised his arms in celebration of a gritty 95-82 win, then he high-fived a few fans who were having an extremely happy new year.
"Honestly, that was probably the best crowd I've seen since opening night of last year," said Raptors point guard Kyle Lowry.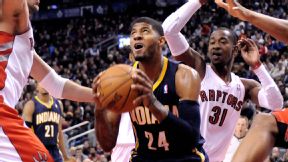 Mark Konezny/USA TODAY SportsIndiana's Paul George could only muster 12 points in Toronto.
"That's what we needed in this building. We want our fans to have a reason to cheer and I think we're giving 'em a reason to cheer."
Opening night of the 2012-13 season was also against the Pacers, and it was similar most of the way through. That Toronto team held a lead going into the fourth quarter, but Indiana fought back and won by two.
"Usually when teams hit us with a blow, we kind of lay down," Johnson said. "Now it's in reverse. We don't lay down. We hit 'em right back, and we're able to get those games now."
The Raptors have won eight of their past 10 and are 9-3 since trading Rudy Gay to the Sacramento Kings on Dec. 9.
With some observers expecting the team to tank the season, they came back from a 19-point deficit in Dallas to get an overtime win. Then, in Oklahoma City they came back from 11 to beat the West's best team.
Now they've beaten the East's best, too.
"Those are like springboard games," said Pacers coach Frank Vogel. "There's a residual effect that carries with you over the next period of games or next stretch of games. You just play with more confidence, more belief, more togetherness, and that's what they're going through right now."
As Greivis Vasquez sat down at his locker next to Johnson, he told the power forward that Johnson was the man the media should be speaking to. Johnson, after all, is the one who screened for every shooter.
"Every shot we made was because of you," Vasquez told him. As the conversation continued, the exuberant Vasquez talked about how happy everyone is to come to work when teammates are sacrificing.
Johnson's statistical contributions didn't stand out compared to the team's other starters, but he played near-perfect post defense against Indiana bigs David West and Luis Scola.
"[Johnson] does so much for this team that sometimes goes unappreciated, but he knows how much we value him game in and game out," said Raptors forward Patrick Patterson.
"No one on this team is selfish; everyone accepts their roles. No one wants to get more shots, no one wants to do more of this, no one is jealous of another player ... we all understand what we have to do in order to make this machine keep rolling smoothly."
If Johnson is the personification of Toronto's style of play, Lowry is the machine's engine. He's averaging 17.6 points, 8.7 assists, 4.8 rebounds and 1.8 steals since the Gay trade, with coach Dwane Casey recently calling it the best stretch of Lowry's career. It's Lowry's contract year, he's been in trade rumors and he's forcefully proving his worth.
Against Indiana, the biggest play of the game took place with 3:25 left in the fourth quarter, the Raptors up by seven points. That's when the 6-foot Lowry stepped up and took a charge to draw a sixth foul on the Pacers' 7-foot-2 Roy Hibbert. The arena erupted as the center made his frustrated walk to the bench.
"We see the stats every single day on the TV screen," Patterson said. "What you see [Lowry] do game in and game out, what you see him do on the practice court, just his demeanor, his approach to the game every single day, he is one of the top point guards in the league in my opinion. ... He's always making that game-changing play. He's always either getting a stop, taking the charge like he did or hitting a big-time shot."
With the team coming together as most of the East falls apart, the ever-confident Johnson was asked if the 15-15 Raptors are the third-best team in the conference.
"No. 1," he responded with a sly smile.
"When your heart is in a good place, nobody has no complaints," Johnson said.
"Everybody's just on a roll right now. What can I say?"
Dimes past: December 12 | 15 | 16 | 17 | 18 | 19 | 21 | 22 | 23 | 25 | 26 | 29 | 30 | 31
2. Around The Association
3. Wednesday's Best
Griffin
Blake Griffin, Clippers: Griffin poured in 31 points -- including a few nifty jumpers -- to go along with 12 boards, helping L.A. pull away in the second half against Charlotte.
4. Wednesday's Worst
Charlotte Bobcats:
With the game tied 56-56 at the half inside Staples Center, it had the look of a potential Bobcats upset of the Clippers. Charlotte then proceeded to score a grand total of 29 points the rest of the way to get blown out in L.A.
7. Quote Of The Night
"We don't care who is out there in front of us, we understand that they are going to throw a punch and we're going to throw punches back."
-- Raptors guard DeMar DeRozan, on Toronto's win over Indiana.
8. Psycho T Reunion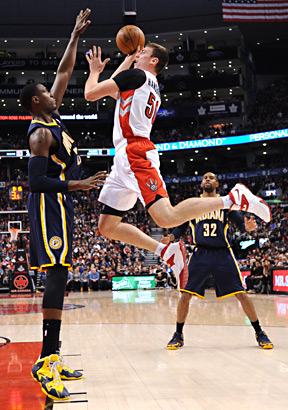 Rick Madonik/Toronto Star/Getty ImagesTyler Hansbrough got a crack at his old team as the Raptors stunned the Pacers.
9. Minnesota's 'Bruise Brothers'
As this reconstruction of the Minnesota Timberwolves franchise has been executed over the past few years, the idea of putting Kevin Love next to a frontcourt bruiser never seemed to be high on the list of priorities.
Find a scoring forward like Michael Beasley to form a dynamic, productive duo? They tried that.
Make sure Ricky Rubio comes over from Spain and starts cashing in on the hype and potential to make him the apotheosis of successful pure point guard play? That's still a work in progress that could be under construction longer than the city planned.
Making Nikola Pekovic the bulldozer to Love's wrecking ball may not have been the initial plan, but it has developed over the past three years as Pekovic became a viable option in the paint. When he re-signed with the Wolves for five years and $60 million, new president of basketball operations Flip Saunders seemed to have a vision of how this team would play.
Punishing.