1. Who Can Stop Stephen Curry? Not The Heat
MIAMI -- So, how do you guard Stephen Curry?
That was the question posed to various members of the Miami Heat after they watched Curry torch AmericanAirlines Arena for 36 points, 12 assists and four steals -- the first player ever to amass those numbers in a game against the Heat.
Most of the time, the answer to that question was simply this: a smile paired with a shake of the head.
"Uhh ...," LeBron James said while grinning. "When you go against a guy who can shoot like that, you just hope that he misses."
"It's tough, it's tough," Dwyane Wade said. "He's special."
"Um ... not the way we did tonight," Shane Battier said. "That's for sure."
"You can't defend that," Mario Chalmers said.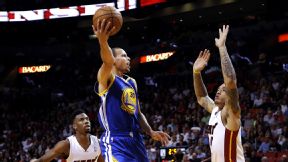 AP Photo/Lynne SladkyStephen Curry was running on all cylinders in the Warriors' win over the defending champs.
"It's tough," Chris Bosh said. "Sometimes, he'd shoot it and sometimes he'd pass it. That's what makes him equally dangerous."
Spoelstra was asked that Curry question a day before the game after the Heat's practice on Wednesday. His answer then?
"Yeah, I don't know if anybody has figured that out yet," Spoelstra said.
Did Spoelstra have a better idea after Thursday's game?
"I mean ..." Spoelstra trailed off before giving out a chuckle. "What do you think?"
No, the Heat didn't really have an answer for Curry on Thursday, which puts them on a list that includes just about every team in the league.
Between threading the needle to David Lee in the pick-and-roll and splashing off-balance jumpers from impossible angles, Curry initiated almost everything for the Warriors, who crushed the Heat 123-114 for their league-leading seventh consecutive win.
Curry is increasingly becoming one of the biggest problems in the NBA. How do you guard a guy who can make half his 3-pointers from just about anywhere in the half court? What happens when you complement that ludicrous shot-making ability with elite handle and playmaking skills?
Well, you get jaw-dropping performances like Thursday's. After spending New Year's in Miami, Curry delivered some extra fireworks for a star-studded Miami audience that included names such as Julius Erving, Johnny Manziel, Guy Fieri and Jamie Foxx. In a game featuring a four-time MVP, it was Curry who routinely generated the incredulous "How do you guard that guy?" question.
The Heat had a game plan. The Heat tried to execute their patented death-by-strangulation strategy against Curry, the same one that they famously used to stymie Jeremy Lin in New York during Linsanity and Derrick Rose in Chicago during the 2010-11 playoffs.
But Curry was impervious. When the Heat trapped hard in the pick-and-roll, Curry more often than not maintained his composure and found the open guy. Usually that guy was Lee, who registered 32 points on 13-of-17 shooting and 14 rebounds of his own. In the end, five of Lee's 13 buckets came from a Curry dish.
And when the Heat let up off the gas on their aggressive strategy in the second half, Curry went off. Attacking inside and out, Curry single-handedly outscored the Heat 10 to 8 in the opening six minutes of the third quarter, helping to break open a 14-point lead.
Smother Curry and he'll split the defense and find teammates. Ease off and he'll unleash a soaring, back-breaking 3-pointer from the parking lot.
Pick your poison, NBA.
"One of the best shooters that the NBA will ever see," James said after the game.  "With the way he handles the ball, and the light he has ... It's more than green. It's fluorescent."
James continued the Curry praise fest.
"I looked at the stat sheet at one point and he was 7-for-13 from the 3-point line and I was 7-for-12 from the field," James said. "I was like, "Oh s---, he's got more 3s than I got field goal attempts."
Curry shot 8-of-15 from downtown against the Heat, which ties the most makes and attempts the Heat have ever allowed from an individual player. And the thing is, he drained contested shots from just about every angle and distance. 
"It was incredible," Wade said. "A few times we were in his jersey and he made shots. We shoot those shots, those are bad shots on this team. Pull-up on the break, one-on-three, whatever. Those are bad shots over here, but those are great shots for him. And he made 'em."
Really, is there a bad Stephen Curry shot in the book?
"No, there's not," Lee said in the locker room. "He proved that again [on Thursday]. I know it seems like with the high level of difficulty that the shots are bad, but he's on balance the majority of the time. He rarely takes something out of the flow, and if he does, a lot of times it goes in, so we forgive him for it. He's an unbelievable shooter."
Before the shooting inferno, Warriors coach Mark Jackson declared that Curry had "the green light" to shoot however many 3s he wants. Curry is now up to a career-high 8.1 3-point attempts per game and shooting 41.6 percent.
With a conversion rate that high, why not keep firing them up?
Battier, a student of the numbers, agrees with the "fluorescent" light that Curry gets from downtown since 3-pointers have 50 percent more value than 2-pointers. Effectively, he's shooting much higher than his raw field goal percentage indicates.
"I agree," Battier said about Jackson's 3-point philosophy while glancing at Curry's line in the box score. "Eight of 15? Effectively, what's that, 80 percent? Why not? There's not a bad 3 for Steph Curry. It's math."
Nights like Thursday is what should terrify the rest of the league. The Warriors entered the game with the third-most efficient defense in the land, thanks to Andrew Bogut and Andre Iguodala now being healthy. But they didn't play great defense on Thursday and still destroyed the two-time defending champs on their home floor. When Curry effectively punches in a cheat code and defies fundamental basketball principles with his dynamic abilities, the Warriors are virtually impossible to beat.
To find the Heat unabashedly awe of an opposing player or team, it's a rare event. But Curry warranted that on Thursday. And with seven wins in a row, the Warriors, who sit at 21-13 and sixth in the West, are putting the league on notice.
"They have a shot to come out of the Western Conference because of his ability to pass with both hands and shoot," Wade said. "That's a very good team over there. Mark Jackson has done a very good job, but Stephen Curry makes them special."
Would Wade like to see Curry in the Finals?
"I would love to," Wade said. "Because that would mean we're in the Finals."
Maybe, just maybe the Heat would have an answer for Curry by then.
Dimes past: December 18 | 19 | 21 | 22 | 23 | 25 | 26 | 29 | 30 | 31 | January 1
ESPN Staff Writer
ESPN.com NBA analyst since 2010
ESPN.com Insider researcher in 2009
Developer of NBA DRAFT Initiative database
2. Around The Association
3. Thursday's Best
Curry
Stephen Curry, Warriors: Miami had no answer for Curry, as he lit up South Beach for 36 points and 12 assists, including a 8-for-15 clip from 3-point range.
4. Thursday's Worst
OKC Thunder:
Up by 11 heading into the fourth quarter, the Thunder couldn't close the deal on the Nets as Joe Johnson's buzzer-beater capped Brooklyn's comeback on the road.
7. Quote Of The Night
"I mean, if you can find a better shooter than him right now, especially with the way he handles the ball -- and the light that he has, it's more than green, it's fluorescent -- you just hope that he misses."
-- LeBron James, on Stephen Curry's 36-point performance Thursday night in Miami.
8. There He Goes Again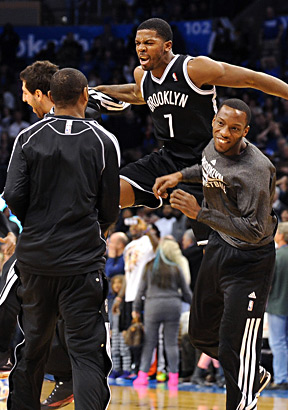 Mark D. Smith/USA TODAY SportsJoe Johnson makes his money at the buzzer. The Nets' closer finished off Brooklyn's comeback with a dagger in Oklahoma City.
9. Stat Check
By
ESPN Stats & Information
Thursday night's victory over the San Antonio Spurs was the New York Knicks' first win against a Western Conference team this season (they were 0-9). Entering Thursday night, they were the only NBA team without a win against the Western Conference.
---
MVP: Jerryd Bayless and Ed Davis were big off the bench, but Zach Randolph was the consistent difference for Memphis. He dominated the Suns inside to the tune of 20 points and 15 rebounds.
Defining moment: With five minutes left in the fourth, a madcap Memphis possession seemed to touch everyone on the floor before finding its way to Mike Miller for a layup. It was emblematic of a wild, chippy, back-and-forth game.
That was ... a career best: On a poor shooting night for Phoenix, the Suns stayed in the game in large part thanks to Goran Dragic. With Eric Bledsoe missing, Dragic paced Phoenix with a career-high 33 points.
---
MVP: Taking advantage of Milwaukee's less-than-stellar perimeter defense, Gordon Hayward led Utah's offense with an efficient scoring night. With 22 points on 8-of-16 shooting, Hayward was a constant threat the entire night.
Turning point: Being lead by Utah's young-but-talented second unit, the Jazz broke the game open in the second quarter because of the combination of solid offensive penetration and overall defense.
That was ... depressing: While Utah looked like a balanced offensive threat, Milwaukee was a one-sided team as it shot an awful 4-for-22 from beyond the arc.
---
MVP: Thaddeus Young played a nearly flawless game on Thursday, posting 28 points, seven rebounds, six steals, four assists -- with zero turnovers -- to lead Philly to its third straight win. In his past nine outings, Young is averaging more than 22 points on 55 percent shooting.
LVP: In 23 minutes, Ben McLemore, the drafts No. 7 overall pick, scored zero points on 0-for-5 shooting and added a pair of turnovers. The putative marksman is shooting less than 40 percent on the season.
That was ... impressive: With the Kings trailing 94-79 a minute into the final period, Jimmer Fredette -- scoreless up to that point and averaging a meager 4.7 points on the season -- went off. In just less than 120 seconds, Fredette scored 10 unanswered points to narrow the Sixers' lead to five. It was a bizarre and incredible display that, ultimately, meant nothing. It was sports.