1. Without CP3, Clippers Stay On Point
LOS ANGELES -- Los Angeles Clippers point guard Chris Paul won't acknowledge that misfortune often comes with unintended benefits.
He can't fathom the idea that an AC joint separation in his right shoulder will allow his legs to rest while he rehabilitates. He doesn't want to hear that being sidelined might allow the team to grow in his absence, or that everyone in his life is pulling for him.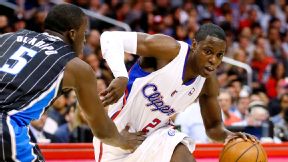 AP Photo/Danny MoloshokDarren Collison stepped in for Chris Paul and delivered 21 points and seven assists.
"I ain't trying to hear all that, man," Paul said prior to the Clippers' 101-81 gorging of the Orlando Magic on Monday. "I want to play and I need to play."
In Paul's world, there is no silver-linings playbook; there's only the Clippers' official playbook -- and he's the protagonist. This isn't bravado, arrogance or any lack of confidence in his teammates. Paul is merely stating what everyone in the game understands: He drives the Clippers' offense. Without him, it's a bit of guesswork.
"Obviously, we're going to do some things differently because, the bottom line is, we were doing things only Chris Paul could see," Clippers coach Doc Rivers said. "There are few guards who can see the things he can see, and you're not going to get those, so you have to get it in a different way."
A Clippers' possession is an expression of Paul's vision: the orchestration of the set, the delivery of the ball, the nuance of the timing. Control is Paul's currency and he can't tolerate when it's taken away from him.
"I feel like, as athletes, you prepare and you do everything possible to try to not get injured," Paul said. "That's all the preparation. That's strength training. That's stretching. That's everything. I think that was the most frustrating part."
On Monday, the Clippers suffered few ill effects from Paul's absence. Darren Collison, Paul's understudy, zipped up and down the court like a lightning bug. He drained his first eight shot attempts of the night and finished with a season-high 21 points, and dished out seven assists. Somehow a team without the league's leading assist man racked up 30.
"[Collison] had it three or four times where he could've shot the ball, and instead he gave it to his teammates," Rivers said. "It just makes your team whole ... when a point guard gives up shots that he could take, then all of a sudden they want to pay it back."
Count Blake Griffin among the reciprocators. He dished out six assists from the mid-post in yet another multifaceted, fill-up-the-box-score outing. Jamal Crawford struggled from the field, but with Paul on the pine, the sniper assumed the role of dual distributors, leading the team with eight assists.
The Clippers' offense on Monday night was prolific, but the defense has been the story over the past month, and it will have to be their salvation while their starting backcourt of Paul and J.J. Redick are on the shelf. Monday's win was the D's most efficient performance of the season through three quarters. The Magic couldn't find reliable driving lanes and were unable or unwilling to work the ball to their weakside releases. It was something awful against the Clippers' disciplined defense. The result: A binge of contested midrange junk food.
DeAndre Jordan, who has anchored the Clippers' D during its meteoric rise in recent weeks, flirted with a triple-double: 14 points, 17 rebounds and eight blocks. The big man is beginning to master the science of straddling the edges of the paint at the rhythm of a 2.9-second count. He has learned when to commit to an incursion into the lane, and when to lay back and let his presence deter.
"Our coaches stress [defense] a lot more, and what they want from us," Jordan said. "I'm really in the right spots defensively to be effective. They put a lot on me and really I'm just embracing it."
With Paul and Redick out, the Clippers' backcourt depth has been stretched to the limit, yet it's the frontcourt rotation that has been iffy all season behind Griffin and Jordan.
The Byron Mullens experiment failed, with the former Bobcat posting some of the worst defensive numbers since the advent of the NBA's plus-minus abacus. Ryan Hollins can set a screen and defend a pick-and-roll, but is more suited to limited duty than first-big-man-off-the-bench status. Antawn Jamison is shooting 30.6 percent as a stretch-3 disguised as a retch-4.
Where do the Clippers turn to bolster their frontcourt? A new candidate will almost certainly be in play on Tuesday afternoon when Andrew Bynum will likely be released by the Chicago Bulls, who traded Luol Deng for the forlorn center on Monday night.
Sources with knowledge of the Clippers' thinking say the team will take a close look at Bynum if and when he becomes available. The Clippers wouldn't need a ton from the former Laker -- just 12-16 minutes per night of interior defense and an insurance policy against a potential injury to one of the starters.
The Clippers' guards know how to find their big men on the block and in transition, so there are generally enough handouts to keep a hungry center sated. There's a firm belief that whatever cultural failings may or may not have contributed to Bynum's demise in Cleveland wouldn't be an issue with Rivers and Paul as president and prime minister in Clipperland.
Dimes past: December 18 | 19 | 21 | 22 | 23 | 25 | 26 | 29 | 30 | 31 | Jan. 1 | 2 | 5
ESPN Staff Writer
NBA writer for ESPN.com since 2008
Former contributor and editor at NPR
2. Around The Association
| | | | | |
| --- | --- | --- | --- | --- |
| Atlanta Hawks | 86 | FINAL | 91 | Brooklyn Nets |
---
MVP: Joe Johnson went into iso-Joe mode in the fourth quarter against his former team, scoring nine of his 23 points in the period and helping the Nets hold off the Hawks at the end.
Defining moment: With Brooklyn leading 86-84 and trying to fend off a late Atlanta comeback, Mirza Teletovic made a 3-pointer from the left corner -- off a perfect pass from Johnson -- with 44.6 seconds left that essentially ended the game.
X factor: Teletovic (16 points on 6-for-12 shooting) was a nice spark off the bench for the Nets, doing most of his damage in the second half. He helped spread the floor, knocking down four 3-pointers including the dagger.
| | | | | |
| --- | --- | --- | --- | --- |
| Minnesota Timberwolves | 126 | FINAL | 95 | Philadelphia 76ers |
---
MVP: Despite sitting for the entirety of the final period in the blowout, Kevin Love scored 26 on 12 shots, adding seven rebounds, four assists and a pair of steals. After a gangbusters December that saw him average 30 points and 13.7 rebounds, Love isn't off to a bad start in January.
X factor: Minnesota, which entered Monday ranked 25th in the NBA in 3-point field goal percentage, shot 16-of-26 from beyond against Philly's league-worst perimeter D. The display both cemented the win and provided an answer to the age-old riddle: What happens when a stoppable force meets a moveable object?
That was ... a silver lining: Thad Young was the best thing in a Sixers uniform, which is saying very little. The forward, who has been dynamite the past few weeks, scored 13 first-quarter points and finished with 20 points on 9-of-16 shooting.
| | | | | |
| --- | --- | --- | --- | --- |
| Orlando Magic | 81 | FINAL | 101 | Los Angeles Clippers |
---
MVP: DeAndre Jordan came just two blocks away from a triple-double, finishing the 20-point blowout with 14 points, 17 rebounds and eight blocked shots. Throw in a couple of guaranteed "SportsCenter" highlight dunks and it wasnt too bad of a night for D.J.
X factor: With the injured Chris Paul dressed in suit and tie, Darren Collison took over from the beginning. He made all eight of his shot attempts in the first half on the way to a 21-point, seven-assist, four-steal performance.
That was ... high flying: The Clippers turned the blowout into a typical dunkfest. Jordan dunked on Big Baby and seemingly everyone else in a Magic uniform. Blake Griffin had a windmill alley-oop. Monday night was all flash in Lob City.
3. Monday's Best
Jordan
DeAndre Jordan, Clippers: Monstrous jams and blocks highlighted the big fella's night. He finished with a near triple-double, posting 14 points, 17 rebounds and eight blocks in a 101-81 rout of the Orlando Magic.
4. Monday's Worst
Orlando Magic:
The plus-minus numbers from most of the Magic's starters looked like low-temperature readings from International Falls, Minn. Nikola Vucevic finished at minus-36 in the rout by the Clippers. Magic's lottery spot is looking better, though.
7. Quote Of The Night
"When you look at the heads, then you hold it up to close to him, they're actually the same size."
-- Kevin Love, on a pair of gigantic head cutouts of Nikola Pekovic that fans held right over his burly teammate's head.
8. Russian's Progress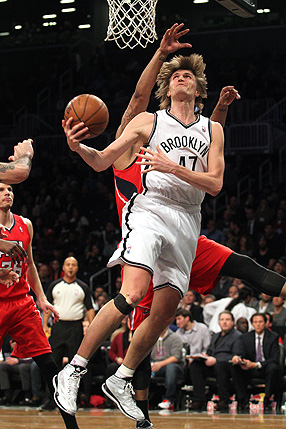 Brad Penner/USA TODAY Sports Andrei Kirilenko is working his way back, scoring eight points in 21 minutes off the bench in the Nets' 91-86 win over the Hawks. The Nets are 3-1 since Kirilenko returned.
9. Stat Check
The Minnesota Timberwolves connected on only 30 of its 74 2-point field-goal attempts (40.5 percent), but were 16-for-26 from downtown (61.5 percent). The T-Wolves became only the fifth NBA team -- and the first in more than five years -- to attempt at least 25 3-point field goals and convert at least 20 percent more of those tries compared to their shots from within the arc.