1. Chris Bosh, Heat Refuse To Be Browbeaten
MIAMI -- You can spend an entire basketball game marveling at Pelicans forward Anthony Davis, his beach-umbrella wingspan making him impossible to get around at the rim and on the perimeter, his relentlessness on the boards, his combination of ballhandling and shooting skills quickly catching up with the rest of his natural abilities.
Heck, Erik Spoelstra calls him a "David Robinson-type" without blinking.
Yet you can spend that same amount of time wondering why Davis' Pelicans aren't significantly better than they are.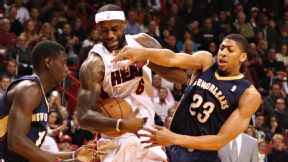 Hector Gabino/El Nuevo Herald/MCT/Getty ImagesAnthony Davis was sharp in the first half, but stopping LeBron and the Heat proved to be too much.
Yes, they were without Ryan Anderson on Tuesday against the two-time defending champs, but the suddenness with which a 54-43 New Orleans lead in the third quarter turned into a 107-88 Heat win almost says as much about the Pelicans' underachieving nature as it does the Heat's ability to turn it on.
There seems to be little reason why New Orleans can get 16 points, 10 rebounds, three steals and two blocks from Davis in the first half and not have enough competent assistance to even make it a close game in the second half.
While the Pelicans appear to play big-to-big basketball well, which would help explain why Jason Smith would get almost twice as many shot attempts (11) as an All-Star point guard Jrue Holiday (six), there's very little else there to complement Davis.
The two prized offseason backcourt additions -- Holiday and Tyreke Evans -- spend more time dribbling indiscriminately in the half-court set than creating plays. The two combined for 17 points, eight assists and six turnovers in 51 minutes of play Tuesday.
It's frustrating, not only for those who expected much more of the Pelicans this season, but also for Davis and his teammates.
They essentially watched the Heat turn the game around with a 25-7 run in the third quarter, putting up little resistance. And the explanations coming from the New Orleans side don't speak well for coach Monty Williams.
"We lost some of that fight when they took the lead," Davis said. "The momentum changed and we didn't remember our defensive assignments, or whatever."
"Or whatever" could be the title of New Orleans' defensive strategy in the second half, as the Heat shot 59 percent in the final 24 minutes and outscored the Pelicans 64-39.
Given how well Davis played (he finished with 22 points and 12 rebounds in 41 minutes), that second-half collapse was actually difficult to accomplish for New Orleans.
"He's got everything," Chris Bosh said of Davis. "He's always moving, for one. He jumps at every offensive rebound [opportunity]. And he's just talented. You can tell he's more confident in his jumper. They're running plays for it. They give him space for jumpers and catch-and-go. They're running a lot of offense through him, and as time goes on, it just builds your confidence."
Only it was Bosh building confidence in defending Davis as the night went on. The Heat had started with Rashard Lewis -- still starting in place of Shane Battier (quadriceps) -- on Davis, but switched to Bosh as the primary defender in the second half.
It played a large role in Davis putting up just six points and two rebounds after halftime. But frankly, Spoelstra and the Heat have grown used to that type of shut-down ability from Bosh, the regularly underrated All-Star.
"It's always a team concept with us, but CB is an elite, elite defender in this league," Spoelstra said. "He's proving it every single night. We see it. He anchors our defense. We've talked about all the pick-and-rolls you have to defend on a night-to-night basis, recovering back, challenging jump shots, challenging in the post. He's having as good a defensive year as a big has had recently."
Bosh says he's been improving as a defender every year since arriving in Miami in 2010, but last season's NBA Finals against the Spurs was particularly helpful in raising his confidence.
"Being in the Finals so many times, sometimes you're on an island," Bosh said. "Especially after that last series against Tim Duncan down there. Every single time, every single possession, especially down the wire, I had to D up, and I think I kind of turned the curve a little bit mentally, and those things kind of helped me out.
"I'm not saying I'm going to stop a dude every time, but just make it as tough as possible."
On Tuesday, it was Davis who recognized Bosh's defensive abilities. And watching the two of them clash was almost like watching a version of the old Chris Bosh against the current Bosh.
Davis, like Bosh used to, is racking up impressive numbers on an uneven-performing team where 22 and 12 can't even keep you close against an elite opponent. Meanwhile, Bosh is finding spots to make his impact -- getting fouled shooting a 3 at the end of the half, hitting a critical third-quarter 3, keeping the floor spread while playing alongside Chris Andersen -- yet finishing with the less-impressive 12 points, nine rebounds and the win.
Now, he simply chooses to make more of an impact defensively.
"If I can't get that many shots, he can't either," Bosh said.
Of course, when the Heat win, you can usually find a handful of players to shower with praise, and Tuesday's could've gone toward LeBron James (32 points), Dwyane Wade (22 points, eight rebounds, eight assists), Andersen (7-of-7 for 15 points) or Bosh.
But it's hard to ignore that empty feeling the Pelicans leave you with. The feeling that a team featuring only one victory against a winning team all season (Portland) will offer. The feeling of sympathy you have for Davis when his All-Star caliber season isn't amounting to much team success.
"We know we have it," Holiday said. "We just need to put it together for 48 minutes."
Actually, all we know so far is you have Davis. After that, the rest of "it" appears largely undiscovered.
Dimes past: December 18 | 19 | 21 | 22 | 23 | 25 | 26 | 29 | 30 | 31 | Jan. 1 | 2 | 5 | 6
ESPN Staff Writer
Israel Gutierrez is an NBA writer for ESPN.com.
2. Around The Association
3. Tuesday's Best
Hayward
Gordon Hayward, Jazz: When your team has the second-worst record in the West, it's nights like these that light the way to a brighter future. Hayward sank 13 of 16 shots en route to 37 points, 11 rebounds and seven assists in a 112-101 win over the Thunder.
4. Tuesday's Worst
Young
Thaddeus Young, Sixers:
The reigning Eastern Conference player of the week clearly could not see past all the bouquets being tossed his way. Young missed all seven of his shots and didn't score in 22 minutes of a 111-93 rout by the Cavs.
7. Quote Of The Night
"We discussed it, and I'll leave it at that."
-- Bulls coach Tom Thibodeau, on pre-trade discussions before Chicago decided to deal away his All-Star forward Luol Deng.
8. Hay's Dominion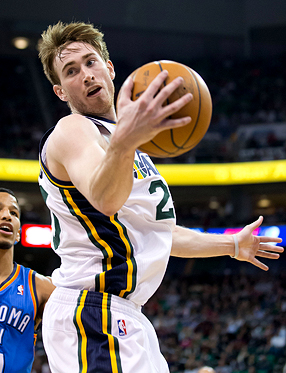 Russ Isabella/USA TODAY Sports Gordon Hayward scored a career-high 37 points, including Utah's final 17 points, to overcome Kevin Durant's 48 points and lead the Jazz to a 112-101 win over Oklahoma City.
9. Stat Check
The Warriors won their tenth consecutive game on Tuesday, against the Bucks in Milwaukee, for their longest winning streak since December 1975. The only current NBA team that has gone longer without a 10-game winning streak is the Wizards, who have never had a double-digit winning streak in their 53-year history (since entering the league in 1961-62 as the Chicago Packers). Four other teams who entered the league after December 1975 have never won ten straight games (the Magic, Raptors, Grizzlies and Bobcats).
David Lee scored 22 points, grabbed 18 rebounds and made 10 of 12 shots on Tuesday and during the 10-game winning streak he's scored 226 points with 104 rebounds and a 61.4 shooting percentage. Lee is the first player to score 200 points, grab 100 rebounds and shoot 60 percent from the floor while playing every game of a 10-game winning streak by his team since Shawn Kemp had a run like that (206 points, 117 rebounds, 63.2 field goal percentage) for Seattle in February 1996.