1. Knicks Win Again, But Melo Needs Sidekick
NEW YORK - The New York Knicks have won five straight and certainly are beginning to develop a tougher state of mind at the end of games.
The Knicks (15-22) blew a 14-point lead and needed overtime and Gerald Green's futile shooting to beat the Eric Bledsoe-less Phoenix Suns 98-96 at the Garden. A month ago, the Knicks probably would have lost this game with some head-scratching blunder, such as failing to call a timeout or an ill-advised 3-point shot at the end.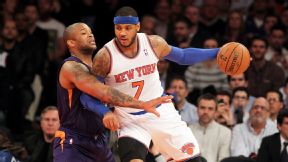 Brad Penner/USA TODAY Sports
"We lost some close games earlier in the year," Knicks coach Mike Woodson said. "And I call some of the [losses] just boneheaded plays. ... I think, in close games, we are starting to learn how to figure things out at the end."
It's certainly encouraging to see the Knicks get out of their own way and start making some progress, particularly on the defensive end where they held Phoenix to eight points in the final 9:49 of regulation and overtime.
But if the Knicks are going to really start making some noise and take advantage of the weak Eastern Conference, Carmelo Anthony needs more help on the offensive end.
At the moment, Batman has no Robin in Gotham. And it has been that way all season.
"I think Carmelo has been consistent from Day 1," Woodson said of Anthony winning the Eastern Conference Player of the Week award, announced before the game. "It is just the supporting cast. I think we struggled in that area, with the injuries and the slow start that we had.
"J.R. [Smith] missing the first five [games of the season due to suspension], Iman [Shumpert] being somewhat on a roller coaster," Woodson continued. "We just never had any chemistry but Melo through it all, he's been solid. He's been the bright spot."
The Knicks are slowly climbing their way out of a deep hole and making progress. But if they are going to take that next step and become a factor, the Knicks need somebody to step up and give Anthony an offensive hand.
Melo poured in 29 points and 16 rebounds, and the Knicks still needed more from him. They had several chances to put away the Suns, who have lost four of their last five on the road, in regulation but couldn't.
Melo didn't have it going for him in the fourth and missed four of five shots in the quarter. Fortunately, the Knicks had their defense and Green to bail them out.
The Suns were forced to play Green for 42 minutes with Bledsoe out and Markieff Morris ejected in the second quarter for picking up two techs. Green gave Melo a big helping hand with 2-for-16 shooting, including 0-for-7 futility from behind the 3-point arc. The Suns' leaper was 0-for-5 in the fourth and overtime periods.
The Knicks certainly had something to do with that with their defense. But if they were facing a better team with a more prolific scorer on Monday, the Knicks might not have a winning streak anymore.
Heck, if the Suns actually boxed out and didn't make their own late-game blunders, the Knicks might have lost. Phoenix failed to box out twice on two critical Kenyon Martin late putbacks and also was caught sleeping on an Anthony backdoor alley-oop layup at the start of overtime.
The Knicks aren't going to complain after being on the other end several times late in games at the Garden. They are building confidence and playing some serious defense by holding opponents to an average of 89 points during the streak.
But what can really push the Knicks up another notch is finding a Goose for their Maverick.
Smith is supposed to be Anthony's best wing man when the Knicks need offense. He scored 10 points but the shooting guard has been making more headlines for untying shoelaces and a benching rather than his game. He's busy now trying to earn back the trust of his owner and head coach, who told reporters before the game that Smith has to start acting like a professional.
Woodson did call Smith's number at the end of regulation for the win but Smith missed a 3-pointer at the buzzer. Shoelace-gate aside, J.R. just doesn't look like the same player he was a year ago when he was the league's best Sixth Man.
Iman Shumpert could be that second option the Knicks need but he continues to float in and out of games on the offensive end. Andrea Bargnani and Amar'e Stoudemire are more complementary pieces right now.
Raymond Felton ended up saving the Knicks with 19 points and a huge 3-pointer off an Anthony assist with 53.1 seconds left in regulation to give the Knicks a 92-90 lead. And Anthony made two baskets in overtime, which was enough for the Knicks' defense to pull it out.
"I think mentally we're a different type of team," Anthony said of fighting at the end to win the game. "Mentally, we're starting to believe when we do get down we still have a chance to win the basketball game. That's something we kind of got used to last year. … That's a good sign for us."
The Knicks are gaining confidence with each win and are playing the type of defense they need to play. Their basketball IQ is improving and Tyson Chandler (bronchitis) will be back soon.
Now if Batman can just find a Robin, the Knicks might make some serious noise.
Dimes past: December 23 | 25 | 26 | 29 | 30 | 31 | Jan. 1 | 2 | 5 | 6 | 7 | 8 | 9 | 10
ESPN Staff Writer
Ohm Youngmisuk has covered the Giants, Jets and the NFL since 2006. Prior to that, he covered the Nets, Knicks and the NBA for nearly a decade. He joined ESPNNewYork.com after working at the New York Daily News for almost 12 years and is a graduate of Michigan State University.
Follow him on Twitter »
Ohm's chat archive »
2. Around The Association
3. Monday's Best
Burks
Alec Burks, Jazz: Burks put on a show, scoring a career-high 34 points to spark Utah to a 118-103 victory over Denver. Burks made 13 of his 19 field goal attempts as the Jazz shot nearly 56 percent in the win.
4. Monday's Worst
Green
Gerald Green, Suns:
Missed all seven of his 3-point tries (he's a 37.6 percent shooter from beyond the arc this season) and finished 2-of-16 from the field in the 98-96 overtime loss in New York. Somebody put a cupcake on that rim, pronto.
7. Quote Of The Night
"I love the transparency. Now if I could just get them to do the same level of transparency for the other 47 minutes and 55 seconds, I'd really be making progress."
-- Oft-fined Mavs owner Marc Cuban, on the NBA's increasing willingness to acknowledge late-game officiating errors.
8. Bannered In Boston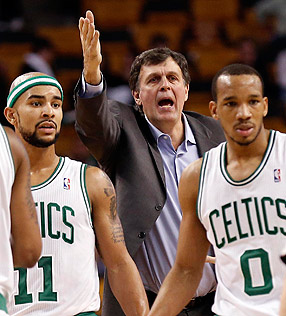 Winslow Townson/USA TODAY SportsRockets coach Kevin McHale, heavily responsible for several title banners hanging above him in Boston, talks to a referee between Celtics guards Jerryd Bayless and Avery Bradley during Houston's 104-92 win.
9. Stat Check
Dwight Howard scored 32 points against the Celtics on Monday while also grabbing 11 rebounds. That was the second-most points Howard has scored in any of his 31 regular-season games against Boston. In 30 previous games his single-game high for points was 33 and he had averaged 16.2 points per game, his third-lowest average against any team.
Around the Association
---
MVP: Kyle Lowry scored 23 points, missed just two shots all game, and filled up the stat sheet in multiple ways (five assists, four steals, 4-of-5 on 3-pointers). He scored 10 of his 23 in the first quarter, when Toronto opened up a 14-point lead and never looked back.
X factor: Since coming over from Sacramento, Patrick Patterson has given the Raptors' bench a nice boost. He poured in 18 points on 7-of-11 shooting in just 25 minutes of action Monday night.
That was ... to be expected: The Raptors came in having won seven of nine. The Bucks had dropped five straight. Monday's outcome was as quo as status gets in the increasingly disparate Eastern Conference.
-- Adam Reisinger, ESPN.com
---
MVP: In his fifth career start, Alec Burks attacked the basket throughout the game, accumulating a career-high 34 points and showing an ability to lead the offense in swingman Gordon Hayward's absence.
X factor: Utah won because of its offensive explosion in the first half, scoring a season-high 67 points. The impressive output was largely due to ball control; Utah had just one turnover in the first 33 minutes.
That was ... athletic: Sure, the Nuggets lost, but they displayed an assortment of athletic, emphatic dunks throughout. J.J. Hickson, Quincy Miller and even Evan Fournier got in on the above-the-rim party.