1. Warriors Needed Changing Of The Guards
OAKLAND, Calif. -- The Golden State Warriors were certainly lacking something in their 123-116 Wednesday night loss to the Denver Nuggets. Toney Douglas had not helped the team much all season, but ironically, his services were sorely needed on the day he was swapped in a trade for Jordan Crawford.
Douglas is an ace point guard defender who has lacked for opportunities to play alongside Stephen Curry. The Nuggets would have been perfect for Douglas, as they're rich in point guard-sized talent and supersmall lineups. In Toney's absence, Nate Robinson and Randy Foye set Oracle alight for 45 points on 24 shots.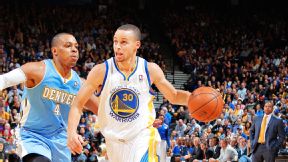 Rocky Widner/NBAE/Getty Images
Perhaps nobody could have defended Nate Robinson on this evening, though. The buoyant guard hit an array of absurd off-balance shots, sinking six in the final quarter. This display was a reminder of the games Robinson could summon as former leader of Golden State's bench offense attack.
"That's what Nate can do," Nuggets coach Brian Shaw declared. "He can bring that. He can get hot at any time. He's a streaky player, and when he's on a good streak, he's as good as anybody in the league."
Robinson's offensive outburst was illustrative of what Golden State lacks and what it seeks from the trade market. Though the Warriors did not trade for Robinson, they did make a deal for Crawford, a gunner of comparable reckless confidence.
Is Crawford, of all people, the savior of a title contender? On its face, such a possibility seems as ludicrous as Golden State's title contention status. But the Warriors boast the league's best-performing starting lineup, and Crawford has evolved as a playmaker.
For now, the bench is Golden State's glaring flaw.
"We're 29th in bench production," Warriors general manager Bob Myers said before the game. "It's safe to say we couldn't be worse." Myers' bench lacks guys who can dribble and create shots. Though Crawford, like Robinson, can produce maddening results, there is value in being the right kind of gunner amid guys who can't get their own offense.
The Warriors aren't blaming this one on a lack of Crawford or a lack of Douglas, not when they coughed up a winnable home game. Curry played well for most of the night, but with 51 seconds left and his team trailing by three, Curry dribbled the ball of his knee and into the hands of J.J. Hickson. The turnover quickly became a game-sealing dunk on the other end.
"Just a bad possession at the end, trying to do too much at the top of the key," Curry said. "Just a bad game all around."
That turnover came at a terrible moment, but the game swung on Denver's offense destroying Golden State's defense. The Nuggets claimed 40 more points than field goals attempted, running through and around loose Warriors pick-and-roll coverage. The normally sanguine Mark Jackson was quite unhappy with his team's defensive performance.
"They scored in the paint. We couldn't control or contain the pick-and-rolls. Just a bad, bad display by us," he said.
Jackson elected to play Andrew Bogut for little more than a minute in the fourth quarter, favoring a small defense against the short Denver lineups. The Warriors scored well enough with Bogut seated, but they also ceded easy layups and crucial rebounds to an energetic Denver team.
The Warriors won't blame anyone but themselves for a nationally televised home loss, and Crawford probably won't help them address the defensive lapses they suffered. Still, they need a player who can carry the bench on an evening when the opponent can't miss. Having lost to an incandescent Robinson, the Warriors seek to thrive going forward with a gunner of their own.
Ethan Sherwood Strauss writes about the NBA at Warriors World, part of the TrueHoop Network.
Dimes past: Jan. 1 | 2 | 5 | 6 | 7 | 8 | 9 | 10 | 11 | 12 | 13 | 14
ESPN Staff Writer
Covers the Golden State Warriors for ESPN.com
Contributes to ESPN's TrueHoop blog
Hosts TrueHoop TV Live
3. Wednesday's Best
Redick
J.J. Redick, Clippers: In his second game back after missing six weeks with a wrist injury, Redick scored a career-high 33 points, and the Clippers rallied from 17 points down with 4 1/2 minutes left to beat the Mavericks 129-127. Redick went 7-of-9 from 3-point range.
4. Wednesday's Worst
Allen
Ray Allen, Heat:
Call it a White House hangover. Allen missed all five of his shots en route to a scoreless night in a 114-97 loss to the Wizards. This came on the heels of a 2-for-14 shooting night in a loss to Brooklyn.
6. Tweet Of The Night
Tough 1 tonite..give Washington credit they put it on us..I must play alot better and we must play better..

— THREE (@DwyaneWade) January 16, 2014
7. Quote Of The Night
"I don't want to just get out there and then get injured again. My thing is to make sure I can go out there and keep playing games. That's the plan and were sticking to it."
-- Heat center Greg Oden, who returned to the court after more than four years recovering from injuries.
8. Greg Oden Is Back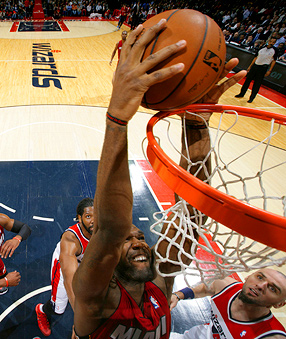 Ned Dishman/Getty ImagesGreg Oden returned to action for the first time in more than four years, posting six points and two rebounds in Miami's loss in Washington.
9. Stat Check
Victor Oladipo, playing in the 39th game of his NBA career, scored a career-high 35 points for Orlando in its triple-overtime loss to the Bulls. Oladipo eclipsed the highest point total for a rookie in an NBA game this season (33 points for Michael Carter-Williams on Jan. 7) and became the first rookie to score as many as 35 points in a game for the Magic since Shaquille O'Neal (35 points vs. Philadelphia on April 6, 1993).