1. Whatever OKC Needs, Kevin Durant Has It
OKLAHOMA CITY -- In his encore to his electrifying career-high 54 points on Friday, Kevin Durant barely even got to 30 on Sunday against the Sacramento Kings.
What a slacker.
Durant needed just 15 shots and 32 minutes to make it seven straight games with at least 30 points, and took on a bit of a different role than his career night on Friday, playing distributor as he dished out nine assists as the Oklahoma City Thunder made it three straight wins with a 108-93 win over the Kings.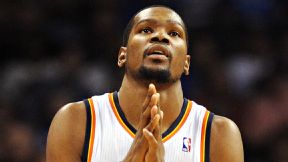 Mark D. Smith/USA TODAY SportsKevin Durant followed his 54-point night with a well-rounded winning effort against the Kings.
Durant's performance, while not as eye-popping as Friday's outburst against the Golden State Warriors, was equally as dominant, but in an entirely different way. Following the Warriors game, Durant talked about simply trying to just do what his team needs him to do any given game. Scoring, assisting, defending -- whatever it might be.
Friday, his team needed buckets, and lots of them to outgun Stephen Curry and the Warriors. Sunday, it was precision scoring and distribution as he carved the Kings up in an almost effortless manner.
"KD is a special player," Thunder coach Scott Brooks said. "Some nights he's going to have a high-scoring game. I just like the way he thinks. He thinks about the team. He had nine assists tonight, took 15 great shots and made 10 of them. Everybody got involved, everybody else got an opportunity to score. He commands so much attention, but he's not looking to score and that's what I love about what he brings night in and night out."
Durant explained his mindset against the Kings in a more simple, succinct manner.
"I just tried to be aggressive, put pressure on the rim and the defense," he said. "If they draw in, I kick it out. If not, I lay the ball up and take a good shot."
Draw in, kick out. If not, take an open shot, and probably make it. Basketball sounds crazy easy when you're Kevin Durant.
But what's making it slightly less stressful for Durant right now is the help he's getting. Those draw-in, kick-out moments are now often finding shooters that are making shots, specifically Serge Ibaka, who had his third straight game with at least 20 points, the longest streak of his career.
In those three games, Ibaka is 27-for-37 from the field, and 15 of those baskets were set up by Durant. Most felt, and the numbers supported it, that Ibaka wasn't near the same player without Russell Westbrook on the floor. He seems to be finding himself, and it's largely because of Durant's ability to pressure the defense, and consistently make the right play.
In this stretch without Westbrook, which has now been 13 games, the Thunder are learning, adjusting and improving. But really, it's that Durant that is discovering his voice on the floor as a player that doesn't lean on any specific teammate. With Westbrook, there was a real ebb and flow between the two stars, an undefinable chemistry that allowed both to express themselves fully while still playing seamlessly in sync. It's not that Westbrook was a crutch for Durant, but having that quality of a running mate allowed for Durant to often drift and blend, in a good way.
Now, Durant is still completely playing within the flow of the game and posting the same kind of absurdly efficient scoring numbers he was with Westbrook, but he has adjusted to doing it as a lone wolf. He struggled in the postseason against the Grizzlies, and at times the past couple weeks, in finding the balance between doing too much and not doing enough. He has found that sweetspot lately, and it's just simply a matter of reading and reacting on a case-by-case basis.
In those 13 games, the Thunder are now 8-5, and winners of their past three, two of which were over likely Western playoff teams. The question without Westbrook was whether the Thunder could maintain and survive, something that didn't seem possible after lackluster losses to the Jazz, Nuggets and Grizzlies. But the Thunder have bounced back, and it's basically because No. 35 is that good. He reads, he reacts, he adjusts, he adapts, he understands. He does it all while not doing it all. He scores without forcing, he passes without being passive.
The Thunder still very obviously miss Westbrook, and are unquestionably a better team with him. But they're turning a corner right now in how they play without him, winning games while looking good doing it. And it's unclear whether Scott Brooks has found some magical adjustment or that the team has developed and evolved that much in the last week.
Really, the explanation might just be that simple: Kevin Durant is just that good.
Royce Young writes about the NBA at Daily Thunder' part of the TrueHoop Network.
Dimes past: Jan. 1 | 2 | 5 | 6 | 7 | 8 | 9 | 10 | 11 | 12 | 13 | 14 | 15 | 16
ESPN Staff Writer
Covers the Oklahoma City Thunder for ESPN.com
2. Around The Association
3. Sunday's Best
Durant
Kevin Durant, Thunder: Durant scored 30 points to lead the Thunder past the Kings 108-93. Durant, coming off a career-high 54-point game on Friday against Golden State, shot 10-of-15 from the field and had nine assists.
4. Sunday's Worst
Gay
Rudy Gay, Kings:
After posting a long run of strong games starting with a Dec. 27 win over the Heat, Gay fired a blank. He scored just six points for the Kings and was ejected after picking up two technical fouls in the fourth quarter of a 108-93 loss to the Thunder.
7. Quote Of The Night
"The emphasis was to win. I thought we did that because I could feel no personal agendas, could feel nothing but five guys on the court and the two guys who came off the bench really looking for a way to get a victory."
-- Magic guard Arron Afflalo, whose team earned its first win of 2014 with a 93-91 win over the Celtics.
8. Blur Of History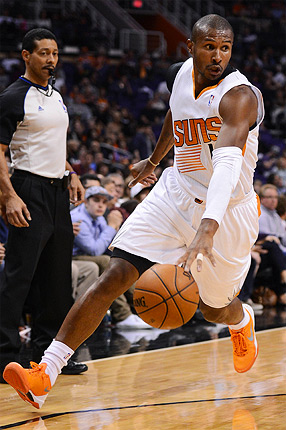 Jennifer Stewart/USA TODAY SportsIn his first game playing for the Suns at US Airways Center since their 2010 West finals run, Leandro Barbosa scored 13 points off the bench in the 117-103 win over the Nuggets.
9. Stat Check
Kevin Durant scored 30 points in the Thunder's 108-93 win over the Kings. Durant has scored at least 30 points in each of his last seven games, and his total of 268 points during that stretch is rare indeed. The only other active players ever to score that many points over a span of seven games are Carmelo Anthony (last April), Kobe Bryant (most recently in 2007), LeBron James (2006) and Dwyane Wade (2009).