1. Indiana Keeps Getting The Best Of West
OAKLAND, Calif. -- The Eastern Conference is a joke few NBA fans grow tired of telling, but it should be known that one team out of the East condescends to the West. It isn't the coasting Miami Heat, whose laurels have little to do with this NBA season. It's the exuberant Indiana Pacers, who with a 102-94 victory over the Golden State Warriors now claim the NBA's best record against Western teams (11-2).
True, they "haven't won anything," if a championship is literally all that matters. Perhaps they shouldn't be considered better than teams that have won it all before. But if you're not into holding teams to impossible standards, what more does this squad have to do in the regular season to gain title-favorite status? They've got the best record, point differential, and defense.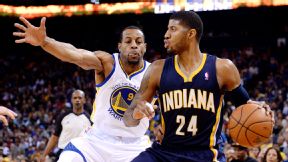 Kyle Terada/USA TODAY SportsPaul George and the Pacers began their five-game West Coast swing on the right foot.
The Pacers can also play a little offense, as they showed when they blasted the Warriors for 35 first-quarter points. Paul George scored 14 of his 23 points in that quarter, doing so on silky jumpers and slithery drives. It was a vast improvement over his previous game in Oakland, in December 2012, when he ignominiously failed to score a single point.
"I just was thinking of how can I make myself better, how can I eliminate nights like that night," George said as he recalled a game so bad that he changed his "whole approach" because of it. Back then, Indiana's superstar used to get on "the late bus" and just wait for game time.
"Now, I come on the early bus, I get my treatment done, I go in the weight room, get a good lift in, and then I go on the court and get a lot of shots in. And then after shots, I go and get my massage," he said.
Quite a few Pacers players speak about growth and about how they've taken on greater responsibilities in a short amount of time. Lance Stephenson had a rough shooting night until he hit a contested fourth-quarter 26-footer that effectively pushed the game past the reach of a tired Warriors team.
"Man, I was off the whole game. I ain't hit no jump shots until that point," Stephenson said. "I work on my jump shot all the time. I knew I was missing, so I just hit a big, clutch 3."
Stephenson was quick to note that it wasn't just 3-pointers that sealed this victory. After declaring offensive rebounds to be the factor that swung this tilt, he said: "Sometimes when I'm missing, I just try and do other things, like get offensive rebounds or push the rock, get easy points. Last year I would have just gave up, I would have lost confidence. But now my teammates got my back and they keep me aggressive, helped me out tonight."
Golden State tried to match Indiana's aggression but never could close the gap. The Pacers were just too physical in the paint, most especially when knee pain forced Andrew Bogut from the floor.
Going small is a tall order against perhaps the NBA's most physically imposing opponent. "You can't go small against us!" Ian Mahinmi crowed to fellow Pacers center Roy Hibbert. The massive starting center responded, "David Lee nearly had me on skates."
Nearly, but not quite. Warriors lineups that featured Lee at center hit one out of 13 shots, allowing the Pacers to keep the home team at bay.
In describing how he felt about Golden State's small approach, Hibbert said, "We've seen that before and after last year in the playoffs. [Frank Vogel's] going to leave me in to guard the smaller, quicker big men. He's going to trust that I'm going to do my job."
Hibbert literally looks down on the competition while often bristling at how too few look up to him. In his off time, he wears high-tech glasses that allow fans to see the world from his perch of a perspective.
Perhaps the days of Hibbert talking about how his team and his play are overlooked have come to an end, though. When asked if people now respect his team properly, Hibbert acknowledged, "Ya, they do," before adding, "We don't expect to surprise anybody."
The vaunted Western Conference has been warned, and loudly so.
Ethan Sherwood Strauss writes for TrueHoop. Follow him @SherwoodStrauss
Dimes past: Jan. 1 | 2 | 5 | 6 | 7 | 8 | 9 | 10 | 11 | 12 | 13 | 14 | 15 | 16 | 19
ESPN Staff Writer
Covers the Golden State Warriors for ESPN.com
Contributes to ESPN's TrueHoop blog
Hosts TrueHoop TV Live
3. Monday's Best
Parsons
Chandler Parsons, Rockets: Parsons sank 12 of 19 shots en route to a season-high 31 points in leading the Rockets to a 126-113 win over Portland. Parsons added 10 rebounds and seven assists while finishing one point shy of his career high.
4. Monday's Worst
Jennings
Brandon Jennings, Pistons:
Detroit's point man went scoreless in 28 minutes, missing all seven shots but connecting on five fouls in a 112-103 loss to the Clippers. It was only the second time in 330 NBA games that Jennings did not register a single point.
6. Tweet Of The Night
I just taste for the first time a smothie..MAN GOD BLESS AMERICA=

— GiannisAntetokounmpo (@G_ante34) January 20, 2014
7. Quote Of The Night
"Some of the flagrant fouls that I see called nowadays, it makes me nauseous. You can't touch a guy without it being a flagrant foul."
-- Kobe Bryant, who is not enjoying watching the current "finesse" brand of NBA basketball while he rehabilitates.
8. Rare Bird Win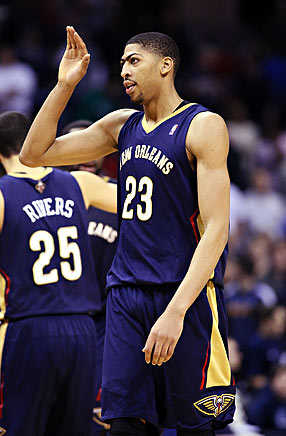 Nelson Chenault/USA TODAY SportsAnthony Davis scored 21 of his 27 points in the second half and grabbed 10 rebounds as the Pelicans won for only the second time in January, claiming a 95-92 win over Memphis.
9. Stat Check
Paul Millsap scored 26 points, leading seven Hawks players who were good for at least a dozen points each as the Hawks captured an unusual 121-114 victory from the visiting Heat. Atlanta led at halftime 71-70 in the first NBA game in more than four years in which each team reached the 70-point plateau over the first 24 minutes. (The last NBA game like that was a Suns-Warriors game the day after Christmas 2009, in which Phoenix led at the half by the same 71-70 score.)
Furthermore, Mondays Heat-Hawks contest was only the third in the history of the NBA in which each team scored 70-plus points in the first half, but neither team scored more than 50 points in the second half. The last such game was played on Dec. 27, 1980, when the Nuggets defeated the 76ers 125-121 after the score had been tied 75-75 at the half.
For the Heat, Monday's loss represented the second straight time that 114 points were not enough for Miami to win. The last time that Eric Spoelstra's team scored that many points, at home on Jan. 2, it lost to the Warriors 123-114. Prior to that loss to Golden State, the Heat had been 41-0 when scoring more than 110 points in regulation-length games since LeBron James joined the team in 2010.
Around the Association
---
MVP: D.J. Augustin. His season-high 27 points on 10-for-16 shooting (5-7 from three) led the way through the fourth quarter and overtime. He also had four assists in relief of the injured Kirk Hinrich.
Defining moment: Taj Gibson's buzzer-beating layup. In a game of many spectacularly dramatic scores, it'll be the one that finally ended things that will make most of the night's highlight reels.
That was ... exciting. A jolt of unexpected climax in the dog days of January saw more than 20 lead changes and an unlikely shootout between Augustin and Nick Young, who finished with a game-leading 31 points.
---
MVP: Chandler Parsons scored early and often. He was efficient -- 12-of-19 from the field, 3-of-5 from 3 -- on his way to a game-high 31 points and 10 rebounds.
That was ... a shooting clinic: The Rockets seemingly couldn't miss. They finished shooting 52 percent from the field and 48.5 percent (16-of-33) from downtown. Credit goes to great ball movement as well as hot hands.
Turning point: After falling behind by as many as 22, the Blazers cut the Rockets' lead to just six midway through the third quarter. Houston responded with a 7-0 run, putting the Blazers away for good.
-- Andrew Tonry, TrueHoop Network