1. Kevin Durant Now 'On A Whole Other Level'
OKLAHOMA CITY -- It only took three minutes for Kevin Durant to go from screaming mad to laughing hysterically.
With 3:15 left, Durant was called for an iffy charge as the Oklahoma City Thunder trailed the Portland Trail Blazers 93-90. He walked to the sideline, yelled an unprintable word, slammed his hand on the scorer's table and was hit with a technical foul.
After that: 11 points on 4-of-4 shooting, including three dagger 3-pointers, one after another to put the Blazers away 105-97.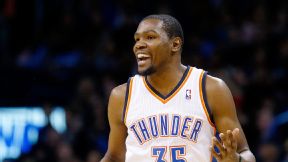 AP Photo/Sue OgrockiKevin Durant dropped 46 points on the Blazers, his eighth straight game with 30 points or more.
"The way he was playing, he probably could have scored on Jesus," said Blazers guard Mo Williams.
After the final 3, a second straight walk-up bomb from the top of the key in Nicolas Batum's face, Durant hopped his way back to the Thunder's bench flashing a thousand-watt smile. All it took to turn that frown upside down was 46 points on 17-for-25 shooting, which included 5-of-6 for 14 points in the fourth quarter.
"I'm just having fun out there. I'm blessed to play this game," Durant said. "So every moment I'm on the court is fun for me no matter how the game's going. When you play this game and you look to the bench and you see your teammates so happy for you, all I can do is smile because I know they're genuinely happy for me, for the team. It's a great feeling when you have a group of brothers supporting you no matter what, so that's what I'm smiling for."
It also was a little retribution for the last time Portland visited OKC. On New Year's Eve, a Westbrook-less Thunder led going into the fourth quarter as Durant sat upon 36 on 12-for-21 shooting entering the final frame. The last 12 minutes he went 0-for-5 and scored a single point as the Thunder blew a 16-point lead.
On Tuesday night, with 32 on 12-for-19 shooting after three, Durant wasn't going down like that again.
"There's no question we're seeing an amazing player develop in front of our eyes," Thunder coach Scott Brooks said. "That's one of the big reasons why I started wearing my glasses during the game, so I can see it. I didn't miss the 54-point night and I didn't miss tonight."
The other thing Brooks might not have believed had he not been wearing his specs: Kendrick Perkins' 15-foot baseline dagger with 90 seconds left. With the best offensive player in the world cooking, it was Perkins, yes, Perkins, who was taking a shot in a critical moment.
"To hit a huge shot like that, especially a jump shot, a lot of people I heard screaming 'no' when he shot it, but he had so much confidence in himself, and we had confidence in him," Durant said. "That was a huge shot. He played hard defense all game and to see him get rewarded with that was pretty refreshing. I'll ride with Perk until the wheels fall off. I'm glad he hit that shot."
Durant's fourth-quarter barrage is what makes "SportsCenter," but Perkins' final-frame defense was equally as critical. The much-maligned Thunder big man saved two points swatting an open Damian Lillard layup, picked off an inbounds pass, and held LaMarcus Aldridge to just 1-of-9 shooting in the fourth.
"I'm not the smartest guy in the world, but I'm pretty good with chemistry," Brooks said of Perkins. "And that's what he brings."
Durant though? He brings it all, and then some. He's always had that golden scoring touch, an innate ability to keep the scoreboard moving with a devastating silence. But the way he's scoring right now is loud. He's maintaining his efficient mindset, putting up 130 points on just 68 shots the past three games, but there are bursts of offense that send eyeballs flying out of heads and jaws to the floor. When Durant lets it fly right now, it almost feels like there's a money-back guarantee that it'll go in.
My teammates do a great job of setting me up. It's far more than just me," Durant said. "It's a small part actually, what I do. It's more so the plays Coach calls, the screens being set, the passes being passed. I think the end result is just on me trusting in the work to knock down shots."
The way Durant tries to describe his current level of play is simple, even boring. He leaves himself laughing on the court -- his version of a shoulder shrug -- almost in disbelief at the fire that's smoldering out of his right hand. And the way he talks about it, saying he's a tiny little piece to the overall offensive puzzle, it's like Durant is unable to even comprehend what he's doing. He's averaging 30.9 points on 50-40-88 shooting splits, and is at 36.5 points, 7.2 rebounds and 5.6 assists in the 14 recent games Westbrook has missed.
"I don't know, man," Perkins said, as he searched for the words to describe Durant. "I've played with some pretty good players, but what he is doing right now is on a whole other level."
Royce Young writes about the NBA at Daily Thunder, part of the TrueHoop Network.
Dimes past: Jan. 1 | 2 | 5 | 6 | 7 | 8 | 9 | 10 | 11 | 12 | 13 | 14 | 15 | 16 | 19 | 20
ESPN Staff Writer
Covers the Oklahoma City Thunder for ESPN.com
3. Tuesday's Best
Durant
Kevin Durant, Thunder: Durant scored 11 of his 46 points in the final 3:23 to help the Thunder beat the Trail Blazers 105-97. Durant has scored at least 30 points for eight consecutive games, the longest such streak of his career.
4. Tuesday's Worst
Rondo
Rajon Rondo, Celtics:
In his third game back, Rondo had double-teams to contend with against the Heat. He finished the night with one point and went 0-for-8 from the field in the 93-86 loss to Miami.
6. Tweet Of The Night
Hate to hear about my boy Gallo. Still will be a star when he gets back on the court.

— Jamal Crawford (@JCrossover) January 21, 2014
7. Quote Of The Night
"I've played with some pretty good players, but what he is doing right now is on a whole other level."
-- Kendrick Perkins, on his Thunder teammate Kevin Durant
8. The Unstoppable Rudy Gay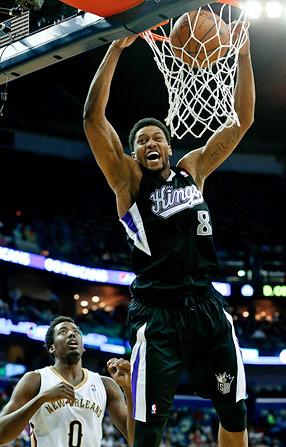 Derick E. Hingle/USA TODAY SportsRudy Gay tied a career high with 41 points as the Sacramento Kings cruised to a 114-97 victory over the New Orleans Pelicans. Gay hit 16 of 25 shots, including 5-of-8 from 3-point range.
9. Stat Check
Kevin Durant, with 46 points in Tuesday night's win against the Trail Blazers, has scored at least 45 points four times in his last 10 games. The only other players in the past 25 years with four (or more) 45-point performances in a 10-game span of a season are Kobe Bryant (many times, most recently in March-April 2007) and Bernard King (during the 1990-91 season).
Durant has scored 383 points over his last 10 games, the highest 10-game total in any season since Bryant scored 396 points in a 10-game stretch late in the 2006-07 campaign.