1. With Durant Afire, Jackson Fanning Flames
By
Andrew McNeill
| TrueHoop Network
SAN ANTONIO -- Only a handful of questions from some pesky reporters stood between Reggie Jackson and a postgame shower. You wouldn't blame him if he wanted to take his time before addressing the media.
"I'm just gonna put on a T-shirt and get this over with," Jackson said to no one in particular as he turned around to throw a white undershirt on over his towel and then face the recorders.
Tedious though it may be, Jackson will need to get used to the attention if he continues to perform against the Western Conference's best the way he does against the Spurs. On a night when Kevin Durant continued his blistering scoring performances, putting up 36 points on 22 shots for his ninth straight game of 30-plus points, Jackson added to the onslaught, scoring 27 points, with eight assists and zero turnovers against San Antonio in a 111-105 win. Oklahoma City is now 10-5 without Russell Westbrook this season.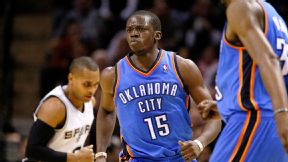 Soobum Im/USA TODAY SportsHelping fill the void left by Russell Westbrook, Reggie Jackson scored 27 points in the Thunder's win in San Antonio.
"I thought he did a good job of finding spots on the floor that he can finish around the rim and he also does a good job of finding guys that are open," Thunder coach Scott Brooks said.
Jackson's performance in San Antonio on Wednesday night continues a positive trend for the third-year guard against the No. 2 team in the Western Conference. He has scored at least 20 points in six games this season, and three of those performances have come against the Spurs, averaging 23.7 points and 4.7 assists versus San Antonio.
With the two teams widely expected to collide in the Western Conference finals this spring, Jackson could pick worse teams to have standout performances against.
"I guess I have a tendency to find some holes and weak spots against them," Jackson said. "Their bigs, their defensive scheme is kind of playing off and playing back, so I get a few floaters going early and I think I've just been feeling good."
Indeed, the Spurs big men don't attack opposing guards on pick-and-rolls, preferring instead to hang back in the lane and prevent layups. Any ability to hit the shots presented between the 3-point line and the rim are there for the taking.
Jackson followed that scouting report to the letter. Floaters and pull-up jumpers early opened up the floor for Jackson and the Thunder as the game wore on, especially when Kawhi Leonard left the game in the first half with a non-displaced fracture of the fourth metacarpal on his right hand.
With no backup small forward to put on Durant, the Spurs rotated the likes of Manu Ginobili, Marco Belinelli and Cory Joseph on the league's leading scorer. In the fourth quarter, Jackson scored a team-high 13 points on 6-for-8 shooting and helped the Thunder maintain the lead.
While the Spurs did an admirable job on Durant -- they forced him into committing 11 turnovers, prompting Durant to label himself "dumb" -- the MVP contender continued his scoring tear and hit a pair of 3-pointers late to put the game out of reach.
"Having a guy like that on your team and in your corner," Jackson said of Durant, "I think the mindset is just stay close in the game and normally he'll bring it home."
And bring it home Durant did. KD will always produce big performances and draw the most attention, both on and off court, but Jackson is starting to find his share of attention as he comes through for the Thunder when the spotlight is on. So far, he's showing he can handle it on the court. As for off of it? The first step is being dressed for the occasion.
Andrew McNeill writes about the NBA at 48 Minutes Of Hell, part of the TrueHoop Network.
Dimes past: Jan. 1 | 2 | 5 | 6 | 7 | 8 | 9 | 10 | 11 | 12 | 13 | 14 | 15 | 16 | 19 | 20 | 21
2. Around The Association
3. Wednesday's Best
green
Jeff Green, Celtics: Green scored a season-high 39 points in the Celtics' 113-111 overtime victory in Washington that snapped a 10-game road losing streak. The former Georgetown star finished with nine rebounds alongside career-highs in 3-pointers attempted (16) and made (8).
4. Wednesday's Worst
singler
Kyle Singler, Pistons:
He was no Singler sensation in the 104-101 loss to Milwaukee, the NBA's worst team. Singler went 0-for-7 from the floor in 19 minutes of inaction, missing all four of his 3-point attempts.
6. Tweet Of The Night
With Reggie Jackson and Jeremy Lamb playing well, OKC will be the team to beat in the west when Westbrook gets back!

— Earvin Magic Johnson (@MagicJohnson) January 23, 2014
7. Quote Of The Night
"We've got to believe that we can win a game."
-- Knicks coach Mike Woodson, after his team lost to the Sixers 110-106, its fifth straight loss.
8. Ex-Pacer Sets The Pace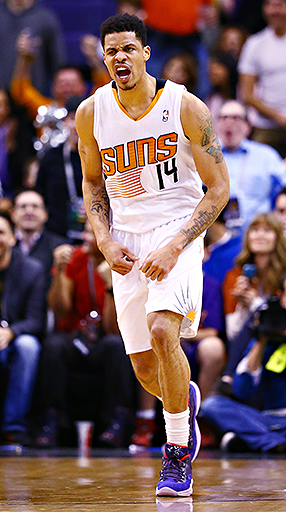 Mark J. Rebilas/USA TODAY SportsSuns guard Gerald Green scored 23 points in a rout of the NBA-leading Pacers, for whom he averaged 7 points per game last season.
9. Stat Check
Kevin Durant had 36 points, seven rebounds and five assists in the win over the Spurs. He is one of eight players in NBA history with 30 points, four rebounds and four assists in each of seven straight games in single season. He joins Oscar Robertson (7 times), LeBron James (4), Wilt Chamberlain, Jerry West, Kareem Abdul-Jabbar, Larry Bird and Tracy McGrady.
Around the Association
---
MVP: Taj Gibson did about all that could be asked of him as he stepped into the starting spot for an injured Carlos Boozer. He set the tone early, and provided a steady presence for the Bulls on the offensive end. He contributed a career-high 26 points, as well as five rebounds and three blocks in a full 42 minutes of action.
X factor: D.J. Augustin. You never know exactly what kind of production you are going to get out of him, but he was right on the money tonight, putting up 27 points on only 14 shots. By knocking down five 3-pointers and dishing out seven assists, he provided the Bulls with another offensive option alongside Gibson.
LVP: C.J. Miles saw only 20 minutes of action, and he wasn't able to do too much with his minutes. He shot slightly over 30 percent from the floor while putting up eight points and posting a game-low plus/minus mark of minus-16.
-- Michael Kaskey-Blomain, TrueHoop Network
---
MVP: Big Al Jefferson was not only the Bobcats' leader in points and rebounds with 24 and 10, respectively, but he was also their rock. Whenever Charlotte needed a basket to keep the Clippers at bay, Al delivered -- even with DeAndre Jordan draped all over him.
X factor: The Clippers' early mistakes. They turned it over five times in the first quarter, totaling 14 fumbles and 14 points allowed off turnovers; the Clippers scored just nine off Bobcats turnovers. Eliminate that five-point difference and L.A. wins by one.
Defining moment: In the final 60 seconds, the Clippers had three possessions to deliver. They faltered, going 1-for-5. Where the Bobcats prospered without Kemba Walker, the Clippers sorely missed their floor leader and crunch-time aficionado, Chris Paul.
---
MVP: Paul Millsap, who barely missed out on a 5-by-5. He finished with 24 points on 9-for-17 shooting, 6 rebounds, 5 assists, 3 steals and 5 blocks.
X factor: The Hawks had a 19-point lead at one point in the third quarter, but Victor Oladipo helped rally the Magic back to give them a shot to win. The rookie had 24 points, 7 rebounds and 7 assists.
LVP: Arron Afflalo had a size advantage at shooting guard all night, but it was his backups who took more advantage of it. Afflalo had only six points (3-for-9 shooting), almost 15 points below his season average.