1. Big & Tall: Bosh's Hot Night, Oden's Next Step
MIAMI -- It's probably not much of a stretch to say the Miami Heat lead the NBA in perspective.
Given the level of scrutiny this group experienced when initially coming together in 2010, and the impatience surrounding them until that first championship was secured in 2012, LeBron James & Co. have figured out the appropriate reaction for just about any scenario.
So, as many outsiders wonder exactly when it's time to panic about Dwyane Wade's knees -- he missed his fourth straight game Thursday as Miami defeated the Los Angeles Lakers 109-102 -- the Heat instead reminded us what the proper reaction should be.
They did it Thursday with LeBron displaying a certain edge (no sign of coasting) in scoring 27 points with 13 rebounds and six assists. He said simply, it's that time of year: "This is the second half of the season and every game matters."
They did it by showing that Chris Bosh is fully capable of filling Wade's scoring void, as he went for 31 points on 15-of-22 shooting, the second-best shooting percentage of his career (68 percent) when taking 20 or more shots.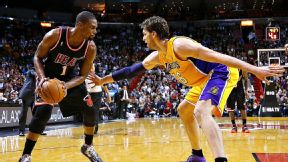 Mike Ehrmann/Getty ImagesChris Bosh dropped 31 points on Pau Gasol and the Lakers.
But mostly, a newer member of the Heat offered the largest dose of perspective.
That would be Greg Oden, the 7-footer who's been away from the game for four years and is tip-toeing his way back into regular NBA action.
Oden played in his fourth game Thursday -- the first time he's seen action in consecutive games - and stayed in a season-high 10 minutes.
Nothing major, it would appear, happened in those minutes. Five points, five rebounds, a blocked shot and three fouls hardly jump off the page.
Unless you're Oden, who considers five rebounds something of a milestone.
"That's the most I've gotten this year," said Oden, who has largely stayed away from the media while he rehabbed for this slow and steady return to the court.
"My timing is definitely off on my rebounds. Most of the time, I'm coming down and the rebound is going right over my head. Today was just very encouraging for me to get five rebounds."
Oden's teammates noticed much more than what the boxscore indicates.
"His activity," James said when asked what he liked about Oden's 10 minutes. "Got a shot block, went after some offensive rebounds, had a chance to get some tip dunks. You could see he's a little out of rhythm, but that's OK. He's very active.
"The great thing I love seeing is when he jumps and he lands and he gets back on defense. Even the one where the ball was saved under our basket near our bench and [Pau] Gasol ended up getting it, I saw him fly in and try to get that and continue to play. That is positive for him, for us as a team, for us as a franchise to just see him continue to make these baby steps in coming back."
Oden's coach, Erik Spoelstra, couldn't hold back a smile when asked about Oden.
"I loved it," Spoelstra said. "What you're seeing is a little bit of mistiming from time off. But if you look at the glass half full, you see him being in the right spots. That's what you can't teach in this game. He's in the right spots. It's just a matter of time before those plays are made, and we don't have anyone else on our roster that can make those types of plays."
The Heat certainly don't have anyone else the size of Oden, and it's why his signing was seen as an attempt to solve that large problem Miami has in countering Roy Hibbert, the Indiana Pacers big man who makes a killing against the Heat interior.
And at times -- he's played a total of 29 minutes this season -- you can see the type of effect Oden could have even against a 7-foot-2 giant like Hibbert.
For now, while 10 minutes and five rebounds remain major accomplishments, Oden is simply trying to find comfort in the Heat's system. He's essentially emulating Chris Andersen, whose activity along the baseline and near the basket has that area dubbed "the bird box" ("box" because Andersen refuses to be caged).
"Get to the bird box, get to the baseline, set picks," Oden said. "I think that's kind of where I'm at. It's a good system, and I'm starting to learn it. The more I'm on the court, the more comfortable I'll get with it.
"I've still got a ways to go. I'm still not as quick as I want to be out there."
Oden, who said his official minutes limit is "when I'm tired," can also have a significant impact on Bosh.
It's fairly apparent that Bosh enjoys playing his natural position of power forward every so often. It's a move he's been able to make more often lately, as Spoelstra has played him and Andersen together against bigger lineups.
With Oden, Bosh can spend even more minutes at the four spot, and Bosh took full advantage Thursday. He matched up against Gasol and outshined him, working his mid-range game to near perfection.
It also didn't hurt that Wade was out again, giving Bosh more space and more opportunities to be aggressive.
As for Wade's return from a minor setback he suffered on the Heat's most recent road trip, LeBron managed to offer just the right level of apprehension on that subject.
"Any time a guy misses multiple games in a row, you have some sense of concern," James said. "Having [Wade] on the floor makes us more dangerous. But at the end of the day, having him healthy makes us more dangerous, too."
When the season comes down to critical games in May and June, no one's going to remember four missed games in January.
Perhaps no one knows it's OK to sit out a few games for the greater good than Oden.
He made his season debut on Jan. 15. He's played in three out of the five games since. And even though he says it's "time to start ramping it up," only his knees can truly tell him when he's playing again.
And that's perfectly OK.
"What I've been through, I've got nothing but patience now," Oden said. "It was a tough, long road.
"And after four years, what's a couple of games?"
Dimes past: Jan. 2 | 5 | 6 | 7 | 8 | 9 | 10 | 11 | 12 | 13 | 14 | 15 | 16 | 19 | 20 | 21 | 22
ESPN Staff Writer
Israel Gutierrez is an NBA writer for ESPN.com.
2. Around The Association
| | | | | |
| --- | --- | --- | --- | --- |
| Denver Nuggets | 105 | FINAL | 110 | Portland Trail Blazers |
---
MVP: LaMarcus Aldridge. He continues to operate in beast mode, racking up a career-high 44 points on 15-of-29 shooting, with 13 rebounds. He also made a string of big plays down the stretch.
Defining moment: Damian Lillard's scorching first-half dunk. The game came a somewhat compelling finish, but Lillard's highlight reel was the stuff of iconography.
That was ... a tale of two halves. The Blazers defense buckled down after halftime and held the Nuggets to just 38 points in the second half, after allowing a startling 67 in the first.
| | | | | |
| --- | --- | --- | --- | --- |
| Los Angeles Lakers | 102 | FINAL | 109 | Miami Heat |
---
MVP: Chris Bosh (31 points on 15-for-22 shooting) was locked in. He seemingly could not miss a mid-range jumper all night long. Whenever the Heat needed a bucket, Bosh was there to provide one.
Defining moment: With Miami leading 106-101, Bosh's jumper with 54.4 seconds left served as the dagger. The talent-deficient Lakers tried as hard as they could to steal a game in South Beach, but Bosh had other ideas.
That was ... another lazy performance: The Heat's season has been defined by their up-and-down play, which can partly be attributed to coasting at times. That happened again tonight, as Miami had to battle against boredom in their closer-than-expected win.
3. Thursday's Best
Aldridge
LaMarcus Aldridge, Blazers: Aldridge made his case for an All-Star selection with 44 points, 13 rebounds and five assists in Portland's comeback win over Denver.
4. Thursday's Worst
Denver Nuggets:
The Nuggets held a 15-point second-half lead in Portland -- a lead that would soon evaporate as the aforementioned Aldridge & Co. rallied to prevent a third straight loss.
6. Tweet Of The Night
Wow. Thanks 2 everyone that supported and that voted for me. Amazing feeling and can't wait to represent my teammates down in NO. #dubnation

— Stephen Curry (@StephenCurry30) January 24, 2014
7. Quote Of The Night
"With all due respect to the fans that voted me in, I certainly appreciate that, they know how much I appreciate that, but you got to do the right thing as well. My fans know you got to reward these young guys for the work that they've been putting in."
-- Kobe Bryant, on being voted in as an All-Star starter despite playing only six games in 2013-14.
8. Try It On For Size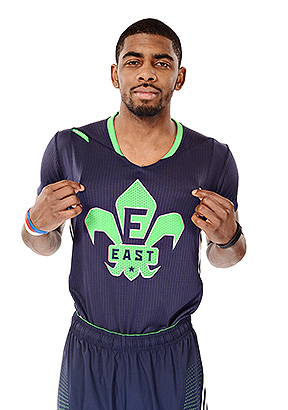 Garrett W. Ellwood/NBAE/Getty ImagesCavs point guard Kyrie Irving shows off his new look after being named to the All-Star starting lineup.
9. Stat Check
Bosh
Chris Bosh scored 31 points for the Heat in their 109-102 win against the Lakers, and he did so by making 68 percent of his field-goal attempts (15 of 22) while not making a single trip to the free-throw line. Over the last three seasons, there have been only three other instances of an NBA player scoring more than 30 points in a game while making more than two-thirds of his field-goal attempts and not sinking a single free-throw.
Two of them were also by Miami players, Mario Chalmers (Jan. 12, 2013, at Sacramento) and Dwyane Wade (Feb. 26, 2013, vs. Sacramento), while the most recent such performance before Bosh's was by the Mavericks' Shawn Marion earlier this season (Dec. 30 at Minnesota).