1. Durant Makes LeBron, Heat Latest Victims
MIAMI -- A student of the game and an expert on the league, LeBron James has never been so right and yet maybe never been so wrong about his friend and foe Kevin Durant.
"There's nobody that can guard him one-on-one," James said this week. "Great offense will always beat great defense; KD is a great offensive player."
There's no one who would question that right now, especially any of the teams Durant has plowed through on his now 12-game streak of scoring at least 30 points. That now includes James' Miami Heat, who were the latest to fall to Durant's onslaught. Durant put up 33 points in another breathless all-around performance Wednesday night to lead the Oklahoma City Thunder to a 112-95 statement win in South Florida.
But whether it's some sort of defensive mechanism or just an unusual distortion of reality, James doesn't seem quite willing to acknowledge the tour de force that Durant has mushroomed into this season.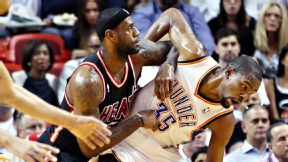 Marc Serota/Getty ImagesThere was no holding down Kevin Durant during OKC's rout of the Heat.
"His [ball handling] hasn't improved, [people] are probably just now noticing it," James said. "He has one of the best handles in the league. He can handle the ball, it's a tough cover."
Then there was this.
"KD has always been great passing the ball," James said. "[People] just recognized the more popular thing, which is scoring."
Perhaps James is attempting to pay Durant some sort of compliment by implying he's just now getting attention for the development in his all-around game. But, by any measure, Durant has improved vastly both in his playmaking with the ball and his handling of it. Those improvements, plus his increased effort on the defensive end, are central reasons he's exploding to his best season.
Just to understand, last season was the first time in Durant's career he ended up with more assists than turnovers. He had 93 more assists than turnovers in 81 games last season. Through 47 games this season, that positive margin is already at 83.
The stats, though, have limited value in making this case. Watching James defend Durant on Wednesday said it all. One of the best on-ball defenders in the league because of his size, quickness and confidence, James repeatedly found himself on his heels dealing with the triple threat that Durant has morphed into as his game has been honed.
James had a very strong game Wednesday, aggressive and locked in and playing like the game truly meant something. He scored 34 points, continuing a recent trend of kicking up his own play.
But James, who had three rebounds and three assists, was outplayed by Durant, who had seven rebounds, five assists and two steals. And it happened at both ends of the floor. It was narrow, to be sure, but after losing six in a row dating to the 2012 Finals to James and the Heat, Durant struck back in this one and did so in quite an impressive way.
Which leads us to the bottom line from this game: There is no longer a discernible gap between James and Durant. James is more decorated and more experienced, but the difference in their games no longer appears so definitive as it did when they faced off in the Finals two years ago.
What that means for the near future is, to say the least, interesting.
"He is 25 years old," Dwyane Wade said about Durant. "This is going to be him for a couple years, this is what he's going to do."
Wednesday's game was a complete outlier by numerous standards. There was a 43-point swing in the score -- the Heat led by 18 in the first quarter and the Thunder led by as many as 25 in the second half -- which reveals just how wild a game it was.
The Thunder are not going to make 16 3-pointers in a game often; in fact, they'd never made that many in a game since they've been called the Thunder. Derek Fisher, who came in shooting 33 percent on 3-pointers for the season, isn't going to go 5-of-5 often. The Heat aren't going to turn the ball over 21 times very often, and they're not going to miss 15 consecutive 3-pointers, as they did, on their home floor. The point spread was misleading relative to the strength of the two teams.
But the apparent Durant-James stalemate -- that is something that looks like it might have staying power. So, too, was a change in the Thunder's strategy.
OKC coach Scott Brooks had been rigid in his game plan against the Heat over the past two seasons, sticking with lineups that included center Kendrick Perkins even as the Heat ran past them with quicker and smaller lineups of their own.
Brooks finally adjusted after the Heat ran past the Thunder with Perkins in the first quarter. Perkins never played after the first five minutes, and backup center Steven Adams wasn't in the rotation at all. Instead, Brooks used Durant and Perry Jones at power forward and Serge Ibaka and Nick Collison at de facto center.
The result was a team that was extremely athletic and quick, and they disrupted the Heat's offensive flow with their length and ability to move. The Heat are used to having the superior athleticism -- it's been the basis of their past two titles -- but it was not the case this night. And perhaps not in the future when it comes to Thunder-Heat games.
"I thought to win this game we had to make a decision to go with a smaller lineup," Brooks said. "We have a lot of flexibility with our team."
It's fair to assume Brooks will be going to that style again when the two teams play next month and, perhaps, in the case of a Finals rematch that seems like it's certainly a possibility this season.
One thing fans hope will been seen again was the highly entertaining back-and-forth between James and Durant during a stretch in the third quarter. Over the course of 2½ minutes, James made three shots with Durant defending him and Durant made three with James on him. There was power, grace and style in that moment, the sort of head-to-head matchup of the game's top stars that fans dream of.
"It was Rucker Park, that is what was going through my head," Durant said with a smile, referring to the famous street ball spot in Harlem. "It was fun, I'm sure the fans got what they wanted to see with that one."
On what was otherwise a tough night, thinking about those few minutes made James smile, too. On a night he'd probably rather forget, it was a memory that rose above all the discourse that surrounds such a high-profile matchup.
"It's been a while since I've been able to do something like that -- we out and went at each other," James said. "I haven't had many days like that in a long time. It was fun."
Dimes past: Jan. 9 | 10 | 11 | 12 | 13 | 14 | 15 | 16 | 19 | 20 | 21 | 22 | 23 | 26 | 27 | 28
ESPN Senior Writer
ESPN.com NBA writer since 2010
Covered Cleveland Cavs for seven years
Author of two books
2. Around the Association
3. Wednesday's Best
Durant
Kevin Durant, Thunder: KD had 33 points in the trouncing of Miami. He has now scored at least 30 points in 12 straight games. More impressive? Derek Fisher, who turns 40 in August, going 5-for-5 from 3-point range.
4. Wednesday's Worst
Magic's road woes: Good news: Nikola Vucevic returned from a 12-game absence following a concussion with 16 points and 10 rebounds. Bad news: Orlando still lost its 10th straight road game 98-83 in Toronto. Orlando is an NBA-worst 3-21 away from home.
6. Tweet Of The Night
As of right now KD is the best player in the league.

— BRANDON JENNINGS (@BrandonJennings) January 30, 2014
7. Quote Of The Night
"It was Rucker Park, that is what was going through my head."
-- Kevin Durant, on the duel with LeBron James that was worthy of a famous street ball spot in Harlem.
8. Lowry Keeps Rising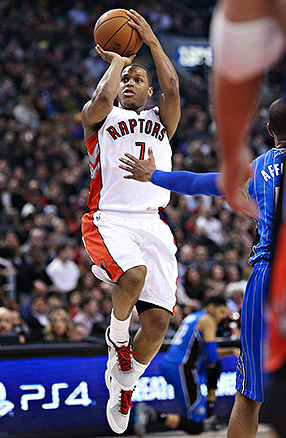 Richard Lautens/Getty ImagesRaptors point guard Kyle Lowry scored a season-high 33 points and dished out 11 assists in a 98-83 over the Magic.
9. Stat Check
Dirk Nowitzki scored 38 points -- including the 26,000th of his career -- in the Mavericks' home loss to the Rockets on Wednesday night. All of Nowitzki's points have come in a Mavericks uniform making him one of six players in NBA history to score 26,000 points with one franchise, joining Karl Malone (Jazz), Kobe Bryant (Lakers), Michael Jordan (Bulls), Hakeem Olajuwon (Rockets) and John Havlicek (Celtics).
Around the Association
---
MVP: Joakim Noah. He was two assists shy of a triple-double, posting a 10-10-8 line against the Spurs, and did the dirty work/stuff that doesn't show up in a box score/intangibles/you name it to help the Bulls win.
X factor: Turnovers. San Antonio turned the ball over 19 times on the evening to Chicago's eight. With the way the Spurs struggled to find clean looks at the basket, turnovers were a major issue.
That was... awfultrocious: Basketball is a beautiful sport, but for stretches these two teams withered it down to its ugliest aspects. There were blown layups, air-balled free throws and plenty of loose balls.
---
MVP: Big nights from Blake Griffin are becoming commonplace. He was L.A.'s stabilizing force, scoring 29 points in a plethora of ways from the post: face-ups, fouls, righty hooks and, of course, dunks. Griffin's four assists understated his distribution, too.
X factor: The Wizards obliterated L.A. in the paint, to the tune of a 20-point advantage. The Clippers made up for it on the stripe, where they drilled 32 free throws to the Wizards' measly 10.
Defining moment: Deck-a-DJ backfired. With the game winding down and the Clippers up by three, the Wizards fouled DeAndre Jordan. He nailed both. On the other end, Bradley Beal -- an 80.8 percent free throw shooter -- missed both of his attempts.
---
MVP: A day before All-Star Game reserves are announced, Mike Conley Jr. had himself a statement game before the powers that be. He finished with 27 points on 8-of-13 shooting and 10 assists in the Grizzlies' victory. Conley had a big second half that really made the difference for Memphis tonight. The veteran guard chipped in 20 points on 6-of-8 shooting in the periods after halftime.
LVP: With Rudy Gay back in the Kings lineup, Marcus Thornton reprised his role as the invisible man in Sacramento. The Kings got no production out their starting shooting guard, who took just two shots and scored two points. In his past three games, Thornton had averaged 24 points and shot better than 52 percent from the field.
X factor: Fourth-quarter turnovers played a major role in deciding tonights game. The Grizzlies committed just one turnover in the final period while the Kings coughed up six. In a game decided by 10 points, the Kings six fourth-quarter turnovers also led to eight Grizzlies points.