1. Aussie Rules: Bogut Powers Warriors' Win
OAKLAND, Calif. -- The NBA's best rivalry of exciting, formerly awful West teams saw little fire from the losers on Thursday night, as the Golden State Warriors asserted themselves from the beginning, coasting to a 111-92 win over the Chris Paul-deprived Los Angeles Clippers.
The easy win followed an uneasy time for Golden State. A string of recent losses had darkened the mood at the Warriors' HQ.
"It hasn't been a happy place around here the last couple of days," said Warriors center Andrew Bogut. "A lot of guys [were] edgy."
David Lee confirmed, "Coach was upset with us during shootaround. We were upset with each other. It's just frustrating when we know we have the talent and ability in this locker room to be a better basketball team than we are right now, and you saw it out there on the court [Thursday night]."
Whatever frustrations preceded were seemingly taken out on a hapless Clippers team that never led in the contest.
Though the game lacked for the scuffles that have come to define this matchup, it did fit a certain pattern: Bogut again hurt the Clippers. The Golden State center claimed 14 points, 17 rebounds and three blocks on Thursday. Over the three-game season series, Bogut has played well above his season averages, notching 13.7 points and 12.3 boards with 69.2 percent shooting.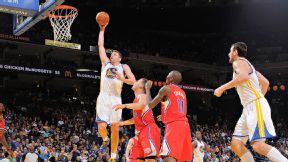 Rocky Widner/NBAE/Getty ImagesDavid Lee and Andrew Bogut provided a formidable one-two punch.
On Golden State's final possession of the first quarter, we were treated to one example of why Bogut has recently deviled Los Angeles. The large, lumbering Australian tugged Hedo Turkoglu's hand as Harrison Barnes whizzed by. The refs caught that one, but the "hand holding" was illustrative of oft-unseen tactics that have frustrated a Clipper team that might be inclined toward frustration. Perhaps the most notable instance of this happened the last time these teams faced, when Bogut managed to get Blake Griffin ejected with a series of shenanigans that were either sly or dirty, depending on your perspective.
On Thursday night, Bogut unleashed his arsenal of sneaky tactics while combining them with a dominant, highly visible performance. His first two field goals were both alley-oop dunks, Golden State's more tame version of "Lob City." Lately, the Warriors have been leveraging the threat of their shooters, using them to free Bogut for thundering lobs.
Stephen Curry explained Golden State's new love of the lob: "I think a lot of times in pin-down situations, you have to pick your poison, obviously. If I have Klay [Thompson] coming off the down screen -- we love that jump shot -- or if they want to take that away, you have counters to everything."
Curry added an efficient 22 points on only 10 field goal attempts, and Lee pitched in with 22 points and 11 boards. It was a fine offensive performance, but the Warriors players preached defense after the game. Golden State had managed to hold Los Angeles to 40 percent shooting through energetic closeouts and stout rim protection.
There was also the matter of just letting Griffin shoot. Though Griffin hit his fair share of shots (he scored 27 points), the strategy benefited the Warriors in other ways.
"Blake shot the ball well tonight, but it worked in our favor because it took him outside a little bit," Bogut said. "So he didn't get to the line as often and put them in the bonus."
David Lee's sold post defense also helped in the effort against Griffin and the overall Clippers attack.
When asked if this is his best defensive season, Lee cracked, "Yeah, but that's not saying a whole lot."
Lee went on to speak of his personal growth on that end, and how it's been aided by the Aussie.
"I'm really working on improving," Lee said. "And it's something I know that's been a weakness in the past. It does help having a healthy Andrew next to me on a consistent basis. We've gotten used to playing alongside one another and me helping him in some of the screening action and him helping me at the rim."
The Warriors might not be as consistent as they would like, but their fourth-ranked defense is formidable most nights. Perhaps they'll reach their goals after getting used to each other a little bit.
Dimes past: Jan. 11 | 12 | 13 | 14 | 15 | 16 | 19 | 20 | 21 | 22 | 23 | 26 | 27 | 28 | 29
ESPN Staff Writer
Covers the Golden State Warriors for ESPN.com
Contributes to ESPN's TrueHoop blog
Hosts TrueHoop TV Live
2. Around the Association
| | | | | |
| --- | --- | --- | --- | --- |
| Phoenix Suns | 102 | FINAL | 94 | Indiana Pacers |
---
MVP: Goran Dragic. The Dragon celebrated his All-Star snub with 30 points and seven assists. He abused George Hill all night long in the pick-and-roll and fought through a number of bumps and bruises.
Defining moment: Frank Vogel put Paul George on Dragic late in the game to slow down the Suns' point guard. Phoenix countered by attacking George Hill with Gerald Green, who scored four straight points to help Phoenix hang on.
That was ... narrative-defying: In addition to dealing the Pacers just their second home loss of the season, the Suns were playing their fourth game in five nights and led for all but the first two minutes.
| | | | | |
| --- | --- | --- | --- | --- |
| Los Angeles Clippers | 92 | FINAL | 111 | Golden State Warriors |
---
MVP: David Lee wasn't selected to join the All-Stars from out West, but he put on a show on Thursday against the conference's announced starter. Lee dropped 22 points, 11 rebounds and 4 assists in the Dubs' dominant 19-point win over Blake Griffin and the Clippers to prevent further Golden State slippage in the standings.
LVP: Jamal Crawford. The Clippers' streaky sixth man hit just one of his nine field-goal attempts in this one, hurting an L.A. backcourt that needs all it can get with Chris Paul still on the shelf. Of course, the Warriors' perimeter defenders had something to do with that as well.
Defining moment: Golden State ran out to an early lead that ballooned to as many as 19 points early in the second quarter, but the Clips cut the deficit to eight at the half. Then came the Warriors' surge -- a 16-2 run to start the third that blew the doors open as the Dubs ran away from Los Angeles in a lopsided win.
| | | | | |
| --- | --- | --- | --- | --- |
| Cleveland Cavaliers | 86 | FINAL | 117 | New York Knicks |
---
MVP: Twenty-two of Carmelo Anthony's 29 points came in the first half, but it was enough to break the backs of the Cavs early. An underrated plus of Melo's torrid streak: More blowout wins mean more rest.
X factor: Tim Hardaway Jr.'s 29 points (on 11-for-17 shooting, including 6-for-12 from downtown) were a career high, while his six treys tied a Knicks rookie record.
That was ... an unceremonious way to see David Stern off: The Commish was in the building for his last Knicks game as the league's chief. Needless to say, the way the game unfolded pales in comparison to how history will remember his tenure.
3. Thursday's Best
Dragic
Goran Dragic, Suns: Phoenix's point guard poured in 28 points with seven assists in an impressive road win in Indiana, where the Suns handed the Pacers just their second home loss of the season.
4. Thursday's Worst
Cleveland Cavaliers: Six minutes in the game, the Cavs were already down 17 points. Things wouldn't get any better for Kyrie Irving's crew, as the Knicks rolled at the Garden. Cleveland has now lost three straight and five of six.
6. Tweet Of The Night
Comparing Kyle Lowry & Joe Johnson.. Kyle numbers are better & he's on a winning team. So how is he not the obvious choice? #Raptors

— Patrick Patterson (@pdpatt) January 31, 2014
7. Quote Of The Night
"It's not about me and it's not about this controversy -- 'Do I privately want out when my contract is up?' I'm still in my rookie contract and I'm happy to be here. And I'm pretty sure I'm going to be here for a long time."
-- Cavs guard Kyrie Irving, on the notion that he wants out of Cleveland.
8. Fond Farewell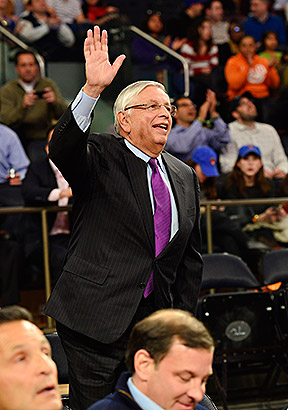 David Dow/NBAE/Getty ImagesOn Thursday night, David Stern took in his final game at Madison Square Garden as NBA commissioner.
9. Stat Check

Anthony
Carmelo Anthony surpassed 19,000 career points in the New York Knicks' win on Thursday night. At age 29 years, 246 days. And in his 756th NBA game. Anthony is the fifth-youngest player in NBA history to hit the 19,000-point mark, behind LeBron James (age 27 years, 111 days), Kobe Bryant (28 years, 223 days), Michael Jordan (29 years, 62 days) and Wilt Chamberlain (29 years, 75 days).