1. Spurs' Backup Plan No Match In Brooklyn
By
Aaron McGuire
| Special to ESPN.com
Between the first and second quarter of Thursday night's nationally televised tilt between the San Antonio Spurs and the Brooklyn Nets, Gregg Popovich joked with sideline reporter David Aldridge that he "enjoyed this very much."
He was talking about the short-lived interview, not San Antonio's then seven-point lead. Popovich's enjoyment didn't last, and neither did his team's lead. The Spurs were defeated in a roundly lopsided game, 103-89. As has been the case for weeks, they weren't healthy.
They weren't even close.
A series of freak injuries have left the normally talent-flush Spurs barren, and their depth has been pushed to the limit. The Spurs haven't entered a game with their best eight players active in over a month, a 16-game stretch in which they've gone an uncharacteristic 10-6.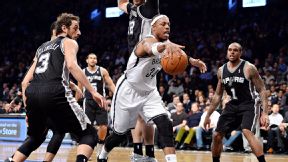 Joe Camporeale/USA TODAY SportsPaul Pierce and the Nets took care of the Spurs backups.
Thursday night was no different, with San Antonio entering without their five best players -- Tim Duncan, Manu Ginobili, Kawhi Leonard, Tony Parker, and Boris Diaw.
Depth is important, and San Antonio is renowned for being deep enough and versatile enough to adapt in the face of rotational adversity. But seasoning his bench rotations with small but effective doses of his best players is one of Popovich's greatest tricks.
And that seasoning is essential. Entering Thursday's game, the Spurs had played 4,621 possessions of basketball in the 2013-14 season. Only 275 of those possessions were played without any of Thursday's injured players. Most of those were garbage-time lineups, which became obvious as the game progressed. Without his best men, Popovich was forced to play variations on garbage-time lineups for an entire night of NBA basketball.
Somehow, some of those lineups actually worked. The Spurs started the game with 6-foot-5 Danny Green at power forward, which had the unanticipated effect of leaving Green wide open from 3-point range and completely confusing Brooklyn's defensive spacing. The Nets looked as though they hadn't scouted Nando de Colo at all. (To be fair, that's a perfectly reasonable choice in a vacuum, given that he's less than a month removed from averaging 37 minutes a game for the Austin Toros.)
San Antonio's constant experimentation with three- or four-guard lineups meant the Spurs were quite a bit quicker than the Nets, and in the first half, they ran the ball down Brooklyn's throat to great effect. The Spurs drew more fouls than usual, a result of aggressive dribble-drives and an emphasis on challenging the Nets to make big defensive plays.
Of course, they lost the game, because most of the lineups didn't work.
Matt Bonner spent some time as San Antonio's primary rim protector, which was about as effective as playing Yao Ming at point guard. Green (again, the starting power forward) was the team's best rebounder, which goes a long way toward explaining why the Nets got 20 more shots than the Spurs on the night.
Shannon Brown's freewheeling led to visible frustration on Popovich's part, and after Wednesday night's double-OT thriller, no Spurs player had any legs left when it came time to close the game out. Few players go for 35-minute nights for San Antonio, even fewer do it two nights in a row. And San Antonio's attempts at swarming defense didn't go so well for the players, either, as Bonner broke another bone in his nose during the decisive fourth quarter and de Colo broke his nose midway through the first half.
Overall, the game was choppy, shaky, and graceless. Before the season, Thursday night's matchup looked great -- the NBA's reigning Western Conference champion against the NBA's newest retooled title contender. You've got one of the last remaining matchups between longtime rivals Kevin Garnett and Duncan, the star point guards with Deron Williams and Parker, the undersold wings in Joe Johnson and Ginobili, and some go-go-gadget forwards in Andrei Kirilenko and Leonard.
But none of the those storylines would materialize. Who would've known that the Spurs would be ravaged by injury and the Nets would be -- to date -- somewhat disappointing?
Regardless, the night was a fun win for Brooklyn's fans and an exercise in existentialism for San Antonio's. Regular-season contests in a frigid February are rarely meaningful to begin with. When you extract a team's five best players, trying to derive playoff-level conclusions from a potpourri of never-before-seen lineups and mad science experiments is a fool's errand.
The game itself -- flawed, messy, and morbid -- gave San Antonio fans a glimpse at the messy yet beautiful chaos that makes the NBA worth watching for many of the league's less-blessed franchises. Most teams don't get to lean on a long-tenured Big Three with a perfect contending cast to match. And some franchises look as discombobulated as Thursday's Spurs did every night.
The Spurs get to head home knowing that they'll be back to normal soon, and the Nets get to go home knowing they took care of business. There wasn't much to take away from San Antonio's wacky lineups and their crazy strategies in terms of playoff knowledge, but we did gain one important insight.
If Green is the starting power forward when the playoffs begin, San Antonio's in trouble.
Dimes past: Jan. 15 | 16 | 19 | 20 | 21 | 22 | 23 | 26 | 27 | 28 | 29 | 30 | Feb. 3 | 4 | 5
2. Around The Association
| | | | | |
| --- | --- | --- | --- | --- |
| Chicago Bulls | 87 | FINAL | 102 | Golden State Warriors |
---
MVP: Stephen Curry. Putting up 34 points is nothing out of the ordinary for the Warriors' All-Star guard. Doing so on only 19 field-goal attempts while adding in nine assists -- on a night where his team desperately needed a boost -- was special.
Defining moment: The Bulls jumped out to a massive early lead and were still in control by double-digits in the second quarter when Curry sparked a 19-8 run to give Golden State the lead. Then, to cap things off, he hit a deep 3, putting the Warriors up by four with seconds left in the first half. They never looked back.
That was ... splash-heavy: Other than Curry (13-for-19) and Klay Thompson (8-for-16), the Warriors couldn't get much going on offense. In fact, the rest of the team shot just 19-for-48 from the field (39.6 percent). Against deeper, more talented opponents, Golden State will need more balance.
-- Adam Reisinger, ESPN.com
| | | | | |
| --- | --- | --- | --- | --- |
| San Antonio Spurs | 89 | FINAL | 103 | Brooklyn Nets |
---
MVP: Deron Williams. He wasn't the leading scorer for Brooklyn, but Williams pitched in 16 points on 50 percent shooting and handed out eight assists against the Spurs.
X factor: Well, the Spurs were missing Tim Duncan, Tony Parker, Manu Ginobili, Kawhi Leonard and Boris Diaw. That was pretty key. Also, San Antonio shot under 40 percent from the field.
That was ... a solid Brooklyn win: We've seen plenty of teams underestimate the Spurs when San Antonio shows up with a skeleton crew. The Nets sputtered early but cruised in the fourth quarter to a big win.
3. Thursday's Best
Curry
Stephen Curry, Warriors: Curry dropped 34 points on 13-for-19 shooting with four 3s and nine assists as the Warriors rallied from an early double-digit deficit against the Bulls.
4. Thursday's Worst
San Antonio Spurs: Playing without their top four scorers, San Antonio's bench/starters ran out of steam early in Brooklyn. After storming out of the gates to a 20-8 lead, the Spurs couldn't keep things going, failing to crack 40 percent shooting as the Nets coasted in the second half.
6. Tweet Of The Night
Welcome back, @SteveNash, and welcome to your 40s. It's not really as bad as "they" say

— Marc Stein (@ESPNSteinLine) February 7, 2014
7. Quote Of The Night
"I know we didn't look pretty. I'm more interested in results than how we look. So I thought they performed well."
-- Spurs coach Gregg Popovich, on his team playing without his top four scorers in Thursday night's loss to the Nets.
8. Get 'Em While You Can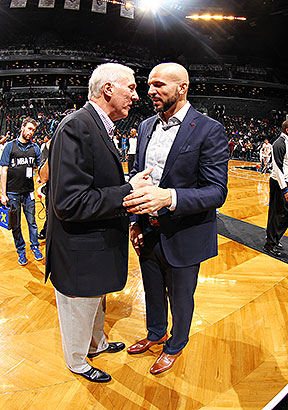 Nathaniel S. Butler/NBAE/Getty ImagesJason Kidd was happy to see Gregg Popovich's starting lineup in Brooklyn, where the Nets took care of business against the short-handed Spurs.
9. Stat Check
The Nets' 103-89 win over the Spurs in Brooklyn ended San Antonio's streak of 26 consecutive games against the Nets holding them to fewer than 100 points (dating to February 2001).
There have been only four longer team-versus-team streaks of that kind in the NBA's shot-clock era (i.e., since 1954-55), and three of them were by San Antonio: 38 games by the Spurs vs. Utah (1999-2008); 29 games by the Spurs vs. Houston (2001-2008); 29 games by the Spurs vs. Cleveland (1997-2005); and 27 games by the Heat vs. Cleveland (1994-2001).