1. Loyer Up? New Voice Aims For Turnaround
By
Dan Feldman
| TrueHoop Network
John Loyer's voice carried through The Palace of Auburn Hills.
It's both the problem and potential solution for the Detroit Pistons.
The Pistons' 109-100 win over the San Antonio Spurs in Loyer's debut as interim coach Monday showed why the Pistons fired Maurice Cheeks and why Loyer just might be the man to turn around the downtrodden franchise.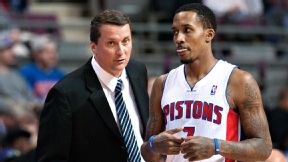 Tim Fuller/USA TODAY SportsPistons interim coach John Loyer talks to Brandon Jennings during the 109-100 win over the Spurs.
In an apparent attempt to boost their playoffs odds, the Pistons ousted Cheeks only 50 games into his Pistons tenure -- giving him the NBA's shortest leash since the Seattle SuperSonics fired Bob Weiss just 30 games into the 2005-06 season. Detroit, which has hovered near the postseason cutoff for weeks, is clearly getting desperate, and the mindset starts at the top.
It's impossible to view owner Tom Gores' playoffs-or-bust insistence without acknowledging the Pistons' meager attendance since he bought the team in 2011. In a state with one of the nation's highest unemployment rates, only a quality team will draw fans and revenue for Gores.
However, despite increased preseason promise, the Pistons got off to a 21-29 start, and fans have largely stayed away. The Pistons rank near the bottom of the NBA in attendance, and that doesn't even account for the fans who eat their tickets rather than brave the harsh winter while paying for gas to reach the suburban arena.
The announced attendance of 13,628 during Loyer's debut as interim coach was even lower than the Pistons' paltry season average and a reason he could be heard so clearly.
But Cheeks coached in front of similar crowds too, and he rarely made his mark so emphatically. He could be a meager sideline presence, sitting in his chair (or, in a quirk, the vacant seat of an absentee fan farther down the sideline) with looks of disgust.
Rather than following his predecessor's lead, Loyer -- whose last multigame head-coaching stint was at Wabash Valley College -- jumped into his new post with aplomb and a refreshing passion. He roamed the sideline, encouraging his players to run offensively and demanding they close on shooters defensively.
The Pistons responded, playing with extra bounce while building a lead that peaked at 23 points over one of the NBA's top teams.
To the uninitiated, the victory seemed like a turning point. But Detroit beat the Miami Heat and Indiana Pacers earlier this season. The Pistons are a talented team capable of playing at a high level when everything clicks.
It's far too early to say whether things will click more often under Loyer, whose players might have been temporarily eager to play for anyone other than Cheeks. Several of the usual problems -- fourth-quarter malaise, defensive confusion, poor 3-point and free throw shooting -- once again reared their ugly heads.
But even a glimmer of hope, especially for the head coach, is welcome in Detroit.
Just nine years ago, the Pistons and Spurs met in the NBA Finals. Gregg Popovich, then already the NBA's third-longest-tenured coach*, guided San Antonio over Detroit in seven games.
*Popovich has outlasted Jerry Sloan (Utah Jazz) and Flip Saunders (Minnesota Timberwolves) to claim the No. 1 spot.
Since those NBA Finals, the Pistons have run through failed coaches: Flip Saunders (too offensively minded), Michael Curry (too inexperienced), John Kuester (too meek), Lawrence Frank (too rigid) and Cheeks (too terrible).
Could Loyer be the just-right porridge?
Despite Monday's result, it's doubtful. He hasn't been a hot commodity on the coaching market and got this chance mostly by being in the right place at the right time.
He came to Detroit with Frank in 2011 and, as a former Cheeks assistant in Philadelphia and Portland, stayed through the transition last summer. The Pistons reportedly also offered Lionel Hollins a spot on Cheeks' staff, but the former Memphis Grizzlies coach turned them down, and they failed to add a logical successor for Cheeks.
So Loyer, who's respected for passion toward coaching, got the big opportunity in a season in which the playoffs are still realistic. In fact, the Pistons are now tied with the Charlotte Bobcats for the No. 8 seed.
Wouldn't it be something if Loyer, the byproduct of two failed regimes, becomes the coach who finally succeeds in Detroit?
We can't know what his future holds, but Loyer should feel good on his first night as an active head coach.
By beating the NBA's longest-tenured coach, the league's newest coach now holds the group's best career winning percentage at 1-0 (2-0 if you count filling in for Kiki Vandeweghe, who missed a 2010 New Jersey Nets game for personal reasons).
Irrelevant? Soon enough.
But right now, it's a nice distinction for Loyer, who waved appreciatively to the crowd after the game.
Moments later, Andre Drummond wrapped his arm around his new coach and smiled.
There's no question Drummond is integral to the Pistons' future. If Loyer is too, that would be a surprising development.
But after Monday, you can't claim you didn't hear him coming.
Dan Feldman's work appears on Piston Powered, part of the TrueHoop Network.
Dimes past: Jan. 19 | 20 | 21 | 22 | 23 | 26 | 27 | 28 | 29 | 30 | Feb. 3 | 4 | 5 | 6 | 9
2. Around the Association
3. Monday's Best
Detroit Pistons: Anytime a team from the woeful Eastern Conference beats the defending West champs, then attention must be paid. Josh Smith even reined in his 3-point shot, taking his fewest attempts (1) over the past seven games from the range that he makes just 23 percent.
4. Monday's Worst
Miller
Quincy Miller, Nuggets: Missed all five of his shots and committed three turnovers in the Nuggets' 119-80 trouncing by the Pacers. With Andre Miller still not playing for disciplinary reasons, it is clearly not Miller time for Denver.
7. Quote Of The Night
"I'd win it."
-- LeBron James, after putting on a spectacular dunk display in practice, on how he would fare if he ever entered the NBA Slam Dunk Contest.
8. No Slowing Rockets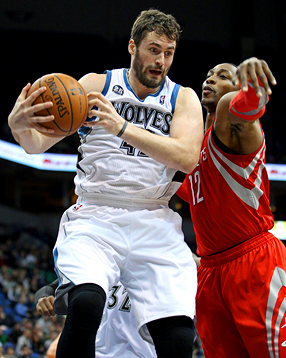 Brace Hemmelgarn/USA TODAY SportsKevin Love (31 points) could not overcome Dwight Howard (18 points and 15 rebounds) as the surging Rockets used a fourth-quarter push to hold off the Timberwolves 107-89 on Monday night for their sixth consecutive victory.
9. Stat Check
Marreese Speights scored a career-high 32 points in 26 minutes, 17 seconds of playing time in the Warriors' rout of the visiting 76ers. He became the first Warriors player to produce 30-plus points in a game in which he played less than 27 minutes since Chris Mullin scored 32 points in 26 minutes in a 153-91 win over the Kings on Nov. 2, 1991 -- in the game that produced the largest margin of victory in the Warriors' 68-year history.
Around the Association
---
MVP: Jeff Green. Boston's leading scorer shook off a slow start and took command of the contest with a dominating performance during the second half in Milwaukee. Green scored 19 of his game-high 29 points after intermission, enabling Boston to pull away late.
X factor: Turnovers. The shorthanded Bucks showed off why they have been the worst team in the NBA this year by committing 21 turnovers. The Celtics took advantage of those mistakes by scoring 32 points off Milwaukee's miscues.
That was ... impressive: Jared Sullinger, the reigning Eastern Conference player of the week, posted 13 points and 10 rebounds. Those numbers gave the second-year power forward his sixth consecutive double-double, continuing a red-hot month of February for the 21-year-old.
---
MVP: Marreese Speights. He scored a career-high 32 points on 12-for-15 shooting, a performance that triggered "M-V-P" chants at Oracle Arena. The Mo Show started in the first half, when he dropped 17 second-quarter points to help give the Warriors a 33-point halftime lead. The Sixers had no answer for their 2008 first-round draft pick.
Defining moment: On Philadelphia's first offensive possession, former Sixer Andre Iguodala intercepted a pass from rookie Michael Carter-Williams, dribbled down the floor and fed a wide-open Stephen Curry for a 3-pointer. The Warriors led from start to finish, and it didn't take them long to get going.
That was ... pathetic, again: This was as bad, if not worse than Sunday night's 45-point loss to the Clippers. The offense was dysfunctional, the defense was nonexistent, and the players seemed like a combination of fatigued and checked out. Fun fact, via ESPN Stats & Info: The Sixers are the second team in NBA history to lose by 40-plus points in consecutive games. The 1993-94 Sixers were the other one.