1. Kevin Durant Gives Thunder Edge On Blazers
By
Danny Nowell
| TrueHoop Network
PORTLAND, Ore. -- At the end of three quarters, the Portland Trail Blazers and the Oklahoma City Thunder were tied on Tuesday night. At the end of four, the Thunder had survived a final minute full of lead changes and agonizing reviews to eke out a 98-95 road win. And at the end of four games between the two teams, they are tied once again -- not just 2-2 against one another, but tied at 401 points apiece in their four meetings.
Perhaps there are no real rivalries in today's NBA, but what's developing between Portland and Oklahoma City is starting to come close. The series has featured a game in which LaMarcus Aldridge outdueled Kevin Durant -- a close, team-oriented win for the Blazers -- and most recently, two narrow wins for Oklahoma City in which a visibly fired-up Kevin Durant has been the difference.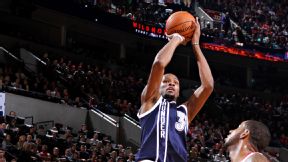 Sam Forencich/NBAE/Getty ImagesKevin Durant dropped in 36 points and a few choice words for Portland.
As was the case in the teams' last meeting, Durant spent much of Tuesday night's game playing with an edge, and the Blazers found themselves unable to dull it. Just as in the last meeting, Durant was issued a technical, his second against the Blazers compared to a total of nine all season. Unlike last time, when Durant slammed the door with consecutive long-distance daggers, Tuesday featured a sloppy, frenetic finish that seemed like a sustained scrum to decide the contest. At the end, the Thunder were better, and Durant -- averaging 38 points on 54 percent shooting against the Trail Blazers -- was once again the largest reason.
One new wrinkle introduced Tuesday was the major contributions from role players on each side. The Thunder have risen to the top of the NBA largely because of their improving young supporting cast, while the Blazers did more than perhaps any team to bolster their back half in free agency. For the Trail Blazers, rookie C.J. McCollum followed up a strong weekend performance to post 13 first-half points on five shots, but Oklahoma City's Jeremy Lamb topped that with a hyperefficient 19 points on 8-of-11 shooting.
And so this nascent rivalry has what any good series should: variety, a fleshed-out supporting cast and stars who can carry a drama over a long run. Most of all, though, it has the tension to keep viewers coming back. If his demeanor on-court didn't send a clear enough message, Durant was emphatic, and terse, postgame. Asked if the game felt like a postseason atmosphere, he simply said "Nah. Regular-season game."
Prompted to elaborate, considering how close the four contests have been, he offered: "We didn't have our point guard for three of them. We didn't have our whole team for three of them, and I think we held our own. We respect this team, they respect us, but we don't like them and they don't like us. That's point blank."
As is their way, the Blazers were a little more even-keeled. Damian Lillard attributed the intensity to the Blazers' respect for the Thunder's position: "They're at a level that we want to be at. When we see them, that's what we think about. They've been to the Finals, and they're always a top team in the West, and that's where we're trying to get to. When we see them, it's gonna be really competitive."
The reality is that, while both of these teams know they're in a playoff chase, the Thunder have the upper hand, even if by a narrow margin. Durant is correct to point out Russell Westbrook's absence, and the Blazers have fallen short of their torrid early-season pace as Oklahoma City seems to have found another gear amidst what might have been serious adversity. The teams have seen a subtle reversal in fortune since early season, with the Thunder now the team racking up more wins than even optimists might have guessed.
It's enough, clearly, to lend these games a little more weight, and fans can only hope this series gets a much-deserved postseason renewal. Catching himself somewhat after voicing his dislike for the Trail Blazers, Durant hedged, saying that "in all four games, both teams played extremely hard, and you gotta enjoy that kind of basketball." Though it seemed doubtful whether he did, the clear tension makes sure fans will.
Danny Nowell is part of the TrueHoop Network. Follow him @DMNowell
Dimes past: Jan. 19 | 20 | 21 | 22 | 23 | 26 | 27 | 28 | 29 | 30 | Feb. 3 | 4 | 5 | 6 | 9 | 10
2. Around the Association
3. Tuesday's Best
Noah
Joakim Noah, Bulls: Noah just won't let the Bulls go gently into that good tank. He scored 19 points as part of his first triple-double of the season in the Bulls' 100-85 win over the Hawks. His fourth career triple-double came with 16 rebounds and 11 assists.
4. Tuesday's Worst

Los Angeles Lakers: Even the all-Steve backcourt (Steve Blake, Steve Nash) couldn't right the ship against the Utah Jazz. Blake and Nash combined to shoot 3-of-15 from the floor in a 96-79 loss in Salt Lake City.
6. Tweet Of The Night
Congrats @anthonybennett on the 1st of countless double/doubles you will toll. Proud of you for ignoring the malcontents. Keep grinding!

— Dan Gilbert (@cavsdan) February 12, 2014
7. Quote Of The Night
"I'm going to be one of the top four that's ever played this game, for sure. And if they don't want me to have one of those top four spots, they'd better find another spot on that mountain. Somebody's gotta get bumped, but that's not for me to decide. That's for the architects."
-- LeBron James, on whether he'd make the cut for a hoops Mount Rushmore.
8. Busting Out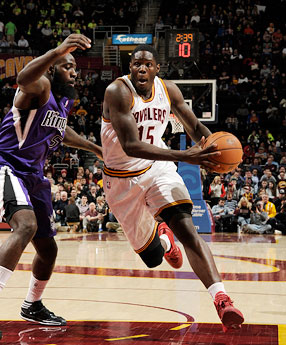 David Liam Kyle/Getty ImagesAnthony Bennett, the much-maligned No. 1 pick in the NBA draft, had 19 points and 10 rebounds -- both career highs -- as the Cavaliers avenged a 44-point loss to Sacramento with a 109-99 win over the Kings.
9. Stat Check
Nick Calathes scored 18 points and handed out six assists in the Grizzlies' win over the Wizards. Calathes was inserted into the Grizzlies starting five in place of the injured Mike Conley on Feb. 1. Since then, Calathes leads the Grizzles in assists (28), steals (14) and 3-point field goals made (9), and only Zach Randolph (108) has scored more points than him (91).
Around the Association
---
MVP: Once Alec Burks entered the game in the opening moments of the second quarter, he changed the tone of the entire game. From the field (8-for-11 shooting) to the charity stripe (7-for-11 from the free throw line), Burks was the standout performer in Utah's victory over L.A.
Defining moment: As previously mentioned, the tide of the game turned to Utah's favor in the second quarter. By utilizing quickness and aggression, Utah's bench was able to take advantage of L.A.'s depleted depth to the tune of 51 points.
That was ... depressing: Besides a few small bursts, L.A. was just a slow and tired team throughout the game. While Chris Kaman had an excellent 25-point, 15-rebound performance, the rest of the Lakers were unable to keep up with Utah's young and vibrant team.
-- Dakota Schmidt, TrueHoop Network