1. LeBron James Backs Up His Winning Stroke
OAKLAND, Calif. -- Debate putting faces on monuments or all-time starting fives all you want; there's at least one real-world way to determine a player's place in the fabric and history of the game.
As fans streamed out of Oracle Arena late Wednesday night after their team had just experienced a devastating loss, they had smiles on their faces. They shook their heads, re-enacted what they had just seen and were laughing.
The Golden State Warriors' fans are some of the most loyal in the country, but even in defeat, they knew they had collectively experienced an "I was there" moment that they would be retelling well into the future.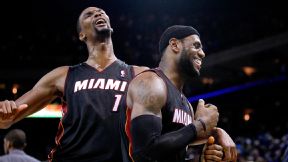 Cary Edmondson/USA TODAY Sports
Virtually every game LeBron James plays, he will do something to create a memory, whether it's a dunk, a whizzing pass or an out-of-nowhere block. He's not worth the price of admission; he exceeds it. Yet within those hundreds of performances, there are some jewels, and Wednesday night was one of them.
Tired from playing the whole second half on the second night of a back-to-back with a little more burden because Dwyane Wade was in the locker room with a foot issue, James had one of those moments. Wanting to end it and more than willing to deal with the fallout of missing, James drilled a step-back 3-pointer with 0.2 seconds left to finish off a masterful game and give his Miami Heat a satisfying 111-110 win over an aghast Warriors team.
It was the final act in a thrilling finish that saw James and Stephen Curry exchange haymakers in a genuine All-Star warm-up. Curry scored 29 points, including an exquisite stop-and-go 3-point play with 14.6 seconds left.
The Warriors, who trailed by 21 points in the third quarter, were up two points, and the crowd was in full blast. But James had the last shot and pumped maximum drama into that 14.5-second span.
Heat coach Erik Spoelstra: "The official was screaming at me, 'Do you want a timeout?' I just turned my back because I didn't want the other bench to know. We just wanted to see if LeBron could shake free for something easy before they set their defense."
Chris Bosh: "I was like, 'What's the play?'"
James: "I was going for the win the whole time. I just wanted to make sure I made it with no time left or missed it with no time left."
Spoelstra: "If I would've realized he was going to work that thing all the way down to the end of the clock, I would've ran out there and screamed timeout."
Bosh: "Then I was like, 'Oh, that's the play.'"
Warriors coach Mark Jackson: "Do you trap him? They spread the ball with shooters, and what you don't want to do in that situation is have a great passer hit one of the shooters in rhythm. The defense was very good, and Andre [Iguodala] did his job."
Iguodala: "There's nothing I would change."
Spolestra: "I was itching to call timeout."
James: "I was looking for the step-back."
Klay Thompson: "I thought it was short. I thought we won the game."
James: "It felt great. I was able to stand up and watch the flight of the ball. It looked good the whole time."
Wade: "So there's a 10-second delay on the [locker room] TV. I just heard this "oohhhhh" and I knew something had happened. I heard someone run down the hall and yell, "Damn it, LeBron," but I had to wait for it to make sure."
Jackson: "We witnessed greatness, a special player and an all-time great who made a big-time shot."
Curry: "We got beat by a great shot."
Iguodala: "You've got to give him credit for that."
Heat president Pat Riley: "That was pretty darn good."
Spoelstra: "I decided to let a great player try to make a great play."
James: "I always want to come through for my teammates; obviously I'm not going to be able to come through every time. To be able to deliver tonight, and send my teammates into the All-Star break on the right note, meant everything."
James broke into his Nick Van Exel "lower the roof" act as the Warriors' fans twisted in their seats to look at each other's reactions with their hands on their heads. It was the final touch of a 36-point, 13-rebound, nine-assist, two-steal night that qualified as James' best game of the season to this point. It came 24 hours after a 37-point, nine-rebound, five-steal night in another excellent road win at Phoenix that Wade also missed.
It was the eighth time in James' career that he made a game-winning shot in the final second. It was the second time in five years that he did it to the Warriors, as he hit a similar step-back jumper in January 2009 to beat Golden State by a single point at the buzzer.
"Eight of them, huh?" James said. "Not too bad for a guy who isn't clutch."
Dimes past: Jan. 21 | 22 | 23 | 26 | 27 | 28 | 29 | 30 | Feb. 3 | 4 | 5 | 6 | 9 | 10 | 11
ESPN Senior Writer
ESPN.com NBA writer since 2010
Covered Cleveland Cavs for seven years
Author of two books
2. Around the Association
3. Wednesday's Best
James
LeBron James, Heat: James step-back 3-pointer with less than a second remaining to propel the Heat past the Golden State Warriors 111-110. With Dwyane Wade out of action, James shouldered the load, finishing with 36 points, 13 rebounds and nine assists.
4. Wednesday's Worst
New York Knicks: If they haven't suffered enough, the Knicks just got Jimmered. Jimmer Fredette, the former BYU college phenom, sank six 3-pointers on the Knicks, who fell further out of the East playoff race and appear ready to be passed by Cleveland.
6. Tweet Of The Night
LeBron deserves to be on the Mt. Rushmore of tonight's NBA action.

— J.A. Adande (@jadande) February 13, 2014
7. Quote Of The Night
"I was going for the win the whole time."
-- LeBron James, on whether he was considering lining up the final shot for a tying 2-pointer or a winning trey.
8. Return Of The Native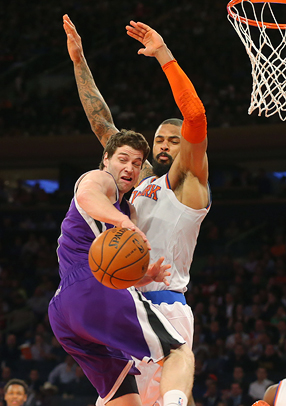 Jim O'Connor/USA TODAY SportsJimmer Fredette, a native of Glens Falls, N.Y., scored a career-high 24 points to help the Kings beat the Knicks 106-101 on Wednesday night in Madison Square Garden.
9. Stat Check
LeBron James' game-winning shot Wednesday was the first go-ahead 3-pointer in the final 10 seconds of a fourth quarter or overtime of his regular-season career. (He was previously 0-for-7).