1. OKC Keeps Winning, But Russ Remains Key
LOS ANGELES -- It's a place Kevin Durant doesn't like to revisit often.
Last season was last season. Russell Westbrook got hurt in the first round of the playoffs, Durant tried to carry the Thunder as far as he could, Memphis beat them and that was it. Season over.
"I'm kind of tired of talking about last year. That happened and now it's over with. There's no excuses. We should've just got it done," Durant said Thursday before the Oklahoma City Thunder's 107-103 win over the Los Angeles Lakers. "You don't look back and enjoy that time, knowing that it was tough. But guys got better from it, and it makes it a little easier than it was last time."
Well, sort of. Durant has been making it look easier in leading the Thunder to the best record in the NBA (43-12) at the All-Star break while Westbrook recovers from knee surgery, but that doesn't mean it's been easy.
Durant has been the first-half MVP, OKC has been the league's best team, but to do what they all want to do this June, Westbrook needs to be Westbrook. So stop with the talk that his return sometime after the All-Star break will be anything other than the best addition any team makes at the trade deadline.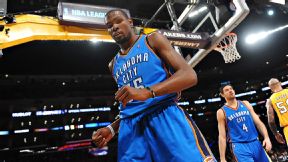 Noah Graham/NBAE/Getty ImagesKevin Durant got the final word before he and OKC hit the break.
OKC and Durant might have been forced to get better because Westbrook got hurt, but they are not better without him.
"Anybody who thinks [otherwise] is just looking for controversy and to stir the pot," Thunder coach Scott Brooks said. "The Clippers are not better without Chris Paul and we are not better without Russell Westbrook. If anybody wants to argue that, bring 'em on. I'll argue that one 'til I'm blue in the face."
Durant will, too. Sure, it's nice to be the leading candidate for MVP. But he's focused on June, and to get there, he needs Westbrook. If it costs him MVP votes to admit that, so be it.
"He's a dog, you got to let him off the leash," Durant said of Westbrook. "You can't put a leash on that guy. We want him to go out there and be himself. We don't want him to come in and try and play a little too passive because of how we've been playing. We want him to come in and be him."
Thursday's win over the Lakers showed why. Durant finished with 43 points, 12 rebounds and seven assists, but it took him 33 field goal attempts and 12 free throws to get those 43 points. And if it wasn't for some clutch shot-making by Derek Fisher (12 points) and Jeremy Lamb (11 points), the undermanned Lakers might have taken this one.
"I was terrible for the whole game," Durant said. "But that's the best part about a team: When you're having a tough night, those guys will lift you up."
Fisher, Lamb and Reggie Jackson kept OKC in it for three quarters while Durant found his rhythm. The Lakers led by as many as 15 points. Then, of course, Durant erupted for a Kobe Bryant-like 19-point fourth quarter.
That, more than anything, is what Durant learned from last season's playoff exit. Great as he is, dominant as he can be, he can't simply will his team to win. He must elevate his teammates, so they can carry him through rough stretches.
"It was definitely humbling," Durant said. "With Russ being out, I thought I had to do everything. But it wasn't about that. It was about how we play as a group. How can I help my teammates out? And what do I have to do to make the team better?"
That doesn't change when Westbrook comes back. Those are still the same issues they must tackle.
Fisher was Bryant's sidekick when he made similar leaps in his own career, and he sees a lot of the same characteristics.
"He is one of the best that I have seen in terms of playing through anything and everything," Fisher said of Durant. "I think he trusts his teammates so much that even when things aren't going well, he doesn't feel like he has to try to do too much. That's why things always end up coming back around. He always finds that rhythm."
It'll take a little while for Durant and the Thunder to find their rhythm again once Westbrook comes back. His is not a game that speaks softly.
But the whole experience these past two seasons has helped all of them realize how much they need each other.
Whatever adjustments need to be made, whatever compromises or sacrifices are to come in the short term, will be worth it.
Dimes past: Jan. 21 | 22 | 23 | 26 | 27 | 28 | 29 | 30 | Feb. 3 | 4 | 5 | 6 | 9 | 10 | 11 | 12
ESPN Senior Writer
Senior writer for ESPN.com
Spent seven years at the Los Angeles Daily News
2. Around the Association
| | | | | |
| --- | --- | --- | --- | --- |
| Oklahoma City Thunder | 107 | FINAL | 103 | Los Angeles Lakers |
---
MVP: Kevin Durant was not having his best shooting night until the fourth quarter, when he nearly outscored the Lakers by himself 21-19. KD ended the game with 43 points, 12 rebounds, seven assists, and three steals.
X factor: It might have been in a losing effort, but Kendall Marshall did everything he could in this game and had the Lakers in the lead for most of it. Marshall flirted with a triple-double, ending with 14 points, seven rebounds, and 17 assists.
That was ... entertainment at its finest: All-Star Weekend in the NBA is all about entertainment, and this game was a great lead-in to one of the league's premier events.
| | | | | |
| --- | --- | --- | --- | --- |
| Brooklyn Nets | 76 | FINAL | 92 | Chicago Bulls |
---
MVP: One of the more underrated all-around players in the NBA, Joakim Noah (14 points, 13 rebounds, 7 assists, 2 blocks) put on a two-way clinic against the Nets. He even had his tornado jumper falling.
X factor: There's a reason why Tom Thibodeau elects to sit Carlos Boozer in the fourth quarter of games, and that's because Thibodeau can rely on Taj Gibson, who provided his usual excellent defense down the stretch.
Defining moment: Clinging to a 75-72 lead midway through the fourth quarter, the Bulls finished the game on a 17-4 run, beating Brooklyn by a comfortable double-digit margin. Chicago's D went into overdrive and that was the ballgame.
3. Thursday's Best
Durant
Kevin Durant, Thunder: Not a bad way to hit the All-Star break for Durant. The Thunder needed all 43 of his points -- 19 in the fourth quarter -- to get by the Lakers. KD added 12 rebounds and seven assists for good measure.
4. Thursday's Worst
Brooklyn Nets: The Nets were hoping for an easy night heading into the break but were steamrolled by the Bulls, shooting only 39 percent in Chicago.
6. Tweet Of The Night
Nash might not be the same player he once was but if he can stay healthy he still a top 15 pg in the game and top 1-2 passers, Believe that!

— Jared Dudley (@JaredDudley619) February 14, 2014
7. Quote Of The Night
"I think everybody needs a break right now. Everybody's played a lot of games. Every team in the league has played over 50 games. I wish the break was a little bit longer, especially for us older guys."
-- Brooklyn's Paul Pierce, after the Nets' 92-76 loss to the Bulls on Thursday night.
8. Tempers Flare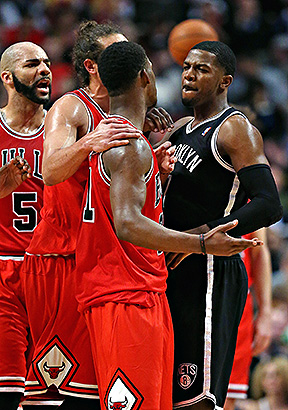 Jonathan Daniel/Getty ImagesJoe Johnson, right, and Jimmy Butler got into it Thursday night, but Butler and the Bulls got the last laugh with a win in Chicago.
9. Stat Check
The Thunder defeated the Lakers on Thursday 107-103 after trailing by 13 points early in the fourth quarter. Over the past 12 seasons, the Lakers are now 210-3 at home when holding a lead of at least 13 points in the fourth quarter. The other losses were against Phoenix in 2004 and Philadelphia in 2009.