1. Kyrie Irving Earns This Raise For East
NEW ORLEANS -- Despite being well schooled on how to have a major impact during All-Star Weekend these past few years, Kyrie Irving apparently needed some lessons on proper MVP etiquette.
After scoring 31 points, dishing a game-high 14 assists and leading the East from an 18-point deficit in Sunday's 163-155 All-Star Game victory to garner most valuable player honors, Irving didn't quite know how and when to properly hold and hoist the trophy at the midcourt postgame presentation.
So the 21-year-old Cleveland Cavaliers point guard got some quick tips from some veterans at the trade when LeBron James and a few other former All-Star MVPs set Irving straight.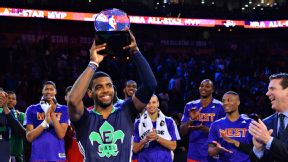 Jesse D. Garrabrant/NBAE/Getty Images
"It was a combination of all the All-Stars there -- all those great guys -- they were just telling me the proper All-Star pose," Irving said. "They were telling me to hold it above my head and show the fans. Some of the All-Star Games I watched before, the MVPs usually did the [on camera] interview and [then] hold it up. But I guess I was wrong."
At the rate Irving is stacking up hardware during the league's midseason showcase, he'll eventually figure out the nuances associated with outperforming his peers. But there's a much steeper learning curve when it comes the task of converting that All-Star success into regular-season consistency.
Outshining the likes of James, Kevin Durant, Blake Griffin and Carmelo Anthony on Sunday provided a welcomed diversion for Irving from a season in Cleveland that has been embroiled in controversy. In just the past month, the woefully underachieving Cavaliers have fired general manager Chris Grant, traded disgruntled center Andrew Bynum and have endured reports of a divided locker room that have included numerous heated confrontations between some of their top players.
There has been speculation that two of those players at the center of the rifts were Irving and guard Dion Waiters. Coincidentally, Irving and Waiters have provided two of the best performances of the weekend in New Orleans. Waiters got the weekend started with 31 points, seven assists and three steals to lead his team to a 142-136 win in Thursday's Rising Stars Challenge.
Then, Irving closed the show Sunday to add to an impressive résumé of individual All-Star accolades. Two years ago in Orlando, Irving was the MVP of the Rising Stars game as a rookie. Last season, he won the 3-point contest in Houston. Now, after being voted a starter for the first time in just his third season, he's one of the youngest MVPs in All-Star Game history.
But where does Irving go from here?
One takeaway from the weekend is that it was obvious how confident and effective Irving and Waiters are when they're separated. But with Thursday's trade deadline looming, the question in Cleveland now is whether more patience is prudent with the young and talented pairing, or whether they should part, with Waiters being dealt elsewhere.
Irving is already seasoned enough to know that Sunday's sensation will be a fleeting experience. The reality is that a season resumes in which the Cavaliers currently sit 11th in the East with a 20-33 record. But Irving insists he's returning to a team that built some momentum before the break with a five-game winning streak and is in the process of working through some of the issues that have plagued the team.
"Regardless of whether I won the MVP of this game or not, my focus level is going to remain the same after the All-Star break -- and that's trying to get as many wins as possible," Irving said. "I feel we're doing a better job of coming together as a team and competing ... which was big for us and big for our morale. So after this break ... going into these next few games, [we] just got to turn it up a little bit."
Because many of the teams in the East have struggled and the conference has been so forgiving, the Cavaliers don't need much of a push to propel themselves into playoff position. Cleveland is just three games back of the eighth seed and five games behind seventh-seeded Brooklyn. The teams that currently hold the final four playoff spots in the East all have losing records.
So even in Cleveland, it's not over.
Not unless some of the Cavaliers are truly psychologically done with one another.
James has a unique perspective on Cleveland's predicament, if only because not much has gone right with the franchise since his devastating departure as a free agent in 2010. Irving has replaced James as the youthful face of that franchise and believes the Cavaliers are still anchored by a bona-fide superstar.
More from ESPN.com
• Pelton: East grades » West »
• Social Moment: Stars give access »
• Gallery: Sunday's top images


• Stats & Info: Night of broken marks »

"I don't think they needed Kyrie to win this to have a good vibe; I think they know they have someone special," James said. "Being as young as he is, to be able to come out and win MVP just validates and solidifies why he's in this game and why he's one of the best point guards that we have in our league."
James took it upon himself to offer some advice to Irving after the game.
Basically, it was about cherishing the moment and using it to build toward more meaningful ones.
"I just wanted him to have his moment, and the moment is holding that trophy above your head," James said. "It's one of the few moments in our year where you do that. It's winning a championship. It's winning the MVP. The other is winning the MVP of the All-Star Game. Seemed like he didn't know exactly what to do, and I just wanted to try to give him a little help."
That's probably one of the only examples from James that Cleveland fans want Irving to follow.
Dimes past: Jan. 21 | 22 | 23 | 26 | 27 | 28 | 29 | 30 | Feb. 3 | 4 | 5 | 6 | 9 | 10 | 11
ESPN Staff Writer
ESPN.com NBA reporter
Blogs regularly on the Miami Heat
14 years covering the ACC, SEC, NFL and NBA
2. Around the Association
MVP: Kyrie Irving won the All-Star Game MVP and deservedly so. He came on strong after halftime, scoring 24 of his 31 points in the second half to help lead the Eastern Conference to a victory.

Defining moment: Trailing 123-105 in the third quarter, the East finished the period on an 18-3 run to cut its deficit to three. That allowed the East to keep the game close in the fourth before stealing it at the end.

That was ... fun: From the musical performances (led by Pharrell and Janelle Monae) to the game itself (which featured numerous All-Star records being broken), the NBA put on an entertaining event for the fans on Sunday night.
3. Sunday's Best
Irving
Kyrie Irving, East: Irving had 31 points and 14 assists and was voted the MVP in a 163-155 victory over the West on Sunday night in the highest-scoring All-Star Game ever. The Cavs point guard came up big late, scoring 15 points in the fourth quarter.
4. Sunday's Worst
Harden
James Harden, West: Harden fouled Paul George in the act of shooting a 3-pointer late in the game. The West never led again. His eight points did not make any new "Fear The Beard" converts.
6. Tweet Of The Night
What an experience!! Blessed and honored I could be out there with all the great players and play for fans everywhere. #thankyou

— Kyrie Irving (@KyrieIrving) February 17, 2014
7. Quote Of The Night
"I would say Magic, Bird, Michael, and Russell. ... That's impossible to do four, though, man. Come on. That's crazy. That's tough. Absolutely tough."
-- Kobe Bryant, on his choices for an NBA Mount Rushmore
8. Shooting Star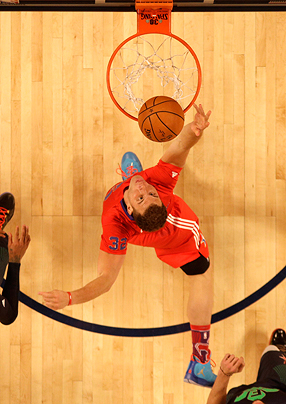 Gerald Herbert/USA TODAY SportsBlake Griffin made a record-setting 19 field goals (out of 23 shots) en route to 38 points, but the West couldn't hold on for a fourth straight All-Star win over the East.
9. Stat Check
By
ESPN Stats & Information
NBA All-Star Game records set Sunday:

• Most combined points (318; previous record was 303 in 1987)
• Most points by one team (163 by East; previous record was 155 by West in 2003 in 2OT)
• Most combined field goals made (135; previous record was 128 in 2007)
• Most field goals made by one team (70 by East; previous record was 69 by West in 2007)
• Most combined 3-pointers made (30; previous record was 26 in 2012 and 2013)
• Most 3-pointers made by one team (16 by West; previous record was 14 by East in 2012 and West in 2013)
• Most combined 3-point attempts (100; previous record was 71 in 2013)
• Most 3-point attempts by one team (56 by West; previous record was 39 by East in 2013)
• Most combined assists (88; previous record was 85 in 1984)
• Blake Griffin: 19 FG made; Previous record was 17 held by Wilt Chamberlain, Michael Jordan, Kevin Garnett
• Carmelo Anthony: 8 3-pointers made; Previous record was 6 by Mark Price in 1993 and LeBron James in 2012