1. Booing The Dwight Howard They Never Saw
LOS ANGELES -- You can't miss what you never had, and Los Angeles Lakers fans never had this version of Dwight Howard, the one that dismissed their hearty boos with 20 points, 13 rebounds and three blocked shots in only 28½ minutes of play Wednesday night in his first game back on the Lakers' home court since his lone, ill-fated season in L.A.
Howard was only months removed from back surgery when the Lakers traded for him in the summer of 2012. His timing was off, his vertical leap was reduced, his medical reports were so scary that when the Rockets first examined him after signing him to an $88 million free-agent contract in 2013 the doctors were aghast at what they saw.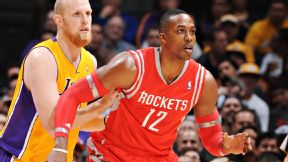 Andrew D. Bernstein/NBAE/Getty ImagesDwight Howard, more spry than he was in his lone Laker season, shredded his former team.
"I just wish I would have waited until I got healthier to play," Howard said of his time with the Lakers. "Coming off back surgery is tough. I wanted to come out here and show the fans here that I'm about winning. Unfortunately I just wasn't healthy enough, and neither was the team."
Howard added a torn labrum to the medical report during the season, but still managed to play in 76 games. That was 26 more games than Steve Nash, and he also managed to outlast Kobe Bryant, who tore his Achilles tendon in the Lakers' 80th game of the season. Howard averaged 17.1 points, 12.4 rebounds and 2.5 blocked shots for the Lakers.
"I'm a lot healthier than I was," Howard said. "Last year I can recall some games where I was going up to try to dunk and I just didn't have the legs to finish it. This year I'm able to do that. I'm still getting healthier, which is great."
The only noticeable statistical improvement in Houston is a scoring average at 18.8 points, but it's not merely a matter of health. It's a noticeable improvement in demeanor.
"Dwight's a guy, when he's happy he plays better," Rockets coach Kevin McHale said. "He just didn't seem happy [in Los Angeles]."
He never seemed as intense as he was at the start of Wednesday night's game, when he seemed to feed off the boos raining down on him.
Howard made a left-handed hook shot on the Rockets' first possession. Then he blocked a Kendall Marshall shot and grabbed a rebound in one defensive sequence. He had six points (including two dunks), two rebounds, a blocked shot and a steal in the first two minutes. In addition he had a technical foul for an emotional reaction to one of his dunks, which Howard said was merely directed at a friend hitting courtside.
Most of the fans were in no mood to joke with Howard. They booed him in the introductions and every time he touched the ball. They cheered every one of his missed shots and turnovers.
When the scoreboard screen showed fans who had altered their Howard Lakers shirts to read "Coward," it drew some of the loudest cheers of the night. Dwight was too busy yucking it up with teammates on the bench to notice.
He was done for the night after three quarters. The Rockets dismantled the injury-depleted Lakers squad that was down to eight active players after trading Steve Blake to Golden State in a salary-shaving move before the game.
While the Rockets won their eighth consecutive games, the Lakers dropped their eighth in a row at home. This Lakers season is so abysmal it makes last season's tumultuous, underachieving saga seem like the good old days. Even Howard could muster one good memory of his days in L.A.
"Sprinkles," he said, referring to the high-end cupcake shop.
With that bit of info, guess we can't say there was nothing sweet about his limited stay in Lakerland. It just wasn't as good as what he's got now in Houston.
Dimes past: Jan. 28 | 29 | 30 | Feb. 3 | 4 | 5 | 6 | 9 | 10 | 11 | 12 | 13 | 16 | 17 | 18
ESPN Senior Writer
ESPN.com senior writer since 2007
Around The Horn panelist
Formerly at Los Angeles Times
2. Around the Association
3. Wednesday's Best
Love
Kevin Love, Timberwolves: Love had 42 points and 16 rebounds as the Wolves took down the East-leading Pacers 104-91. It was Love's eighth straight game with at least 25 points and 10 rebounds, the longest streak since Shaquille O'Neal accomplished the same feat Jan. 3-19, 2005.
4. Wednesday's Worst

Los Angeles Lakers: When booing Dwight Howard is the highlight of the night in a 134-108 trouncing by Houston, then things are not going well. The Lakers just fell into a tie for basement honors in the West with the Kings. At least Swaggy P is coming back soon.
6. Tweet Of The Night
Telling your kids daddy can't live with us anymore until this summer is just as heartbreaking the third time around as it was the first two.

— kristen blake (@kristenblake2) February 20, 2014
7. Quote Of The Night
"I just wish I would have waited until I got healthier to play. Coming off back surgery is tough. I wanted to come out here and show the fans here that I'm about winning. Unfortunately I just wasn't healthy enough, and neither was the team."
-- Dwight Howard, after his winning return to Los Angeles.
8. Patty Power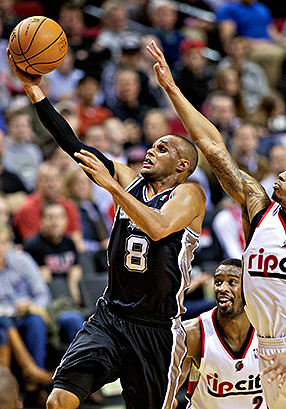 Craig Mitchelldyer/USA TODAY SportsWith Tim Duncan and Tony Parker both out, Patty Mills came off the bench to score 29 points as San Antonio rallied in the second half to pull out a 111-109 victory over the Blazers.
9. Stat Check
By
ESPN Stats & Information

Anthony
Carmelo Anthony scored 42 points on Wednesday; the New York Knicks' four other starters combined for 17 points and none had more than six. Anthony's percentage of starters' points -- 71.2 percent -- was his third-highest in any NBA game. In his 62-point game on Jan. 24 he had 75.6 percent of points by Knicks starters and he had exactly 75 percent in a 45-point game on New Year's Day 2013.
Around the Association
---
MVP: It may have been Dwight's return, but James Harden had 29 points, 11 assists to just one turnover. He scored the last 11 points for Houston in the third quarter, and temporarily quelled the concerns about his defense with four steals.
Defining moment: On the very first play, Dwight Howard sank a hook shot. On the next play, he spun and dunked. And then he scored again. Howard's play against the Lakers on Wednesday night was particularly fierce for some peculiar reason.
LVP: Chris Kaman was completely and totally overmatched by Dwight Howard. Howard had two particularly vicious blocks on Kaman in the post, Kaman finished with only eight points on 11 shots.
---
MVP: Patty Mills has been incredible, and that's the only word to describe him after the Spurs' 111-109 win in Portland. Mills went for 29 points in 29 minutes and continues to be the Spurs' lifeblood through this awful stretch of injuries.
X factor: Marco Belinelli, the reigning 3-Point Shootout champion, hit a massive 3-pointer with the game tied and 1:34 remaining, and the Spurs never gave up the lead from there. He just continued what has arguably been the best season of his career.
That was ... Spurs basketball: San Antonio has been under scrutiny for not being able to beat the NBA's best. But the hugely shorthanded Spurs have now defeated the Clippers and Blazers in consecutive road games to maintain the second seed in the West, and Kawhi Leonard is expected to play on Friday after missing a month due to injury.