1. Bloodied LeBron Delivers The Hits In OKC
OKLAHOMA CITY -- With his feet soaked in a bucket of ice, his knees wrapped in bandages, his nostrils plugged to stop the bleeding and a towel completely covering his head and face in the visitors' locker room, LeBron James was trying his best to literally hide the pain.
James was certainly a battered man Thursday night and will have his swollen and bloodied nose reevaluated Friday after the Heat return to Miami.
That was the result of being knocked out of the game against the Oklahoma City Thunder midway through the fourth quarter by an inadvertent hit to the face from Serge Ibaka as James drove in for a Heat score.
But LeBron was hardly a beaten man.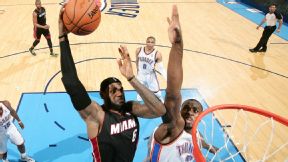 Nathaniel S. Butler/NBAE/Getty ImagesDespite a blow to the face, LeBron powered through for the dunk as Miami cruised past OKC.
He made sure of it by delivering enough blows early and often to push the Heat out to an early 17-point lead in the first quarter, which provided enough cushion to hold off a Thunder team that boasts the league's best record and hadn't lost at home since Jan. 2.
James scored 16 of his game-high 33 points in the first quarter to set the tone for the Heat in their 103-81 win. But he was helped off the court and into the locker room after he scored his final bucket with 6:33 left in the game on a drive into the lane that he finished at the rim despite taking the hit as Ibaka swung for the block.
James lay on the baseline for several seconds as play continued until Heat coach Erik Spoelstra called a timeout. The Heat's entire bench went to check on James, who bled from his nose as he was being helped onto his feet and escorted first to the bench and then into the locker room. James didn't return to the game, but the Heat were already comfortably ahead on the way to avenging last month's blowout loss to the Thunder in Miami.
There were mixed emotions in the Heat's locker room after the game.
As James sat quietly in his seat with his face covered but still listening to the dozens of reporters around him, teammates Dwyane Wade and Chris Bosh spoke of their initial concern after seeing their catalyst woozy and struggling to get to his feet.
"You know it hurts if he's down," Bosh said of James. "I was hoping it wasn't anything extremely serious. When you see a guy down like that, a bunch of different things go through your head. But I don't think it was broken, because you would be able to tell. He would be in the emergency room right now."
James peeked from beneath his towel as Bosh spoke about the strength it took to be able to absorb hard contact from the 6-foot-10, 245-pound Ibaka and still be able to finish strong at the rim for the score.
"It takes more than resolve; it takes supreme athleticism and strength," Bosh said. "I mean, that was Serge Ibaka there going up with him. He got hit in the face and goes up and still finishes. But he's the best, biggest, strongest athlete in the league. And only he can do that."
The irony in the aftermath was that so much of the Heat's six-game trip had been overshadowed by some of the comments James has made over the past three weeks. There was the debate over whether he owed it to the game to compete in the dunk contest at All-Star Weekend. There was the Mount Rushmore discussion in which he talked about one day being one of the greatest four players to ever wear an NBA uniform. Then came the interview with NBA TV in which he said he couldn't, at the moment, envision a scenario in which he would opt out of his contract and leave Miami as a free agent.
But the biggest statement James ended up making through it all came on a night when the injury to his nose left him in no mood to speak. Yet that didn't stop the Heat from making a resounding statement in going 5-1 on a swing during which the Heat notched wins against the Clippers, Suns, Warriors, Mavericks and Thunder -- five teams all in solid playoff position in the supposedly superior West.
The lone blemish on the trip was the loss to Utah, which was the only game Miami played against a team with a losing record. But that's the Heat: They have a frustrating habit of locking in, especially on the road, against the elite teams that command their complete attention and respect. But they also have that tendency to falter against the bottom-feeders.
That's what left Spoelstra shaking his head in bewilderment after Thursday's dominance of the Thunder, who struggled in Russell Westbrook's return after he missed two months to recover from knee surgery. The loss to Utah still bothered Spoelstra, but seeing the Heat close out the Thunder this time around after squandering an 18-point lead against them in Miami on Jan. 29 put things back into perspective.
"To have a game like this, it's a good way to end the trip," Spoelstra said after the Heat held OKC to 37.8 percent shooting and converted 20 Thunder turnovers into 27 points.
"The mental toughness is something we improved the last two or three weeks. The last OKC game, we didn't show that necessary resolve. We knew they would come back. You can't throw a knockout punch against an elite team like this. You're going to have to take several hits to the chin and respond, and do it collectively."
James took the hit, but he also got the collective help that reflects the Heat at the top of their game. James, Wade and Bosh combined for 81 points to match the Thunder's total scoring output. Wade added 10 assists, seven rebounds and three steals, and Bosh contributed eight rebounds, three steals and a block. Miami's role players had productive moments as well, with Shane Battier primarily defending Kevin Durant, who missed 10 of his first 16 shots but finished with 28 points.
While James, Wade and Bosh sat on one the quieter side of the locker room, the rest of the team was gathered around a television screaming on the far side of the room as they watched the end of the Duke-North Carolina college basketball game. Speaking to reporters before Thursday's game, James shot down the notion that OKC or anyone else has emerged as the Heat's rival.
James instead mentioned how Duke and North Carolina are real rivals, and then rattled off stats that proved how close and heated the series is after decades of high-stakes games against one another.
If Thursday's result proved anything, it's that the Heat can take a punch.
Now, they're punching back.
Having scored at least 30 points in 13 games since Jan. 1 and leading the Heat back to their dominant ways, James is showing that the MVP award many conceded to Durant is long from decided.
And having closed to within 1½ games of the Indiana Pacers for the best record in the East, the Heat are making a convincing case that there indeed remains a race for the No. 1 seed in the conference.
"These things take a whole season [to decide] -- we know that, and we've been talking about that the whole season," Bosh said. "And LeBron knows that. We don't want one guy -- unless it's our guy -- head and shoulders ahead in the [MVP] race. And we don't want just Indiana out by a mile about to lap everybody. We want to be right behind them. Like I said, let's make this interesting; make it fun."
In James' case Thursday night, it was painfully fun.
Dimes past: Jan. 28 | 29 | 30 | Feb. 3 | 4 | 5 | 6 | 9 | 10 | 11 | 12 | 13 | 16 | 17 | 18 | 19
ESPN Staff Writer
ESPN.com NBA reporter
Blogs regularly on the Miami Heat
14 years covering the ACC, SEC, NFL and NBA
2. Around the Association
| | | | | |
| --- | --- | --- | --- | --- |
| Miami Heat | 103 | FINAL | 81 | Oklahoma City Thunder |
---
MVP: LeBron James was at his best tonight -- to the point where the only thing that could stop him was a shot to the face. James scored 33 points on 15-of-22 shooting from the field. His defense had its lapses and he committed too many turnovers, but it was still quite the statement in a blowout revenge win.
X factor: Dwyane Wade turned back the clock with reverse slams, stupendous ball fakes and vintage, wild lay-ins in a 24-point, 10-assist effort on 11-of-17 shooting from the field. When James wasn't dominating, Wade was, which ended up being the difference tonight.
That was ... full of injuries: Russell Westbrook made his return from a knee injury, but Kendrick Perkins hurt his groin in the second quarter, exiting the game without making a return; Reggie Jackson's right hand bothered him; and LeBron James went down after a collision and bloody nose.
| | | | | |
| --- | --- | --- | --- | --- |
| Houston Rockets | 99 | FINAL | 102 | Golden State Warriors |
---
MVP: Stephen Curry. He forced overtime with a driving lay-up with less than four seconds left, then scored seven of Golden State's 13 points in the extra session. The Warriors were at their best when they were running their offense through the All-Star point guard.
Defining moment: The Rockets were down one with 23 seconds left when 35-year-old Jermaine O'Neal turned back the clock and denied Chandler Parsons at the rim. Houston didn't score again until the final buzzer, when the game had already been decided.
X factor: Patrick Beverley. His offensive numbers (two points on 1-of-6 shooting with three assists) aren't great, but on the other end, he made Curry work for everything he got. Beverley eventually fouled out in overtime, but not before spending 37 minutes running Curry all over the court.
-- Adam Reisinger, ESPN.com
3. Thursday's Best
Heat's Big 3: LeBron James, Dwyane Wade and Chris Bosh combined for 81 of Miami's 103 points in a blowout win over Oklahoma City -- James led the way with 33. When Wade is turning back the clock, Bosh is getting to the line and LeBron is ... being LeBron, the Heat are nearly impossible to stop.
4. Thursday's Worst
Middleton
Khris Middleton, Bucks: Averaging more than 15 points per game in February, Middleton managed only six on 2-of-9 shooting in Milwaukee's 101-90 loss to Denver. He missed all five of his attempts from deep.
7. Quote Of The Night
"I don't think that was a message. That was LeBron James being LeBron James. He loves the matchup, just like KD loves the matchup. The MVP is long, long from over."
-- Dwyane Wade, after he and LeBron lifted Miami to a 103-81 win in Oklahoma City.
8. Beware Of Birdman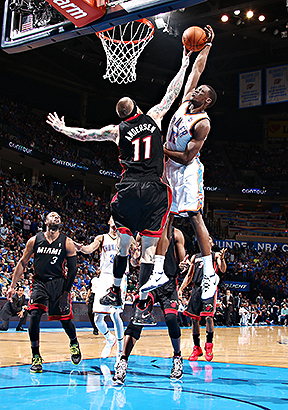 Nathaniel S. Butler/NBAE/Getty ImagesOklahoma City's Reggie Jackson tried to enter the Bird Box. Miami's Chris Andersen would have none of it.
9. Stat Check
By
ESPN Stats & Information
Kevin Durant was 1-for-6 from 3-point range on a day when his team went 2-for-20. That tied the second-worst shooting percentage for any team with at least that many 3-point attempts in a game this season.
---
MVP: Kenneth Faried. With 26 points on 11-of-15 shooting, Faried had perhaps the best offensive game of his NBA career. While mostly known for his dunks and tip-ins off offensive rebounds, it was his post game that carried the Nuggets through most of the night.
LVP: Near the end of the second quarter, O.J. Mayo had the misfortune of being caught tying his shoes on defense, apparently unconcerned by all the action going on behind him.
X factor: Randy Foye had only 10 points, but his 10 assists speak to how well he set the table for the Nuggets. The lack of point guards currently available to Denver forced Foye to play out of position, and he responded with a solid performance.