1. Fitting Form The Question For Westbrook
OKLAHOMA CITY -- Down four to the Los Angeles Clippers with 35 seconds left, the Oklahoma City Thunder had a decision to make. Go for a risky two-for-one, or drain clock while running a set to try for a good look?
Too late. Russell Westbrook was already firing away from 28 feet.
He's baaaack.
Westbrook's shot was wide left, the Clippers rebounded and put the finishing touches on an impressive 125-117 shootout win on the road against the West's top team. It gave the Thunder just their fifth home loss of the season, but with two of them coming in a four-day span, and both carrying a common theme -- Westbrook's return to his starting spot.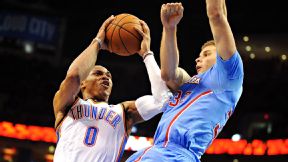 Mark D. Smith/USA TODAY SportsRussell Westbrook is working his way back, but the Thunder couldn't get past the Clippers.
The wild heave from Westbrook really was the perfect, one-shot illustration of why some have been anxious about his return. Because as he was chucking contested, Kevin Durant, who was sitting on 42 points and 10 assists, stood silently by.
Any debate about Westbrook taking shots from Durant has mostly been put to bed some time ago -- 13 shots for Westbrook to Durant's 30 on Sunday, for those keeping score at home -- but with the tear Durant went on in January and February, with every big moment, every big shot, every big play falling into his magnetic hands, it was jarring to see someone else trying to do something.
Westbrook's re-addition to the lineup hasn't been seamless. He's on an awkward minutes restriction, which has made his time on the floor a bit uncomfortable. For a stretch in the second quarter, that chemistry between Durant and Westbrook showed up, reminding the rest of the league why there's a reason to fear the Thunder. Electric pick-and-roll action, end-to-end transition, high-flying improvised explosions.
But before it could really get good, Westbrook was back on the bench. He had played his stretch of first-half minutes and he had to sit.
"It's an adjustment that we all have to make, and we are going to make it. It just takes some time," Thunder coach Scott Brooks said of Westbrook. "He is as dynamic of a player as any, on both ends of the floor. He brings us heart, he brings us hustle, and his game is going to come along. You cannot expect the guy to miss the games that he has missed and come out making every shot and making every pass. He is doing it with hustle and heart, and that's what we need him to continue to do in that leadership position. He takes the challenge of guarding players, and that's what we need. We need to find a team full of guys to getting back to doing that."
The Thunder have dropped both games with Westbrook back in the starting lineup, but before you say "I knew it!" there are two necessary footnotes to go with that: (1) Westbrook is limited to just about 25 minutes a game and (2) the games were against the Miami Heat and Clippers. Forget trying to work Westbrook back in. That's a challenge already.
"I'm a hundred percent," Westbrook said of how he feels. "Obviously I'm not going to come back and be Superman, but I'm going to come back every game and get better."
Narratives are fun, and the Westbrook-returns-and-screws-up-the-Thunder is an easy one, but in this case, OKC's struggles were far bigger than one unfortunate shot attempt. The Thunder allowed 72 points in the first half, and a robust 118.9 points per 100 possessions to the Clippers. Westbrook was 3-for-13 in his 25 minutes, but the Thunder still finished with 117 points. And lost.
"We're adding a very good player, an All-Star player and when you add that to your team, it helps your team," Brooks said. "We're not [not] playing defense because Russell came back. We're not playing defense because our team didn't commit to that end of the floor."
Even with back-to-back losses, the Thunder are still 21-6 with Westbrook, and 22-8 without. And with four home games ahead against the Cavaliers, Grizzlies, Bobcats and 76ers, there's a good opportunity to eliminate the chatter while also integrating their All-Star point guard back into the lineup. The Thunder are unquestionably, undoubtedly better with Westbrook. He takes dumb shots, and he takes plenty away from Durant. But you can't argue with the results the two have produced together the past five years. Lots of wins, postseason success, individual accomplishments. Don't let two games mislead you.
The Thunder were spectacular in Westbrook's absence, but that's because Durant really is that good. Not because of some contrived argument that they're more potent without Westbrook.
Still, there's no question that Westbrook has blemishes in his game, and could serve his co-star better. While sidelined, Westbrook talked about watching, learning and adjusting to how his team excelled without him. But old habits die hard, especially when you're as strong-headed as Westbrook. In answering a question about rookie Steven Adams getting a start for injured Kendrick Perkins, Westbrook said this: "It takes time. I'm still learning my position as I get older."
Maybe he learned something new Sunday.
Royce Young's work appears regularly on Daily Thunder, part of the TrueHoop network
Dimes past: Feb. 3 | 4 | 5 | 6 | 9 | 10 | 11 | 12 | 13 | 16 | 17 | 18 | 19 | 20
ESPN Staff Writer
Covers the Oklahoma City Thunder for ESPN.com
2. Around the Association
3. Sunday's Best
Crawford
Jamal Crawford, Clippers: Leave it to others to threaten the triple-double column. Having entered his shooting range when the plane landed in OKC, Crawford proceeded to do what he does best, dropping in 5 of 8 3-point attempts en route to 36 points to help the Clippers past the Thunder 125-117.
4. Sunday's Worst

Augustin
D.J. Augustin, Bulls: Fresh off two excellent games against the Raptors and Nuggets, D.J. spun a dud that would not get people out of their seats and onto the dance floor. He missed all 10 of his shots in a 93-79 loss to the Heat.
7. Quote Of The Night
"It was a lot of fun to get back out on the court and set screens, hard fouls. Didn't take any charges tonight -- that'll change. I'll get in position next time."
-- Jason Collins, on his return to NBA action.
8. Return Of Jason Collins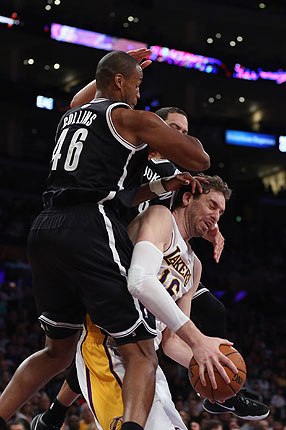 Jeff Gross/Getty ImagesNew Nets center Jason Collins returned to one of his mainstays -- issuing one of his five fouls (this one on Pau Gasol) during 11 minutes of action.
9. Stat Check
Isaiah Thomas scored 33 points, Rudy Gay contributed 32 and DeMarcus Cousins recorded 27 in the Sacramento Kings' win at the Denver Nuggets on Sunday. Their combined total of 92 points was the highest by any trio in a regulation-length game this season and it was the highest total by three Kings players in more than 35 years. The last instance came when the Kings were based in Kansas City and Otis Birdsong (39), Phil Ford (33) and Scott Wedman (33) tallied 105 points against Washington on Jan. 26, 1979.
Around the Association
---
MVP: With LeBron James sidelined, Dwyane Wade and Chris Bosh stepped up to make up for the King's absence. Bosh had a game-high 28 points, while Wade had 23 points, 10 rebounds, seven assists and two steals.
X factor: Miami's defense, which forced 12 individual turnovers and seven shot-clock violations. Miami was particularly fierce on D.J. Augustin, who was 0-for-10 from the field, by far the worst of Chicago's 35.8 percent effort from the field.
Defining moment: The game was tied at 40-40 at halftime, but Miami absolutely dominated the third quarter, using a key 11-0 run to trigger a 25-12 advantage in the quarter. The Heat won the other three quarters by only one point.
---
MVP: Chris Paul barely missed out on a triple-double, finishing with 18 points, 12 assists and eight rebounds, helping the Clippers hold off Kevin Durant and his 42 points.
X factors: Jamal Crawford and Matt Barnes. The Clippers' off-the-bench crew combined for 60 points on 21-for-34 shooting (including 11 made 3-pointers), helping propel L.A. to a win as members of the starting lineup.
That was ... exciting: 78 points scored in the second quarter, 139 points scored in the first half, 243 points scored in the game, 25 total 3-pointers made. Let's just all hope we get to see these two teams meet in the postseason.