1. Bucks-Sixers: Clash Of The Tankin's
By
Tom Sunnergren
| TrueHoop Network
PHILADELPHIA -- On June 4, 1976, the Boston Garden hosted what many regard as the greatest professional basketball game ever played. Two disparate competitors battled gloriously on the sport's biggest stage. A wizened Celtics team, a dynasty in its twilight years, pitted against an upstart Suns franchise that parlayed a 42-40 regular season into an unlikely playoff run. Boston ultimately prevailed 128-126, and claimed its 13th championship days later, but only after three overtime periods and a series of agonizing and increasingly improbable twists and turns -- among them a 22-point comeback, a pair of botched timeout calls, and more apparent daggers than a Bollywood epic.
The contest was such a classic, such an unvarnished expression of athletic greatness, that even the losing team was honored to have been a part of it. "After all these years, the thing that occurs to me is what a privilege it is to have been involved in that game," Phoenix's Paul Westphal reflected, decades later.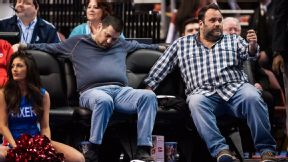 Howard Smith/USA TODAY SportsIt appears at least one courtside Sixers fan is not paying full attention to the teams that sit 1-2 in the NBA draft lottery chase.
On Feb. 24, 2014, the Wells Fargo Center hosted what was also, by most definitions, a professional basketball game. Though in lieu of nick-of-time heroics and historical import, this one included Byron Mullens, a 29-point halftime margin, and a fan who napped at courtside.
Welcome to Philadelphia.
In one corner: the Milwaukee Bucks, somewhat mortified owners of a 10-45 record -- the worst in the NBA in 2013-14 and, through 55 games, the eighth shabbiest in the Association's long history.
In the other: the Philadelphia 76ers. Brazen authors of a 15-41 record of their own, a 10 game losing streak -- during which they suffered an average losing margin of 20.3 points -- and a scoring differential of -10.5, which, were it not for the 2011-12 Bobcats, would be the poorest in the NBA dating back to at least 2001-02.
The answer to the primary question the contest posed -- given the Sixers' and Bucks' respective résumés, who rightly held the mantle of the NBA's Biggest Loser? -- came quickly and unequivocally.
Its broad contours emerged in the first period, when Philadelphia trotted out a lineup of Henry Sims, Elliot Williams, Hollis Thompson, Eric Maynor and Mullens -- a group that most casual fans and general managers would have a difficult time identifying on the street -- came into clearer view in the second when Tony Wroten missed two dunks in a single possession, and calcified into something like established fact minutes later when James Anderson bounced a would-be layup off the underside of the rim, jumpstarting a Milwaukee fast-break that concluded silkily with a Brandon Knight bucket off a blind assist from O.J. Mayo.
69-41 Bucks. The Sixers were winning in one sense.
"We did a good job moving the basketball, and when we play like that, it takes away a lot of the predictability as far as what we do," Milwaukee coach Larry Drew told reporters after his team notched 32 assists on 48 field goals.
"I just take [wins] any time, any way I can get them," he added when asked to comment on his opponent.
In the second period, when the dust, and some of the fans, had cleared, it was apparent he would get one. Milwaukee --which entered the game with the second worst offensive efficiency in the NBA; second, again, to the Sixers -- shot 18-of-28 during the quarter, 5-of-7 from 3-point range, and outscored Philadelphia 43-16.
A 73-44 halftime advantage settled into a 130-110 win, the Bucks' highest scoring total and largest victory margin on the season. Mayo's 25 points led a team that had seven score in double figures.
The game wasn't supposed to be a classic, but no one expected a blowout either.
"It's a little bit of a surprise," said Giannis Antetokounmpo from a visitors' locker room that's hosted a succession of pleasantly surprised teams. The rookie, a lone bright spot in Milwaukee, scored 13 points on 5-of-8 shooting and blocked four shots. "We just come here to play hard. But we didn't expect this. To go like this."
Across the hall, Thaddeus Young wasn't as much bewildered as sullen. Young, who stayed put at a deadline that saw teammates Evan Turner and Spencer Hawes shipped to better (read: other) situations, has emerged as something of a martyr in Philadelphia -- quietly indignant that he's squandering his prime, too professional to make much noise about it.
He was extraordinary again on Monday, scoring 28 to go along with a career-high seven assists. In the two games since Feb. 20, Young has posted 58 points, 13 assists, 13 steals and 18 rebounds. He played the way we've come to expect: hard. Tanking, as always, doesn't trickle down to the players.
"We're better than we showed tonight," the veteran insisted, suggesting that the 2013-14 Sixers aren't broken, but simply a work in progress. Insinuating new arrivals into the rotation will take time, but it can be done. He can fix it. "Four new guys came in here. We're in the process of teaching these guys ... guys are learning the system, guys are learning the plays, guys are learning how we do things around here."
The lesson, for all of us, has been a rich one.
Eskimos are said to have 50 different words for snow, and in this age of tanking abundance, followers of the NBA have developed a similar sensitivity to the multitudinous varieties and permutations of purposeful losing.
For instance, in the third quarter in Philadelphia, with the home team trailing by 30-odd points, a fan sitting courtside was spotted sleeping by television cameras. He remained that way for most of the game. What kind of snowflake is that?
Tom Sunnergren's work appears regularly on Hoop76, part of the TrueHoop network
Dimes past: Feb. 3 | 4 | 5 | 6 | 9 | 10 | 11 | 12 | 13 | 16 | 17 | 18 | 19 | 20 | 23
2. Around the Association
3. Monday's Best

Anthony
Carmelo Anthony, Knicks: Here's seven words doomed to be repeated in 2014: Melo has big night in losing effort. Melo's 44 points (sinking 7 of 12 3-pointers) and nine rebounds were not enough in a 110-108 loss to the Mavs and the clutch touch of Dirk Nowitzki.
4. Monday's Worst
The Philadelphia 76ers: Losing by 20 to the worst team in the NBA while playing at home? Well done, Tankety-Sixers. The 130-110 loss to Milwaukee bodes well for the Sixers' tanking fortunes, making the four-game lead the Bucks currently hold for top lottery chances seem very surmountable. Philadelphia has lost 21 of 24 and 10 straight at home.
6. Tweet Of The Night
Best part of owning a team , running out on the court after a game winner !!! @swish41 What day is it !!!

— Mark Cuban (@mcuban) February 25, 2014
7. Quote Of The Night
"I didn't even feel like celebrating it was so ugly."
-- Dirk Nowitzki, on his buzzer-beater that sank the Knicks.
8. Do Not Bury Jermaine O'Neal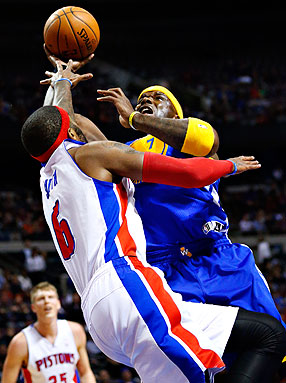 Rick Osentoski/USA TODAY SportsStepping in for flu-riddled David Lee, Warriors center Jermaine O'Neal had 16 points and 10 rebounds in a 104-96 road win in Detroit. The 35-year-old O'Neal is in his 17th NBA season.
9. Stat Check
How over the top is the frequency of 3-point shooting in the NBA? On Monday night, Milwaukee's O. J. Mayo, the Clippers' Jamal Crawford, the Mavericks' Vince Carter and the Knicks' Carmelo Anthony each made seven 3-point field goals. So even though there were only five games on the NBA's Monday night schedule, February 24, 2014 became the first day in NBA history on which as many as four different players made seven or more field goals from 3-point range.