1. James Harden's 43 Points Top Royal Meltdown
By
James Ham
| TrueHoop Network
SACRAMENTO, Calif. -- While Dwight Howard strutted around the Rockets' locker room doing his best Charles Barkley impersonation, James Harden sat quietly in the corner with ice bags on his knees and his feet soaking in a giant bin of ice water.
You would never know that the 24-year-old wing had just single-handedly destroyed another NBA team on its home floor. As he sat with his camo headphones on, looking as though he didn't have a care in the world, the Sacramento Kings were a few hundred feet away, dealing with yet another DeMarcus Cousins meltdown.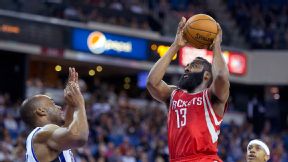 Jose Luis Villegas/Sacramento Bee/Getty ImagesJames Harden scored 43 points before resting the entire fourth quarter.
It was all Harden, from start to finish in this one. After scorching the Kings for 22 points on 7-of-10 shooting in the first quarter, he fell three points shy of his career-best 46 points.
If only Rockets coach Kevin McHale would have let him play in the fourth quarter.
"He just took over," Howard said of Harden. "He hit a lot of 3s, got to the free throw line and he attacked the basket, which we need him to do all game."
The Rockets led by as many as 31 points in the first half and continued to keep the pressure on Sacramento for the entire game.
"We got on them early and got a big lead and kept it all game," McHale said. "It was a great start by the guys, their defense was solid, they got out and ran, and James had a phenomenal first quarter and a great game."
It was a tale of two teams headed in decidedly different directions. While Harden was running a layup drill and Howard was dominating the post, the Kings were falling apart at the seams like they have done countless times this season.
Cousins tried to will his team back into this game in the second quarter, finishing the first half with 16 points and five rebounds. But Sacramento still trailed 69-51.
Harden continued his assault on the Kings' defense in the third, and Cousins began to lose his cool. After picking up a questionable touch foul on a missed layin by Howard, the fourth-year center picked up his 14th technical foul of the season for jawing at veteran official Courtney Kirkland.
Before coach Michael Malone could get his center out of the game, Cousins picked up his fifth foul and the wheels were falling off. Malone called a timeout and pulled his big man from the game at the 8:21 mark of the third, but it was too late; the fuse had been lit.
While Malone asked for an explanation from Kirkland, an agitated Cousins had to be restrained by Kings assistant coach Corliss Williamson. The outburst was too much. Cousins picked up his 15th technical and headed to the locker room for an early shower, but not before making quite the scene on the Kings' sideline.
"It's an emotional game, and I'm pretty sure when we play against each other, it's very emotional," Howard said. "He wants to win. He wants to play his best, so he let his emotions get the best of him tonight."
Cousins is just one technical away from earning a one-game suspension. Emotions or not, the Kings are 0-8 on the season without their star center. If he wants to be an elite center in the NBA, he needs to learn that he is hurting his team with each and every one of these outbursts.
With a marquee matchup against the Los Angeles Clippers on Wednesday at Staples Center, the Rockets got just what the doctor ordered -- an easy win in Sacramento. McHale rested his stars most of the second half and went deep to his bench.
"It's going to be a big game [Wednesday] night," McHale told reporters after the game. "We've been on the road for a while now. It's the last game of a five-game road trip, we're 3-1, and we have to go in and play a good Clippers team."
The Rockets are third in the Western Conference standings and riding high on their way to the playoffs, while Sacramento is headed for another turn in the lottery and left wondering when Cousins will grow up.
James Ham's work appears regularly on Cowbell Kingdom, part of the TrueHoop network.
Dimes past: Feb. 3 | 4 | 5 | 6 | 9 | 10 | 11 | 12 | 13 | 16 | 17 | 18 | 19 | 20 | 23 | 24
2. Around the Association
3. Tuesday's Best
Harden
James Harden, Rockets: Harden scored a season-high 43 points before resting for all of the fourth quarter (saving his legs for the Clippers on Wednesday), and the Rockets routed the Kings 129-103. Harden shot 11-of-20 from the floor, made 15 of 16 free throws and added eight assists, three steals and two rebounds.
4. Tuesday's Worst
Cousins
DeMarcus Cousins, Kings: Another night, another Boogie down production. Cousins had 16 points and six rebounds for the Kings before getting ejected for vehemently arguing with an official in the third quarter. He picked up his NBA-leading 14th and 15th technical fouls. The next one earns him a one-game suspension.
6. Tweet Of The Night
Lotta chatter in circulation Tuesday night to suggest Heat in pole position for Caron Butler ... with Spurs/Clips dueling for Danny Granger

— Marc Stein (@ESPNSteinLine) February 26, 2014
7. Quote Of The Night
"I don't think there's a lot of discipline right now."
-- Pau Gasol, on the current state of his West-worst Lakers.
8. Turner's New Home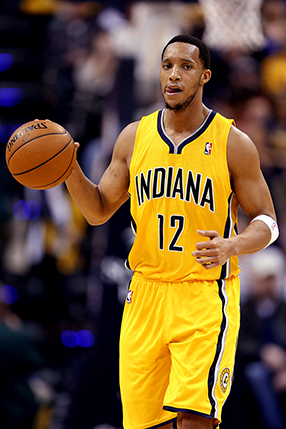 Brian Spurlock/USA TODAY SportsIn his first game with the Pacers, Evan Turner finished with 13 points and six rebounds in a 118-98 win over the Lakers.
9. Stat Check
Love
Kevin Love's 33 points and 13 rebounds powered the Timberwolves to a 110-101 win over the Suns. Love has scored at least 30 points and grabbed 10 or more rebounds in each of his past six games. The only other NBA players in the past 30 years to register six consecutive 30/10 (points/rebounds) games were Shaquille O'Neal (11 straight in 2001) and Karl Malone (10 in a row in 1988).
Around the Association
---
MVP: James Harden had 22 points in the first quarter, 30 in the first half, and finished with 43 points -- three shy of his career high -- in just three quarters, and all on a mere 20 shots.
X factor: Sacramento rallied to cut Houston's lead to 15 at the start of the third quarter, but DeMarcus Cousins' ejection after an argument with the referees pretty much shut down any hopes for a miracle comeback.
LVP: Sacramento's shooters, namely Ben McLemore and Isaiah Thomas. With Dwight Howard and Omer Asik guarding the paint, the Kings needed to hit jumpers to compete with Houston's high-powered offense. But McLemore and Thomas were 3-for-13 from long range.
---
MVP: When the jump shot is falling for him, John Wall is practically unguardable. And that's what happened against the Magic, as Wall (27 points, 7 assists, 5 rebounds) sprinkled in jumpers alongside his layups and dunks.
X factor: Trevor Ariza (22 points), Marcin Gortat (21 points, 10 rebounds) and Bradley Beal (21 points) were all outstanding. The Wizards can only hope they continue playing that well with Nene sidelined with a sprained left MCL.
That was ... another road loss: Orlando's 16th consecutive road loss ties a franchise record. With the Magic playing the Sixers (losers of 11 in a row) on the road on Wednesday, something's got to give between two teams on major losing streaks.