1. Playoff Airs: Clippers' Defense Defines Win
LOS ANGELES -- Eventually the Los Angeles Clippers were going to have to find methods of winning besides sheer offensive brilliance. Entering Wednesday night, the Clippers were 24-3 when they scored at least 110 points and 15-17 when scoring anything less. They had scored at least 118 points in each of their previous five victories.
They happened upon something against the Houston Rockets on Wednesday night. Even if it was improvisation forced by deprivation, the result was one of their most significant results of the season, a 101-93 victory. Jamal Crawford left the game for good with a strained left calf just before halftime, and the Clippers' already diminished firepower (sharpshooter J.J. Redick remains out with a bulging disk in his back) took another hit.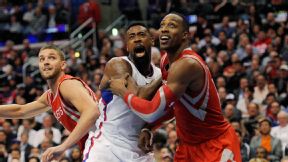 Kelvin Kuo/USA TODAY Sports
Crawford wasn't effective even while he played, missing eight of his 10 shots. The Clippers' lob game wasn't at its usual highlight-generating level either, thanks to a Rockets defense determined to deny dunks.
Neither of these top-three scoring offenses in the league could top 50 points in the first half. The Rockets, finishing up a five-game road trip, seemingly emptied their offensive containers in Sacramento the night before.
Clippers coach Doc Rivers doesn't like to give his team unnecessary kudos (for example, he dismissed the Clippers' two November victories against Houston because the Rockets were still adjusting to their new roster). But he did give more credit to his team than the schedule for Houston's 20 turnovers.
"It was ball pressure," Rivers said. "I thought we were up into them most of the game."
Playoff implications were almost impossible to avoid at Staples Center on Wednesday night, when the Clippers had a chance to clinch a home-court advantage tiebreaker against the Houston Rockets, who themselves were facing a two-spot swing in the playoff standings. By beating the Rockets the Clippers (40-20) took a 3-0 lead in the season series, assuring themselves a home-court tiebreaker should they finish tied in the standings. Currently, the Clippers are locked into the fourth seed because they lead the Pacific Division. The Rockets (39-19), who have been bouncing back and forth with the Portland Trail Blazers, dropped to the No. 5 slot.
That means they'd face each other in the first round if they remain in these positions. And even though they're both teams that like to run, they know transition points are harder to come by when you're locked into an opponent for two weeks and are focused on taking away their strengths.
So the way the Clippers won was just as significant as the sheer point of "piling up wins," as Chris Paul said repeatedly.
"We got stops when we needed to," Blake Griffin said. "I just always feel like when we get stops it gives us momentum."
"We didn't score like we usually do," Paul said. "This was just one of those games where we're on the bench and at some point, it's not going the way you want to and things like that, and we said, 'Just win the game. Win the game.'"
That's all it comes down to in the postseason.
This game even had a taste of my favorite playoff pastime: the podium game. Normally the Clippers send Chris Paul, Blake Griffin and, increasingly, Jamal Crawford to the interview room to speak to the media. Wednesday night, Darren Collison took Crawford's place.
And it was telling that he didn't start by talking about his 19 points and five assists.
"I think what I was able to do defensively," Collison said. "I take pride in my defense. Especially against a guy like James Harden, All-Star player."
While guarding Harden in the second half Collison actually drew more fouls on Harden than he committed against him, a remarkable feat while facing a man who typically shoots nine free throws a game. Harden shoved away Collison midway through the fourth quarter, an offensive foul and turnover at a critical stage, when the Clippers were up by four points.
Rivers thought he could get away with using the smaller backcourt of Paul and Collison for extended minutes because the Rockets guards don't post up, and his hunch paid off.
But it's tough to imagine extended success if Crawford is out for a while. Crawford said he would have an MRI on his calf Thursday. Then he limped down the Staples Center hallway.
"[Crawford] had been playing unbelievable," Paul said. "We had gotten to a point where we are relying on him a lot."
That wasn't an option in the second half Wednesday. That left defense. And the Clippers were up to the task.
Dimes past: Feb. 3 | 4 | 5 | 6 | 9 | 10 | 11 | 12 | 13 | 16 | 17 | 18 | 19 | 20 | 23 | 24 | 25
ESPN Senior Writer
ESPN.com senior writer since 2007
Around The Horn panelist
Formerly at Los Angeles Times
2. Around the Association
3. Wednesday's Best
Irving
Kyrie Irving, Cavaliers: Irving scored 14 of his 31 points in the fourth quarter to help the Cavaliers stun Oklahoma City 114-104. Irving also had nine assists, five rebounds and four steals in the road win that puts the Fighting Gilberts 4 games out of the final East playoff spot.
4. Wednesday's Worst
Brooklyn Nets The Nets had the Blazers right where they wanted 'em. No LaMarcus Aldridge? This should be good for Prokohorovs Peeps, right? Nyet. The Nets proceeded to lose 124-80 in Portland, missing a chance to leapfrog Charlotte for the No. 6 spot in the East.
7. Quote Of The Night
"This is not a distraction to this team."
-- Knicks guard Raymond Felton, who is facing multiple gun-offense charges, on whether that would somehow be a problem
8. Return Of Kawhi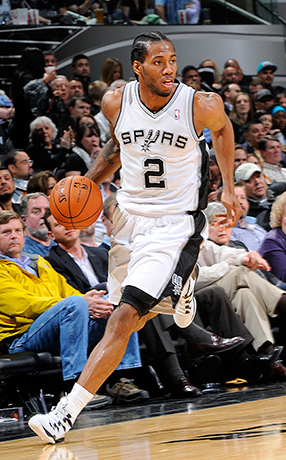 D. Clarke Evans/Getty ImagesKawhi Leonard had 15 points, six rebounds and four assists for San Antonio in his return from a 14-game absence due to a broken finger. The Spurs worked through a lethargic start to beat the Pistons 120-110.
9. Stat Check
The Chicago Bulls held Stephen Curry to five points and limited Klay Thompson to eight points in their 103-83 victory over the Golden State Warriors. Golden State's starting backcourt has averaged a league-high 40.8 points this season, and their total of 13 points on Wednesday night was their lowest in any game since Feb. 5, 2013 (at Houston).
Around the Association
---
MVP: Gordon Hayward nearly picked up a triple-double with a 17-point, 10-rebound, nine-assist performance before being subbed out with five minutes left in the game. Coaches are notorious for ruining fun.
LVP: With Goran Dragic, Eric Bledsoe and Leandro Barbosa all out due to injury, Ish Smith took over starting point guard duties for the Suns. It went poorly. Smith finished with a game-low +/- of minus-24.
Defining moment: With Utah leading by five in the third, Richard Jefferson drove on Markieff Morris, drawing the two-shot foul. Morris argued for the offensive foul call, but received a technical, leading to a 9-0 Jazz run.
---
MVP: Despite a vicious shoe blowout (more on that in a moment), Manu Ginobili paced the Spurs in the second half with 16 points on 6-for-11 shooting and nine assists against the Pistons.
X factor: San Antonio went to the free throw line 25 times against Detroit on Wednesday night and drained 23 attempts (92 percent), hitting six more free throws than Detroit attempted.
That was... the greatest shoesplosion in NBA history: Late in the second quarter Ginobili took a step backward defending Rodney Stuckey and came completely out of his left shoe. As in, his foot went through it. The shoe exploded and Spurs equipment personnel replaced the shoe during a 20-second timeout.
---
MVP: Nicolas Batum, the streaky, somewhat mercurial small forward, set the tone early for Portland. He got out on breaks, attacked the basket and shared the ball. He finished with 19 points, six rebounds, six assists and two steals.
Turning point: The Blazers blew this one wide open in the closing minutes of the first half. Already up 14, Portland ended the quarter on a 13-1 run and took a 58-34 lead into the break.
That was ... Brooklyn's worst loss and lowest output of the season -- by far: The Nets, who hadn't played since Sunday, looked more like a team on the second night of a back-to-back (which, coincidentally, was the case with the Blazers). Brooklyn was disjointed in all aspects.
-- Andrew Tonry, TrueHoop Network