1. LeBron, Heat At Peak Of Their Superpowers
MIAMI -- LeBron James decided to get a bit creative, given the mandate from the team's medical staff that he wear a mask to protect his broken nose when he returned Thursday from a weeklong absence.
So when he walked onto the court for the start of Thursday's game against the New York Knicks, James strapped a contraption across his face that gave him a look similar to Gotham's biggest hero.
Well, that depends on your perspective.
"You know, people said Batman," veteran Heat forward Shane Battier said. "But I'm more old-school. I say Kato from Green Hornet. All [James] needed was the driver's cap, and he's Bruce Lee."
On a night when James' aerodynamic carbon fiber black mask left many of his teammates and coaches debating which superhero he most resembled, the main takeaway for the Heat after Thursday's 108-82 rout of the Knicks was that the two-time defending champs have regained a firm grip on their identity.
The Heat wrapped up yet another pivotal February playing their best basketball of the season in the face of a potentially grueling schedule unlike any other the team had experienced. Miami went 9-1 during a month in which they endured their longest road trip of the season and the fewest home games they've played in a full calendar month in franchise history.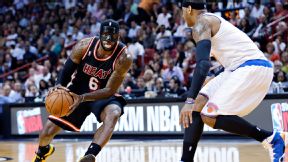 AP Photo/Alan DiazA masked LeBron James poured in 31 points in a rout of Carmelo Anthony and the lowly Knicks.
At one stage during February, the Heat went a franchise-record 19 days between home games. The length of that absence was aided by All-Star Weekend breaking up the six-game trip that saw Miami head west and pick up impressive victories against playoff contenders in the Clippers, Warriors, Suns, Mavericks and Thunder. Performances against some of the best teams in Western Conference help to overshadow the one blunder on the trip, which came in an upset loss to the lottery-bound Utah Jazz.
The Heat have used the month of February to separate themselves from sluggish starts to the season and gradually get themselves into gear for championship runs the past two seasons. In closing out the Knicks with a dominant second half, Miami put the finishing touches on its strongest month of the season. The result over the past three seasons is now a 32-4 mark in February, including 15-0 at home.
So what's so special about February for the Heat, who this time a year ago launched a 27-game winning streak? Players suggest it's about their emerging mindset more so than the specific month.
"We kind of just run out of excuses, pretty much," Heat center Chris Bosh said of the annual midseason shift in motivation. "It's like, 'Ah, it's early, we'll figure it out.' Or, it's like, 'Oh, it's November. They caught us slipping, and we'll take it on the chin. But we'll get better now.'"
But Bosh said by the time the All-Star break wraps up, something changes.
"It takes us that long to really get used to our system offensively and defensively," Bosh said. "And to really get to know the rotations, know what we're doing on offense, getting used to new pieces and new plays that we're putting in. And then making it happen."
By the end of February, the cobwebs should be cleared.
One major factor in the recent surge has been the Heat's improved defense, which has held the past four opponents to below 40-percent shooting from the field. Miami also has held their past three opponents to 82 or fewer points, which is the first time it has accomplished that feat since February 2010.
Heat coach Erik Spoelstra said there's a different level of motivation this time of the year.
"No question, coming into March, everybody sees the light at the end of the tunnel," Spoelstra said. "You see the positioning come into clearer focus. Teams get a lot more competitive. This is good if we approach it the right way, and that helps you, no question, when you get to the second season."
James has not only used the past 28 days to reestablish himself in the running alongside Oklahoma City's Kevin Durant for league MVP honors, he has also used the month to lead his team back into striking distance for the best record in the Eastern Conference and the league overall. The Heat picked up two games on Indiana during February and trail the Pacers by just two games for the No. 1 seed in the East.
"We're just looking to continue to play well," Heat guard Dwyane Wade said. "We want to go into the playoffs playing well. Wherever our body of work at the end of 82 games puts us, that's where it puts us. We can't worry about it if we have the No. 1 or No. 2 seed."
For now, the Heat will focus on trying to carry February's momentum into March, which starts with four games in six nights and includes next week's trip through Houston, San Antonio and Chicago.
"We're playing good ball, and we definitely want to continue that," James said. "We're in a good groove right now, and there's definitely no reason why we shouldn't want to continue it. For us, we've always preached that this is a process every month, and we just want to continue to get better."
Dimes past: Feb. 4 | 5 | 6 | 9 | 10 | 11 | 12 | 13 | 16 | 17 | 18 | 19 | 20 | 23 | 24 | 25 | 26
ESPN Staff Writer
ESPN.com NBA reporter
Blogs regularly on the Miami Heat
14 years covering the ACC, SEC, NFL and NBA
2. Around the Association
| | | | | |
| --- | --- | --- | --- | --- |
| New York Knicks | 82 | FINAL | 108 | Miami Heat |
---
MVP: Wearing a black mask to protect his broken nose, LeBane ... err ... LeBron James (31 points, 4 rebounds, 4 assists) ransacked the Knicks' defense with cold-blooded efficiency. His sidekick, Dwayne Wade (23 points), was equally ruthless.
LVP: Tim Hardaway Jr. was minus-35 for the game. He was awful on both ends of the floor. He finished with six points on 2-for-15 shooting and got lit up defensively by Wade all night long.
Defining moment: Early in the third quarter, the Knicks were able to cut the deficit to 61-59. But then the Heat went into overdrive, finishing the period on a 26-5 run to turn the game into a blowout.
| | | | | |
| --- | --- | --- | --- | --- |
| Washington Wizards | 134 | FINAL | 129 | Toronto Raptors |
---
MVP: I'm copping out and going with both John Wall and Marcin Gortat as co-MVPs, because they tore the Raptors' defense apart together. They both ended the night with 31 points apiece, and whenever Washington needed a bucket, they would run screen-and-roll for Gortat, who would either score or get fouled.
LVP: Jonas Valanciunas is in a sophomore slump. Aside from a brief outburst in the first quarter, he was atrocious on both ends of the floor. His lack of rebounding got him nailed to the bench, and was only freed in overtime out of sheer attrition. In OT, he was stuffed twice by Gortat, dunked on and, for no reason whatsoever, he dunked in a ball that was already heading into the basket, which negated the points.
X factor: Andre Miller played only 14 minutes, but the 37-year-old veteran chipped in with 11 points and single-handed sparked a Wizards comeback in the second quarter. He looked spry, and he even pulled out his patented post-up moves for an easy basket.
| | | | | |
| --- | --- | --- | --- | --- |
| Milwaukee Bucks | 96 | FINAL | 101 | Indiana Pacers |
---
MVP: In addition to scoring 24 points and collecting 12 rebounds, Roy Hibbert stood his ground on defense. He blocked two shots and played the lead role for a Pacers defense that held the Bucks to 16-of-36 shooting in the paint.
Defining moment: The lasting memory of this game may be of George Hill getting bumped out of bounds by Ersan Ilyasova. Hill kept the ball alive, but landed on his left shoulder and left the game in pain. He did not return.
That was ... a barrage of jumpers: Milwaukee tied the game with a 12-0 run in the last two minutes of the first half. They also scored 11 points in the game's final minute -- but scoring just 73 points in the other 45 minutes dug them an inescapable hole.
3. Thursday's Best
Wizards' duo: John Wall and Marcin Gortat combined for 61 points in the Wizards' triple-overtime win over the Raptors, with both doing plenty of work in the extra frames. Washington has now won five straight games.
4. Thursday's Worst
Hardaway Jr.
Tim Hardaway Jr., Knicks: With dad on hand in Miami, Hardaway shot a miserable 2-of-15 from the field -- 0-of-8 from deep -- in the Knicks' 108-82 loss to the Heat.
6. Instagram Of The Night
7. Quote Of The Night
"My feet and back are hurting and I didn't even play."
-- Wizards coach Randy Wittman, on his teams' triple-overtime win over the Raptors on Thursday night.
8. Le-Batman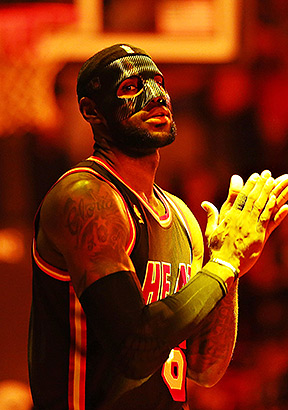 Marc Serota/Getty ImagesOnly LeBron can make a broken nose look cool.
9. Stat Check
James
LeBron James is the first player since Shaquille O'Neal in March 2003 to post a calendar month (minimum five games) with averages of 30 points and eight rebounds per game while shooting at least 57 percent from the field.
Around the Association
---
MVP: The Brooklyn Nets. This was a universally dominating performance from the Nets, made even more impressive by the fact that they lost the night before by 44 points.
LVP: The Denver Nuggets. Scoring a measly nine points in the first quarter and posting just six more field goals than turnovers overall, the Nuggets failed to make the game competitive at any point.
X factor: While Brooklyn's lead was never truly in doubt, almost all of Paul Pierce's 18 points came as backbreaking reminders to Denver that they had no real hope.