1. LeBron's Best Yet Makes Every Shot Count
MIAMI -- LeBron James' eighth 3-pointer splashed through the net about 30 feet away from where the reigning MVP stood, which was just a few feet in front of Miami Heat owner Micky Arison, who watched from his normal courtside spot at halfcourt.
Once the nylon snapped in the air, James turned his head and roared through a plastic mask toward the incredulous AmericanAirlines Arena crowd as he trotted back on defense. James had taken eight 3s at that point and all had gone in. None had even grazed the rim.
The game clock ticked down from 1:19 ... 1:18 ... 1:17 remaining.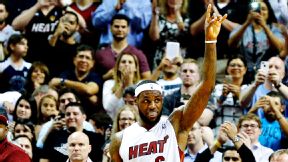 Robert Mayer/USA TODAY SportsLeBron James' career-high 61 points came on a night Dwyane Wade had off.
In the third quarter.
James had 49 even before the fourth quarter began.
"When that one went in, I knew," James said, "I was in a really, really good groove."
James wasn't done. He opened the fourth quarter with a swooping layup past three helpless Charlotte Bobcats defenders. Fifty-one, his first 50-point game of his career in front of his home crowd. Nine 50-plus in his 11-year career, all previously on the road.
That's when the Bobcats started sending double teams on James before he even crossed halfcourt.
"First time it happened to me probably since high school," James said of the radical coverage.
No matter. Pull-up jumper from 20 feet. Fifty-three. Another layup, this time cutting off the ball to the rim. Fifty-five. Isolation from the top of the key, dribble right, spin past two Bobcats, lay it up off-balance, glass. Fifty-seven. Career-high, franchise record. More. This time, a high pick-and-roll, past one defender, split three more, fading jumper, glass. Fifty-nine.
Double-team off the catch in the left corner, curl past off the dribble to the right, bump into a sliding third defender, over a fourth, whistle. Two free throws: sixty and sixty-one.
"It felt like I had a golf ball, throwing it in the ocean," James said.
All told: A career-high, franchise-record 61 points on 22-of-33 shooting, one shy of Carmelo Anthony's 62 points against Charlotte on Jan. 24. The two players in the shot-clock era with the highest percentage in a 60-point game, Elias Sports Bureau points out, were both big men: Wilt Chamberlain (82.9) and Karl Malone (80.8).
"The amazing part is the efficiency," Heat forward Shane Battier said. "It's comparable to Wilt Chamberlain."
James scored 25 points in the third quarter alone, breaking a personal record for most points in a quarter. Actually, that doesn't do his scoring spree justice. Maybe this will: from ten seconds remaining in the second quarter through the 8:15 mark in the fourth quarter, James single-handedly outscored the Bobcats 32-31.
Best player in the game, having probably the best game of his career.
"It's a surreal feeling," James said. "I don't know when I'll have an opportunity to really understand what I've been able to accomplish [on Monday]."
It was a special night for a once-in-a-lifetime player playing in the midst of a three-peat quest. He not only put up 61 points, but he did it against the gritty Bobcats defense, which entered Monday night as a top-6 defense in the NBA.
At halftime when James had 24 points to his name, Dwyane Wade, who sat out the game to rest, told James: "You better score 40."
James hit 40 by the time he hit the bench in the third quarter.
And how's this for poetry? A University of Miami journalism class picked one game on the Heat's schedule to cover in person this season. Professor Michelle Kaufman just so happened to choose James' 61 for her class.
"We figured there'd be less media," one Hurricane scribe put it.
Indeed, ahead of the Heat's upcoming road trip which begins Tuesday in Houston, several of the local papers gave their primary beat reporter the night off. James, it turns out, did not.
"When you're in the zone, you're really, you're just playing, you're just out doing what needs to be done to win," James said after the game. "You kind of [lose a] sense of what has actually happened."
What actually happened on Monday night -- in the grand scheme of things -- won't make itself clear until probably June when the dust settles and a champion has been crowned. Even now, Monday's significance will be debated for some time, especially in the context of a heated MVP race with the two titans of the sport, Kevin Durant and James, jostling for league supremacy.
If James' 61 hadn't confirmed it already, James isn't ready to give up the MVP race.
"I tell you guys all the time, every time I go out on the floor I want to be the MVP," James said. "I want to be the MVP for this league, for this team and for me, myself and my family. I have set a high standard and I have to live by that."
James' performance comes on the heels of the MIT Sloan Sports Analytics Conference where a groundbreaking study by Harvard researchers was presented in front of a crowd peppered by NBA execs. It found the first empirical evidence of the hot hand, refuting decades of research that argued that "feeling it" is nothing but a basketball mirage.
Battier, who is a self-proclaimed numbers guru in his own right, has been a believer all along.
"I just know when you shoot for it, there's something psychological or a religious physical experience to be honest with you," Battier said. "You're just so in-tuned with yourself, you're not thinking about the physical aspect of the mechanics or the fatigue. All you see is the hoop and it's pure and it's a moment that we always talk about, that perfect moment of reaching total unconsciousness."
After the game, James described his play like about being "in the groove" and "in the zone." And how could you argue after a guy hits eight straight 3s without hitting the rim?
"I'm a huge stat guy," Battier said, "but at that moment, throw the stats out. It's about total consciousness and just being in the flow. That's an all-time great right there."
Earlier this season in November, after Rudy Gay scored just 29 points on 37 field goal attempts in a game against Houston, James declared that he could score twice that.
"If you give me 37 shots in a game, I'd put up 60, easy," James said then.
On Monday, he scored 61 points on 33 shots -- against a top-ten defense, no less. Sometimes, it looked like he didn't even break a sweat out there on the court.
And that might be James' greatest accomplishment: James makes history-making look easy.
Dimes past: Feb. 13 | 16 | 17 | 18 | 19 | 20 | 23 | 24 | 25 | 26 | 27 | March 2 | 3
ESPN Staff Writer
ESPN.com NBA analyst since 2010
ESPN.com Insider researcher in 2009
Developer of NBA DRAFT Initiative database
2. Around the Association
3. Monday's Best
James
LeBron James, Heat: Imagine the kind of scoreboard damage he could have done hogging the ball. In addition to dishing five assists, LeBron set career highs and Heat records for points in a game (61), points in a quarter (25 in the third quarter) and field goals made in a game (22). He also tied his career high for 3-pointers in a game with eight.
4. Monday's Worst
Felton
Raymond Felton, Knicks: He goes 1-for-9 from the field in a 96-85 loss in Detroit. His turnovers-to-points ratio over the last four games? 14:22. The Knicks have now lost seven straight and are in imminent danger of falling behind a brazen tanker, Boston, in the East.
7. Quote Of The Night
"Once he sniffed 60, we knew he was going for it. And the amazing part is the efficiency. Good Lord. Sixty-one on 33 shots, that's Wilt Chamberlain-esque. That's pretty amazing. Incredible performance."
-- Heat forward Shane Battier, on LeBron's career-high scoring night
8. New Scoring Mark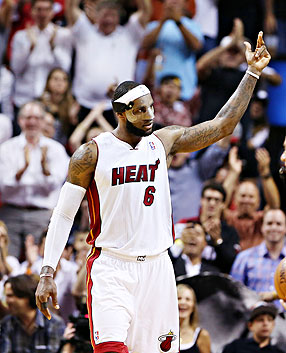 Robert Mayer/USA TODAY SportsLeBron James said earlier in the season that this kind of night could happen if he took the volume of shots of a Rudy Gay.
9. Stat Check
LeBron James scored 61 points in Miami's 124-107 victory over the Bobcats on Friday. James became the second player to score 60 or more points in a game this season, joining New York's Carmelo Anthony, who also did it against Charlotte (62 points on January 24).
Only two other teams in NBA history have allowed 60 or more points in a game to two different players in a single season, and in both instances the Knicks were the culprit. New York allowed Elgin Baylor (71 points) and Wilt Chamberlain (67) to score 60 or more points in a game during the 1960-61 season and in the very next season, allowed two 60-point games to Wilt Chamberlain (including his 100-point performance) and another to Jerry West.
Around the Association
---
MVP: DeMarcus Cousins only played 28 minutes because of foul trouble, but when he was on the floor, the Pelicans had no answer for him. Cousins used his strength and quickness to go through and around Pelicans defenders, scoring 23 points and snatching 12 rebounds.
LVP: Have we ever seen the Hack-A-Shaq strategy used on a guard? Well, we did tonight as the Kings intentionally fouled Austin Rivers and sent him to the line late in the third after he had badly missed four straight free throws. The irony is that Rivers actually made the two shots, but he was ineffective the rest of the night, going 2-for-9 from the field, 0-for-4 from deep, and 2-for-6 from the line.
Defining moment: Tied at 53-53 with 3:15 left in the third quarter, there was a loose ball under the Kings rim. The Pelicans stood and watched while 5-foot-9 Isaiah Thomas dove to the floor and secured the ball before passing it to teammate Jason Thompson for an easy layup that gave the Kings the lead and forced Monty Williams to take a timeout.
---
MVP: Pau Gasol. While Kent Bazemore made some critical, momentum-shifting plays, Gasol was L.A'.s rock. He finished with 22 points, nine rebounds, five assists, two blocks and two steals.
Turning point: Down a point with seven seconds left in regulation, Bazemore inbounded from the sideline and hit a streaking Wes Johnson for the go-ahead, game-winning alley-oop.
X factor: Fast-break points. All game long the Lakers beat the Blazers down the court. Los Angeles outscored Portland 32-9 in transition.
-- Andrew Tonry, TrueHoop Network
---
MVP: Only Kevin Love can make a 33-point, 19-rebound, four-assist stat line seem par for the course. When he wasn't burning Kenneth Faried in the post, he was terrifying Denver in the pick-and-roll and opening up space for everyone else to work.
X factor: Despite not playing since Feb. 9, and playing through bruised ribs, Ty Lawson put up 31 points and 11 assists on 11-of-16 shooting, and he spearheaded three separate second-half runs that kept the Nuggets in it until the end.
Defining moment: Just when Minnesota looked to have sealed the game away, Denver made four consecutive 3s in the span of 23 seconds to keep things interesting. The Wolves went nearly perfect from the line, though, and staved off the late comeback.