1. Rockets Rise While LeBron Comes Down
HOUSTON -- Ninety minutes before Tuesday's tip-off, Houston Rockets coach Kevin McHale emerged from his office inside the Toyota Center for his pregame media session and saw about three times as many reporters and cameramen than normal on most nights.
"Must be a big game here tonight, or something," McHale wisecracked.
Moments later, in a much more serious tone, McHale acknowledged that his team needed a game like this against the two-time defending champion Miami Heat as another late-season measuring stick.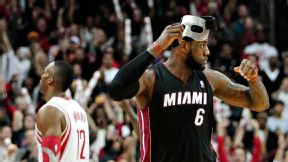 AP Photo/Patric SchneiderUnmasked after losing, LeBron James scored 39 fewer points against the Rockets than he did Monday against Charlotte.
Rockets center Dwight Howard had a similar message for the fourth-largest crowd in the arena's history in his postgame interview on the court after the Rockets held off the Heat for a 106-103 victory.
"We need this every night, though," said Howard, who challenged the fans to show that level of support even on nights when NBA rock stars such as LeBron James aren't the marquee attraction.
Between those messages from McHale and Howard, the Rockets notched arguably their most meaningful win of the season to snap a seven-game losing streak to Miami. It gave Houston its first win over the Heat since LeBron James arrived in Miami from Cleveland as a free agent four years ago.
What provided the Rockets with a bit more confidence and validation was the belief that if they shore up a couple of bad habits and nagging areas in their game over the season's stretch run, Howard and James Harden could make this outfit as formidable a contender as any team in the Western Conference.
The Rockets immediately moved on to preparing for the second game of their back-to-back set, with a trip to Orlando on Wednesday. But Tuesday's performance against the Heat will be very much a teaching tool McHale and his team can use to carry them through the final weeks of the regular season.
Houston didn't play relatively well.
But they succeeded with resolve.
That meant defending well enough to hold James to just three points in the second half and scoreless in the fourth quarter a night after he set a Heat franchise record with a career-high 61 points.
That also meant making enough scrappy plays in the final minutes after squandering all of a 13-point lead midway through the fourth quarter.
But ultimately, it meant overcoming stretches of incredibly sloppy play and mindless mistakes to prove to the league and themselves they just might be starting to peak at the right time of the season. The Rockets have won 12 of their past 14 games overall, including six in a row at home, and improved to 13-0 at the Toyota Center against Eastern Conference teams. At 41-19, they are tied with the Clippers and Trail Blazers for the third-best record in the Western Conference, behind the Spurs and conference-leading Thunder.
"We've been playing well," Harden said. "These last couple of months, we have really found a little niche and we're comfortable with how we're feeling."
Balance has been part of the niche.
All five of Houston's starters scored in double-figures. Howard led the way with 22 points and 16 rebounds; Harden added 21 points and 11 assists to finish with at least 10 assists in consecutive games for the first time in his career; Terrence Jones had 19 points and 12 rebounds; Pat Beverley matched his career high with five 3-pointers; and Chandler Parsons finished with 10 points but spearheaded a team-wide defensive effort that kept James contained to 22 points on 9-of-18 shooting.
And as much as they entered the game trying to focus on executing the things they do well, the Rockets came out of the game pointing out just how many things they can learn from the example the Heat have set by reaching the NBA Finals each of the past three seasons.
When Miami erased a 13-point deficit to tie the game in the fourth quarter, Howard compared how his team responded with some of the characteristics he has noticed from afar about the Heat.
"If you look at their team -- for one, they're a well-seasoned team -- and how they were tonight, they stayed composed through each situation," Howard said. "We had them up by (15), and you didn't see them fighting each other or whatever. They stayed together. And that's something we have to learn. And I think we're getting there. Once we get to the playoffs, and we're in those games when we might be down a couple of points, us staying composed is going to make us a lot better team."
Parsons added Houston is simply trying to get to the level the Heat have been the past three years. One aspect of reaching that status is being able to defend at key moments in games. The Rockets held the Heat to just three field goals over the final six minutes of the game after the score was tied at 93-93.
James admitted before the game that he was exhausted from Monday's epic outing against Charlotte. The Heat flew overnight to Houston and arrived at their hotel at 3:30 a.m. ET. James said he slept most of the day before coming to the arena Tuesday evening.
"I fought through it in the first half," said James, who scored 19 of his 22 points by halftime. "But it just wasn't there for me."
Entering the game, McHale joked that Parsons' defensive assignment on James was "to keep him under 61 points" this time around. Houston defended James with several different players and multiple schemes. Beverley, a point guard, hounded James in the final minutes of the fourth quarter. Then Howard, a center, guarded James and forced him into tough 3-pointer that missed at the buzzer.
But Parsons was smart enough to know that his biggest help came from the NBA schedule.
"First of all, I'm sure he was exhausted after what he did [Monday] night," Parsons said. "I kind of got him on a good night. But I just tried to be physical with him. I tried to limit his touches and pressure the ball, not let him get anything easy. And at the end of the game, we were switching on everything. We showed him different bodies, different looks. And we did a pretty good job not fouling him too much."
In essence, this was another night in which the Rockets grew up.
"I just think our team is maturing," Parsons said. "Guys are stepping up and making big plays. Early on in the year, we wouldn't have had this outcome."
Or Tuesday's kind of turnout. Likely not from the media.
And probably not as frequently from the fans.
But these Rockets have been gaining traction, attention and plenty of fortitude lately.
Dimes past: Feb. 13 | 16 | 17 | 18 | 19 | 20 | 23 | 24 | 25 | 26 | 27 | March 2 | 3
ESPN Staff Writer
ESPN.com NBA reporter
Blogs regularly on the Miami Heat
14 years covering the ACC, SEC, NFL and NBA
2. Around the Association
3. Tuesday's Best
Thompson
Klay Thompson, Warriors: He capped a big fourth quarter by knocking down a 12-foot turnaround jumper with 0.6 seconds to go, giving the Warriors a rare 98-96 victory at the home of East-leading Indiana. He scored 16 of his 25 points over the final 12 minutes.
4. Tuesday's Worst
Philadelphia 76ers: Bring back Earl Cureton. The Sixers' 15th straight loss was a 125-92 thrashing in Oklahoma City. This is their longest slide since a 15-game skid in 1994. But a win could happen soon! Sixers face the Jazz, Knicks and Kings next.
7. Quote Of The Night
"Revenge is sweet and it's quick."
-- Kobe Bryant, on the comeuppance coming for those who loudly doubt the Lakers' ability to bounce back next season
8. America's Got Masks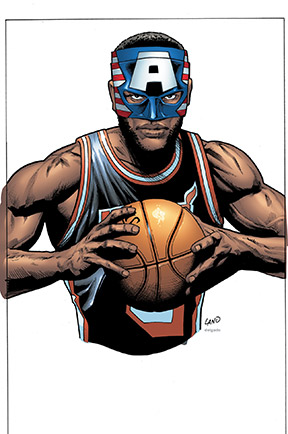 Greg Land and Edgar Delgado/Marvel EntertainmentIs this Captain America calling? Maybe it's just LeBron James' next mask.
Around the Association
---
MVP: Anthony Davis' stat line looked impressive, but Tyreke Evans was the engine that propelled the Pelicans' potent offense Tuesday night. Evans got into the lane at will and finished with 24 points and 11 assists in his fourth consecutive game as a starter after coming off the bench for much of the season.
X factor: Mike D'Antoni utilized creative lineups that forced Davis out of the paint on the defensive end. For most of the night, Davis was stuck on Wesley Johnson or Ryan Kelly out at the 3-point line, and as a result, the Lakers were able to get to the rim any time they wanted.
That was ... a layup drill: Piggybacking off the last point, both teams had their way in the paint, scoring a combined 114 points there. And that doesn't include all of the free throws that were a result of players getting into the paint and being fouled (71 combined FT attempts).
---
MVP: Warriors guard Klay Thompson had 25 points for the game, but went berserk in the fourth quarter. He had 16 points in the final frame, including a streak of 11 straight for Golden State. To cap it off, he nailed the game-winner with 0.6 seconds left.
That was... unpleasant: After a pretty fast-paced first half that experienced few fouls and turnovers, the game slowed down considerably in the third quarter. Fifteen fouls were called, leading to 26 free throws and a stuck-in-the-muck feel.
LVP: Shooting a combined 5-for-16, the Pacers' bench put up a paltry 11 points. Evan Turner was particularly awful with 0-for-5 shooting and a game-low +/- differential of minus-14.