1. Will .500 Wolves Avoid 10th Straight Lottery?
MINNEAPOLIS -- Whether anybody within the Minnesota Timberwolves organization is willing to admit it or not, the proverbial clock is ticking toward the summer of 2015. It's not as dire of a situation as some may claim because Kevin Love is much more focused on getting his team to the playoffs this season and next season, rather than weighing contract offers that legally can't be presented for another 16 months.
The Wolves are looking to get to the playoffs this season, not because they're worried about retaining Love's services after his current contract, but also because they're a professional basketball team that would like to make a seemingly elusive appearance in the postseason. With 23 games left in a frustrating and disappointing season heading into Wednesday's matchup with the New York Knicks, a victory over a struggling laughingstock was supposed to be a likely scenario.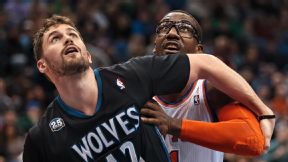 Brad Rempel/USA TODAY SportsKevin Love and the Wolves are sitting at .500, five full games out of the final West playoff berth.
Instead, the Wolves dropped another frustrating loss in all-too-familiar fashion with a 118-106 home loss.
"We came off a long road trip, we knew we had to bring energy from the start," Love said after the loss. "But it seemed like all night they hit a lot of shots and got what they wanted."
This team has struggled all season long with bringing energy in the first half of games they need to make a statement in. They let a downtrodden Knicks team exploit that lack of energy and a season-long shaky defense in the first 24 minutes before making a charge in the third quarter. It was a charge that was quickly answered with a 15-2 run by the Knicks to open the first six minutes of the fourth.
This stretch was possibly the death knell of the Wolves' 2013-14 campaign, as they couldn't take advantage of losses by the Dallas Mavericks and Memphis Grizzlies on the same night, and stand five games out of the West's final No. 8 seed.
"Well, every loss [is damaging], but it doesn't mean anything," Wolves coach Rick Adelman said after the game. "Other teams are losing. We're behind them, but we can't give in to say, 'Well, this is a killer.'
"I don't worry about, 'Is this really damaging?' I worry about the way we played. I worry about the way we're going to play against Detroit. That's what I worry about now. Can these guys respond and get back at it on Friday and win that game?"
That's where the Wolves have found themselves all season long. They've dropped games they're supposed to claim as their bounty, only to have to circle the wagons and figure out how to change their course, which is headed for a 10th straight lottery appearance. It's a routine they should have figured out by now, but still have to solve as games tick off the calendar. The Wolves had playoff aspirations coming into the season, but find themselves as a .500 team with only 22 games remaining and multiple hurdles to jump.
Is this roster, with a seemingly healthy amount of talent, really as good/bad as the team's .500 record after 60 games?
"I can't answer that until the season is over with," Adelman said. "I really can't. We're a .500 team right now but we just won six out of seven on the road, so it's really hard to answer that. I think we'll be able to judge that at the end of the year, but right now I've got to figure that we're not a .500 team.
"We've got to continue to win games. We're also not head and heels above the teams we're playing. A lot of times you look at teams' records, you look at [the Knicks'] record, they're 21-40 coming in here. I don't look at that record, I look at the players."
The players the Knicks were able to use against the Wolves definitely played above their record. Carmelo Anthony scored 33 points and seemed to get whatever shot he wanted on the floor. Tyson Chandler recorded 15 points, 14 rebounds and helped keep Love to just one point on 0-for-6 shooting in the second half. The ghost of the 2012-13 Knicks haunted the 2013-14 Wolves on Wednesday by hitting 11-of-27 from 3-point range and turning the ball over only 12 times.
It was the way the Knicks are supposed to play against a Wolves team that is also supposed to be better and building toward the postseason. Instead, Minnesota once again has to regroup and figure out how to improve their future standing in a competitive Western Conference.
"My feeling is we're not a .500 team," Adelman explained. "But we say it all the time. We've got to go out and prove it. That's the bottom line. You can't talk about it, you've got to go out and do it."
Once again, the Wolves weren't able to do it as the clock continues to tick.
Zach Harper's work appears regularly on A Wolf Among Wolves, part of the TrueHoop Network.
Dimes past: Feb. 13 | 16 | 17 | 18 | 19 | 20 | 23 | 24 | 25 | 26 | 27 | March 2 | 3 | 4
2. Around the Association
3. Wednesday's Best
Jefferson
Al Jefferson, Bobcats: The main reason the 'Cats could make the playoffs for the second time in franchise history lit up the East leaders. Jefferson had 34 points in a 109-87 rout of Indiana. Charlotte was finishing a brutal four-game stretch, becoming the first team since the 2009-10 Knicks to play the NBA's top four teams in consecutive games. They previously lost to San Antonio, Oklahoma City and Miami on the road.
4. Wednesday's Worst
Conley
Mike Conley, Grizzlies: A rare bad game by a good player. Conley went 0-for-8 from the field with six turnovers in a 103-94 loss in Brooklyn. Conley is a 44.8 percent shooter with a 17.6 scoring average.
7. Quote Of The Night
"I think competitive character people don't want to be manipulated constantly to do what one individual wants them to do. It's a great feeling when players get together and do things as a group. Whatever can be done to empower those people."
-- Spurs coach Gregg Popovich, as quoated in the San Antonio Express-News.
8. Team Jefferson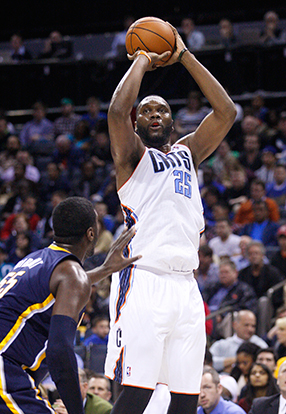 AP Photo/Nell RedmondAl Jefferson scored 34 points and the Bobcats stunned NBA-leading Indiana 109-87 Wednesday night, handing the Pacers just their second two-game skid of the season. Jefferson was 16-of-25 from the field and had eight rebounds for the Bobcats.
9. Stat Check
Joakim Noah posted his second triple-double in four days, with 10 points, 11 rebounds and 11 assists in the Chicago Bulls' 105-94 win at the Detroit Pistons. There have been only five triple-doubles by centers since Jan. 1, 2013. Noah has four of them and Kevin Love had the other one.
Around the Association
---
MVP: Al Jefferson sank 16-of-25 attempts from the field and had eight rebounds en route to 34 points, thoroughly outplaying Roy Hibbert (four points, four rebounds).
LVP: Paul George missed all nine of his shots and had five turnovers. Not really the kind of numbers that make one think the Heat will be unseated.
X factor: Chris Douglas-Roberts sank all three of his 3-point attempts, leading the Cats to a .500 day from beyond the arc (9-of-18). Not bad for a guy who started December in the D-League.
-- Andrew Ayres, ESPN.com
| | | | | |
| --- | --- | --- | --- | --- |
| | | @ | | |
---
MVP: To go along with 14 points, Nicolas Batum grabbed a career-high 18 rebounds, all before sitting out the entire fourth quarter. It was Batum's third straight game with at least 15 boards.
X factor: While some expected Portland to attack Atlanta's injury-depleted and undersized front line, the Blazers lit them up from behind the arc, making 13-of-29 (45 percent) from downtown. The Hawks, meanwhile, hit just 4-of-27 (15 percent).
That was ... the end of a streak: After 127 consecutive games with a made 3-pointer, Kyle Korver missed all of his five attempts.
-- Andrew Tonry, TrueHoop Network
---
Tri-MVPs: Isaiah Thomas, Rudy Gay, DeMarcus Cousins. The Kings boast the NBA's only trio of scorers average 20-plus points, and each surpassed that mark in this game. But each player also tossed out five or more assists, resulting in a balanced attack for which the Bucks had no answer.
X factor: The Kings' starting frontline grabbed 30 rebounds. The Bucks' starting front court managed just 10. In particular, starting center Zaza Pachulia got outrebounded by Cousins by a 10-1 margin, one of many ways Cousins bested him.
That was ... an awkward moment: With 4:19 remaining in the game, Thomas was called a technical foul by official Joey Crawford for pawing at a ball held by Khris Middleton after the whistle. Middleton also got one for his reaction. But Thomas persisted, and referee Scott Wall ejected him.