1. Healthy, surging Spurs aren't going away
SAN ANTONIO -- The Spurs are still here.
For the first four months of the season, two things hung over their franchise like dark clouds: their ever-revolving injury report and their woeful record against their top competition.
Yet here it is March and look at where the Spurs have put themselves. Now fully healthy for the first time all season, the Spurs blasted the Miami Heat in a wire-to-wire 111-87 victory Thursday night for their fifth consecutive win.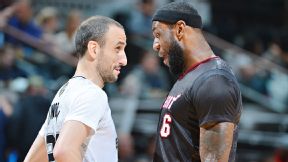 Jesse D. Garrabrant/NBAE/Getty ImagesManu Ginobili and the Spurs had no problem standing up to LeBron James Thursday night.
Their core group of Tim Duncan, Tony Parker, Manu Ginobili, Danny Green, Boris Diaw and Kahwi Leonard have missed a total of 46 games this season, and normal starting center Tiago Splitter has missed another 19. But this win moved them past the Heat for the third-best record in the NBA. Combined with the Oklahoma City Thunder's loss in Phoenix, San Antonio is just a half-game back of the West's best record with nine of their next 12 games against teams currently not in playoff position.
"We're starting, I think, to turn that corner," said Duncan, who had 23 points and 11 rebounds. "Through up and downs we try to play as steady as we can. We have all the guys out there."
Never ones to offer much perspective publicly, the Spurs have started to mumble a little that this team might have more potential than last year's team, which came up a Ray Allen 3-pointer short of beating the Heat for the title.
That was a tough sell when they had an onerous 1-10 mark against the league's other top-five teams this season. Now that mark is 2-10 and it feels better than that, as they outplayed and outran the Heat from the tip onward.
"We needed a game like this," Ginobili said. "We've been talking about (the poor record against top teams) all season long."
The Spurs used generally the same game plan against the Heat Thursday that they employed in the Finals last year. That was to back off from the Heat's scorers and encourage them to shoot while packing the paint to avoid drives.
LeBron James ran hot-and-cold against the Spurs in the series last June, going hot in Games 6 and especially Game 7 when his jumper was going. He made five 3-pointers in Game 7 last season compared to just 3-of-13 from long range in the first three games of the Finals when the Spurs had control.
That is the game Spurs coach Gregg Popovich has decided to play against James, dating back to the 2007 Finals. On Monday the Charlotte Bobcats played it and lost as James nailed eight 3-pointers and scored 61 points. Three days later it worked; James took the space but shot just 6-of-18 for 19 points, just the second time in 18 games he failed to crack 20 points.
James was uncomfortable all night it seemed, tossing his protective mask away in the first half despite his still-healing broken nose. Then he complained after the game about having to wearing a sleeved jersey, part of an NBA promotion for Latin Night, and complained that it restricted his shooting motion on long-distance shots.
The Spurs drew two charges on James when he tried to drive into the crowd, which slowed his attack. In short, Popovich's game plan worked perfectly -- though he probably would've loved to trade results with how Game 7 played out.
"It's the law of averages," James said.
They also had Leonard, who was a menace to the Heat in the Finals last year and is right back in that role now that he's recovered from a broken hand. In January, when the Heat beat the Spurs in Miami while Leonard was out, the Heat shot 58 percent and only had 14 turnovers.
In the rematch with Leonard, the Spurs forced 20 turnovers and Leonard had five steals. His long arms and enormous hands seemed like they were responsible for twice that many as he was disrupting the Heat offense all night. In the fourth quarter alone, the Spurs forced the Heat into 10 turnovers.
When Leonard came off the floor when James committed a white-flag foul in the final two minutes so the benches could be cleared, Popovich met him at his seat and bent down to extol him for his effort.
Since getting Parker back from injury last week to re-complete their team, the Spurs have averaged 115 points over the last three games. In a win in Cleveland on Tuesday, the Spurs assisted on 39 of their 43 baskets in a stat that is not likely to be matched in the league this season. On Thursday they put up 37 points in the first quarter, 22 of them coming in the paint thanks to some terrific high-speed offense led by Parker.
This is the sort of execution that they used last season when they nearly won their fifth title. It's the sort that has them thinking they could get another chance at it this season.
"You always have to take some time to get your rhythm and get guys to do what they did before they were injured," Popovich said. "I think we've got plenty of games to do that and to get on a track of playing well. I don't know what our record will be, I don't know what our position will be in the playoffs and I don't really care. I just want to be healthy and I want to be playing well, have a good rhythm and good rotation going."
ESPN Senior Writer
ESPN.com NBA writer since 2010
Covered Cleveland Cavs for seven years
Author of two books
2. Around the Association
| | | | | |
| --- | --- | --- | --- | --- |
| Los Angeles Clippers | 142 | FINAL | 94 | Los Angeles Lakers |
---
MVP: Blake Griffin. Griffin finished with 20 points, 11 rebounds and seven assists in just 26 minutes, hitting the 20-point mark for a streak-extending 22nd consecutive game.
X factor: The Lakers' roster. How sad is Kobe Bryant right now? The Clippers just handed the Lakers a 48-point loss, their worst in franchise history. Things aren't going well in Lakerland, and there doesn't seem to be any light at the end of the tunnel.
That was ... malicious: The Clippers outscored the Lakers 44-13 in the second quarter, then continued the onslaught and outscored them by 16 in the third. Meanwhile, every Clipper starter finished with a plus/minus better than 30.
| | | | | |
| --- | --- | --- | --- | --- |
| Oklahoma City Thunder | 122 | FINAL | 128 | Phoenix Suns |
---
MVP: Gerald Green didn't take a shot in the first quarter and took five in the second. But in the third, the Suns' shooting guard exploded for 25 points. He finished with 41 points on 12-of-22 shooting while drilling 8-of-13 from 3-point land.
LVP: Oklahoma City's 3-point defense. The Thunder allowed Phoenix to hit 3s in transition, but they also couldn't slow down Green and Co. in the half court. The Suns finished with 15-of-27 shooting, or 55.6 percent.
X factor: Twins! Markieff and Marcus Morris put together a solid ball game off the bench, combining for 39 points, nine rebounds and five assists while finding no problem scoring against Serge Ibaka.
| | | | | |
| --- | --- | --- | --- | --- |
| Miami Heat | 87 | FINAL | 111 | San Antonio Spurs |
---
MVP: When you watch Tim Duncan play, it's hard to believe he's 37 years old, because he doesn't look it. The ageless wonder finished with 23 points and 11 rebounds to lead the way for the Spurs.
X factor: Kawhi Leonard made a big defensive impact. You can't stop LeBron James, but you can certainly slow him down, and that's what Leonard did. He hounded LeBron and forced him out of his comfort zone.
Defining moment: This game was ultimately won in the first quarter. The Spurs jumped all over the Heat, playing with tremendous energy and effort. They finished the period with a 15-point lead and Miami could never recover.
3. Thursday's Best
Green
Gerald Green, Suns: The man who's still trying to shake his reputation as just a high flyer went a long way toward doing that against OKC. Green scored a career-high 41 points, most of them coming from long range. He made eight 3s, including six in the third quarter, when he dropped 25 points to change the complexion of the game.
4. Thursday's Worst

Los Angeles Lakers: The Lakers entered Thursday having never lost a game by more than 46 points in franchise history. They can't say that anymore. Only a late Kendall Marshall 3 prevented the added embarrassment of losing by 50-plus.
6. Tweet Of The Night
It's not that the Lakers don't show up. They come out & play hard. But once the other team starts playing hard as well, it's a wrap.

— J.A. Adande (@jadande) March 7, 2014
7. Quote Of The Night
"I have no idea."
-- Spurs coach Gregg Popovich, when asked during an in-game interview how the Spurs were being so successful at keeping LeBron James out of the paint.
8. El Gran Fundamental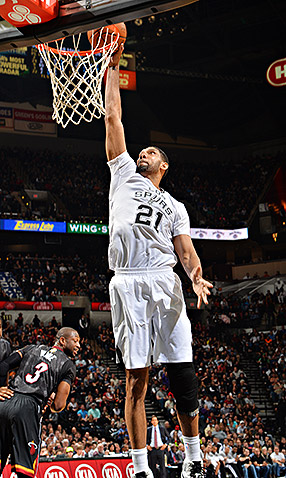 Jesse D. Garrabrant/NBAE/Getty ImagesThe ageless wonder, Tim Duncan, looked just fine in the sleeved Los Spurs jerseys, putting up 23 points in San Antonio's win over the Heat.
9. Stat Check
Russell Westbrook scored 36 points and Kevin Durant had 34 for the Thunder. It was the 28th time they'd each scored 30-plus in the same game, the most among active duos in the NBA.