While Noah Rejoices, LeBron Bemoans Slide
CHICAGO -- What a game between the Miami Heat and Chicago Bulls means was symbolized by the large wet spot covered by a pile of ice in the center of the Heat's locker-room floor after the Bulls handed them a 95-88 overtime loss Sunday.
A water cooler, a rather full one by the looks of the fallout, had been overturned presumably in frustration after the Heat lost their third consecutive game on what became a miserable road trip.
Then there's this summation from the Bulls' floor by emotional leader Joakim Noah: "We played with a lot of hate … a lot of hate."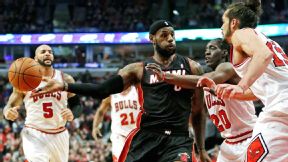 Jonathan Daniel/Getty ImagesLeBron James was better off dishing in the 95-88 loss to the Bulls. He missed 15 shots and failed to get to the line for the first time since 2009.
It doesn't take much for the excitable Noah to get going, and against the Heat, that is usually magnified. He was his active, pesky and hard-clapping self all afternoon. For spice, he added some grade-A trash talk, getting to within inches of Chris Bosh's ears in the waning moments, knowing the game was in hand. Noah's 20 points, 12 rebounds, seven assists and five blocks weren't so bad, either.
"I love it, beating Miami," Noah said. "I don't care if it's the regular season, it's always special."
Meanwhile, LeBron James was in full lament. Both about his last shot of regulation and his week that started so promisingly and ended with disappointment.
James had 20 seconds to break a tie game at the end of the fourth quarter and save the Heat from losing a game in which they had a 12-point lead with 10 minutes to play.
Isolated against Bulls ace defender Jimmy Butler, James drove and got around the corner on his way to the hoop. He cleared Noah from the rim area with a fake pass that Noah bought. But just when it looked like James was about to score another game-winner, Butler reached over and cleanly stripped the ball from his hands to force an overtime that the Bulls ended up dominating.
"I dropped the ball. That's like a double entendre, huh?" James said. "I actually dropped the ball and I dropped the ball on my team. I had the lane, I had the layup. That's a great play by Jimmy. I messed up on my scouting reporting, I knew if I brought the ball [to the middle of his body] he would strip it, too. I brought it over a little too far and he got his hand on it."
Actually, James' didn't bring the ball too close, Butler just reached perfectly and dislodged it without fouling. Butler, in fact, didn't foul James all day. For the first time since Dec. 2, 2009, James didn't have a free throw. While he naturally complained about a couple non-calls, generally it was good Bulls help defense and a missing edge from James' offensive game.
After his 61-point explosion last Monday in a win over the Charlotte Bobcats when he had probably the best pure shooting game of his life, it was as if James has been compelled to repay some sort of basketball karma with a few duds. He has now had perhaps his most pedestrian three consecutive games of the season as his jumper that had been dead-eye over the past month grew sudden rust. And there was no plastic mask or sleeved jersey to blame it on.
Two of James' three worst shooting nights of the season came Thursday in San Antonio and Sunday in Chicago, where he finished just 8-of-23 shooting and 17 points. Since he made his first eight 3-pointers in that masterpiece against the Bobcats he has missed 11 in a row.
In the first five games after the All-Star break, James went on a tear despite breaking his nose along the way as he shot 69 percent and averaged 37.4 points. The Heat, not surprisingly, won all those games. Over the past three losses James is shooting only 39 percent and putting up just 19.3 points. On shots outside the paint, he's only 3-of-27 over that stretch.
"It's funny how fast you can get out of rhythm after I was in a good rhythm for a long time," said James, who still sniffed a triple-double with nine rebounds and eight assists. "But I'm not worried about it."
There are other things bothering Miami, such as a rash of turnovers or giving up offensive rebounds. The Bulls' efficiency on their second-chance shots Sunday was remarkable, scoring 27 points on 15 attempts. Primarily, though, James turning cold has essentially chilled the two-time champs as well.
Dwyane Wade is averaging fewer than 20 points for the first time since his rookie season of 2003-04. But he has put up 23 or more points six times in the past seven games and had 25 points in his hometown on Sunday. But it was not enough to rescue the Heat without James giving close to his usual effort.
Bosh had a decent day with 15 points but there have been times over the past several years when Noah has seemed to knock Bosh out of his comfort zone with his activity and his barking. This was one of those types of days.
That's not to say this is always an issue. Bosh had 28 points and 10 rebounds two weeks ago in Miami against the Bulls, but Noah looked to get to him at times in this game. Bosh infamously had a 1-of-18 shooting game in Chicago two seasons ago and the Heat have lost seven of their past eight regular-season games at the United Center.
The teams split this season series, 2-2, but the Bulls are 9-6 against Miami since the start of the 2010-11 regular season, the most losses the Heat have taken to any team in that span.
Of course, the Heat are 8-2 against the Bulls in the playoffs over the past three years, including a 4-1 victory in the conference semifinals last season.
"They play differently against us," James said. "I just watched them against Memphis [in a loss on Friday night], the full game. They didn't play like this. They play differently against us and rightly so. It's always good competition."
After not having a three-game losing streak in more than two years, the Heat now have two since mid-January. The fact they went 16-3 between them puts it into perspective that they're still on a strong pace.
But they'll be challenged again Monday when they play a back-to-back against the Washington Wizards at home. After the overtime game in which he played just less than 40 minutes, they may not have Wade for the game. Wade has sat out numerous back-to-backs this season and said Sunday "we'll see" about his Monday prospects.
"None of us feel good about this game," Heat coach Erik Spoelstra said. "To do what we want to do [win another title], nobody said it's easy, particularly coming off last year."
Dimes past: Feb. 17 | 18 | 19 | 20 | 23 | 24 | 25 | 26 | 27 | March 2 | 3 | 4 | 5 | 6
ESPN Senior Writer
ESPN.com NBA writer since 2010
Covered Cleveland Cavs for seven years
Author of two books
2. Around the Association
3. Sunday's Best
Harden
James Harden, Rockets: The Beard was feared when he sank the 3-pointer that forced overtime. Then Houston sealed the deal as Harden finished with 41 points, 10 rebounds, 6 steals and 6 assists in a 118-113 overtime win over the Trail Blazers.
4. Sunday's Worst
Indiana Pacers bench: That's four straight losses for Indiana after the 105-94 loss in Dallas. Evan Turner brought some of that Sixers "magic" with him. He had two of the bench's combined four points on a 1-for-9 combined shooting night for the reserves.
7. Quote Of The Night
"I can't wait until the little homey comes back. I know we have another level when that boy comes back. We're hungry, man. We're a hungry group. And that's what I want. We're going for one thing: that's a championship."
-- Bulls center Joakim Noah, looking forward to the uncertain day Derrick Rose comes back.
8. Booster Stage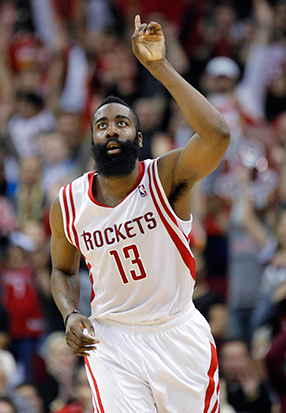 Andrew Richardson/USA TODAY SportsJames Harden's 41 points helped sink the Blazers and keep the Rockets in third place in the tight West chase.
9. Stat Check

The Lakers' win over the Thunder marked the first time that the worst team in a conference beat the best team in that conference in March or later since April 18, 2001 (the last game of that season) when the Bulls (14-67) defeated the 76ers (56-25). Elton Brand led all scorers with 31 points in the game. NBA MVP Allen Iverson did not play.
Around the Association
---
MVP: Taking advantage of slippage in Phoenix's attack was Warriors guard Klay Thompson, who scored 13 of his 22 points in the third quarter. He pulled that off while chasing Suns guard Goran Dragic on the defensive end.
X factor: Golden State forward Draymond Green scored 13 points, but it was his energy that helped a bench unit limit Sixth Man of the Year candidate Markieff Morris to 3-of-10 shooting. A few of the Warriors' pick-and-roll threes came off screens set by Green as well.
Defining moment: The Warriors rattled off 16 straight points in the third quarter as Thompson got hot and the Suns' defense got on its heels. The burst gave Golden State a 90-75 lead with 2:45 to play in the third.
---
MVP: Relentless. That's the best way to describe Joakim Noah, who put up video-game numbers (20 points, 12 rebounds, 7 assists and 5 blocks). He kept coming at the Heat and eventually wore them down with his energy.
Defining moment: Noah's best sequence of the game came in overtime. Late in the extra period, he made an offensive rebound putback, then followed that up by emphatically blocking Mario Chalmers' layup attempt on the other end. Great hustle plays.
That was... uncharacteristic: It's rare to see LeBron James struggle (17 points on 8-for-23 shooting). It's even more rare to see the Heat lose three games in a row. But that's what happened today to Miami against a pesky Bulls team.
---
MVP: Jodie Meeks had 42 points, the first 40 points by a Lakers guard not named Kobe in nearly 20 years -- and he outscored OKC in the third by himself 20-19!
LVP: It was a tough night for Russell Westbrook in his return to his hometown. Westbrook had eight turnovers, six in the first half, and missed some huge layups late, never mind only 20 points on 23 shots.
X factor: Right when the Thunder looked like they would complete the rally, Kent Bazemore made two straight field goals to put the Lakers up 7 with a minute left, as he and Jordan Farmar did some great work off the LA bench.