Balance Ball: Warriors Soar With Bench Support
OAKLAND, Calif. -- Can it be a good sign when your star has a bad game? Yes, if your team still manages to have a great one.
In the past, when Stephen Curry took to the bench, he sat on a button that detonated the Warriors' offense. The dependence on his playmaking was acute at points, especially during the time Andre Iguodala missed with a hamstring injury. For much of the season, Curry served as the team's lone NBA-level ball handler.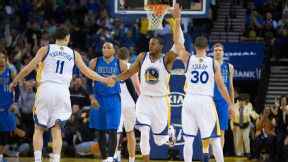 Kelley L Cox/USA TODAY Sports
It's often taken for granted that NBA guards can dribble, but it's near impossible to run offense without guards who can. When Warriors general manager Bob Myers made a trade for Jordan Crawford, Golden State's offense was scoring a staggering 23.3 points (per 100 possessions) fewer during Curry's resting periods. Crawford's presence didn't wholly address the issue, so Golden State made another deal for Steve Blake, a capable point guard whose presence was wasted on a Laker team that has more need for losses than wins.
Ever so quietly, these moves dramatically altered a team that many had already written off as disappointing. Now armed with bench players who can dribble and pass, the Warriors no longer rely on their best player to a worrisome degree. They've won five in a row, with Curry averaging a mere 27.2 minutes per game over the stretch.
The end of total Curry dependence was well epitomized in a 108-85 thrashing of the visiting Dallas Mavericks on Tuesday night. Curry scored a scant 10 points on 12 shots, and the Warriors were better than fine, building on a first-half lead as Curry rested for most of the game.
"He's the maestro, and he's done a great job at orchestrating our offense," Warriors coach Mark Jackson said after the game. No, Jackson wasn't talking about his All-Star point guard. Instead, it was Blake getting the praise in the postgame news conference -- praise to which a bashful Blake said, "Hopefully, I can live up to it."
Blake has been a wildly popular addition in Oakland in a way that 8.6-point-per-game players seldom are. Some of that speaks to his pleasantly unselfish play and some of it speaks to the glaring void he patched up. Blake might merely be a "role player," but he's well-matched to this particular role. The bench was adrift offensively before his arrival.
Jordan Crawford hasn't found his way as quickly or easily as Blake has, but he was incandescent on Tuesday, scoring 19 points on shots that few NBA players dare take. There might be an inverse relationship between how open Crawford is and whether he hits the attempt, but Crawford's content to reduce that theory down to: "I just have confidence in myself, always did, and luckily, they goin' in."
Jackson is more declarative, saying, "We have a legitimate second unit with no weaknesses."
Perhaps "no weaknesses" is a bit much, but the Golden State bench has made a transition from weakness to strength. They were already a solidly built defensive unit before the trades, thanks to the stout play of Jermaine O'Neal and Draymond Green -- they were just sorely in need of some offense.
Much like his hitchy free throw form, O'Neal's career keeps going, long after you think it's about to wrap up. He's providing excellent rim protection for a guy who was drafted in 1996. He's often flanked by Green, the rare player who can competently guard Dirk Nowitzki and Monta Ellis in a single possession. The Warriors are gaining steam with their Crawford-Blake guard tandem, but it's Green and O'Neal who establish the second unit's defensive foundation.
And how does Curry feel about a transformation he's taking in as a spectator?
"Anytime you have a bench that can play the way they did tonight, that's huge. That's going to help us in the big picture, where we're trying to go. It's hard to prepare for us when you don't know who's going to have the big game," he said.
In the past, stopping Curry meant you almost certainly stopped the Warriors. The present is a little less predictable thanks to the presence of the newest Warriors. In "the big picture," Golden State is considered something less than contenders. That could change now that its starters finally have some support.
Ethan Sherwood Strauss is an NBA contributor to ESPN.com. Follow him, @sherwoodstrauss
Dimes past: Feb. 17 | 18 | 19 | 20 | 23 | 24 | 25 | 26 | 27 | March 2 | 3 | 4 | 5 | 6 | 9 | 10
2. Around the Association
3. Tuesday's Best
Durant
Kevin Durant, Thunder: In between all the extracurricular activities punctuated by the Westbrook vs. Beverley powder keg, Durant dropped in 42 points in the 106-98 win over the Rockets. Durant sank 5 of 8 3-pointers as the Thunder bounced back from an embarrassing loss to the Lakers.
4. Tuesday's Worst
Marion
Shawn Marion, Mavs: The Matrix was 0-for-6 from the floor in a 108-85 loss to the Warriors. The Mavs are now just one game ahead of the Suns for the final spot in the West playoffs.
6. Tweet Of The Night
Fan yells Beverley's name, he hears it, turns around and looks and the fan is pointing his thumbs down. Beverley says, "thank you."

— Royce Young (@royceyoung) March 12, 2014
7. Quote Of The Night
"Sometimes we kind of veer off, kind of get distracted a little bit."
-- Rockets guard James Harden, after a testy game with the Thunder, on changing course from doing what the Rockets do best.
8. Bynum's Indiana Debut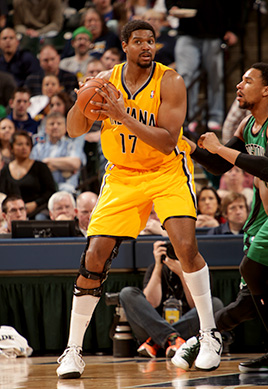 Ron Hoskins/NBAE/Getty ImagesAndrew Bynum made his debut with the Pacers in a win over the Celtics, finishing with eight points and 10 rebounds in his first action since late December.
9. Stat Check
Kevin Love led the Timberwolves with 27 points and 10 rebounds in their victory over the Bucks. Tuesday night marked the 36th time Love recorded at least 25 points and 10 rebounds in a game this season. That's the most such games for any player in a single season since Kevin Garnett's 2003-04 MVP campaign, when Garnett had 40 games with at least 25 points and 10 rebounds.