Behind Noah's Lead, Bulls Mean Business
By
Shams Charania
| Special to ESPN.com
CHICAGO -- Out of the corner of his eye and beyond the hoard cramped around him, Joakim Noah caught a bewildered teammate approaching a door into the showers. Everyone surrounding Noah had blocked Taj Gibson's entrance, and Noah swiftly started parting a path, physically removing those obstructing a way in, and extended his arms to open the door. "I got you, Taj," Noah said softly.
Noah seems to solve every issue inside the Chicago Bulls' locker room, and Tom Thibodeau decodes every team outside it. A decade ago, Noah was just a benevolent, lanky 19-year-old who rose in the ranks with Dwight Howard -- an unorthodox talent facing a projected and eventual No. 1 draft pick in a high school All-Star game at the United Center.
All these years later, "M-V-P" chants serenaded Noah in the arena Thursday night, raucous responses to a stifling defensive lock on Howard and another near triple-double. Across 13 points, 10 rebounds and nine assists in the Bulls' 111-87 win over the Houston Rockets, he unraveled Howard into a technical foul, forced him into turnover after turnover -- two offensive fouls, two traveling violations and two strip-aways on a most powerful grip.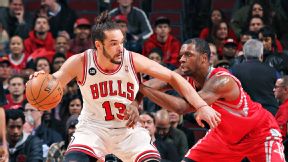 Ray Amati/NBAE/Getty ImagesJoakim Noah finished one assist shy of a triple-double in Chicago's blowout win over Houston.
For everyone around the NBA failing to truly believe in Noah's discomfort about receiving MVP consideration, teammates promise its legitimacy, promise it is no public relations strategy. They cite his irritation when the cries first originated out of the crowd during Chicago's win over Miami on Sunday, when Noah essentially told them: "This isn't for me."
"Joakim does hate the chants, but he deserves them," said Bulls guard D.J. Augustin. "He does everything for this team. He's a very humble guy and he's all about the team."
Between Derrick Rose's second major knee injury and the trade of Luol Deng, these Bulls had begun to deconstruct and lose their way. Thibodeau's pleads sounded increasingly fictitious, and turbulence surrounded his job status, where Noah's future stood and when the organization would amnesty Carlos Boozer.
One truth existed: The Bulls couldn't get over their depleted state until Noah did.
As it turned out, Augustin was a gem of a signing, the constant movement and versatile shooting of Mike Dunleavy has brought Chicago elements of Kyle Korver and Marco Belinelli, and Thibodeau never wavered in his pressure.
The superstar they need in order to threaten an Eastern Conference contender, Rose, remains on the bench in a suit, and so now the loudest ovations here come to Noah.
His energy's infectious, pointing toward the very last person seated below the rafters. As Jimmy Butler described Noah, "Point-center, defends all five positions -- 1 through 5. How can you beat that?"
"It's special to play in front of these fans," Noah said, "And I get a kick out of it."
Augustin had been inside some mired team meetings over six seasons, a career resurrected under Thibodeau and among a cast that trusted his ability. As a free agent in December, he passed over two other NBA teams before signing with the Bulls and joining an accepting locker room.
With Noah, teammates have witnessed no thoughts about accolades and contract bonuses -- but rather, measures to strengthen confidence and lead huddles.
"On this team, it doesn't take a team meeting," Augustin said. "Since I've been here, we haven't had one. We've been focused and believe we can beat any team on any night."
After Rockets coach Kevin McHale declared Noah the favorite for Defensive Player of the Year, a lack of energy and disoriented performances -- only three made shots in 18 attempts from James Harden and Chandler Parsons combined -- left the coach stunned.
Through it all, Noah had stood his ground and absorbed Howard's body blows on the Rockets' post ups. He worked the officials, worked the angles.
"Don't do that, man. Don't do that," he would tell an official when Howard drew defensive fouls that had actually sent Noah dropping to the floor.
Out of nowhere, a team's resolve and a coach's brilliance place the Bulls into strong contention for home-court advantage in the first round of the playoffs and possibly into the East's third seed. When they had the look of a team spiraling to a lottery pick, Noah would insist: Stop taking pity. All along, Noah himself had to come to grips with this first. Without Rose and Deng, Thibodeau rides Noah the hardest.
They had grown up together, Noah said of Howard late Thursday.
And a decade later, the gap between them has never been so small.
Dimes past: Feb. 20 | 23 | 24 | 25 | 26 | 27 | March 2 | 3 | 4 | 5 | 6 | 9 | 10 | 11 | 12
2. Around The Association
| | | | | |
| --- | --- | --- | --- | --- |
| Houston Rockets | 87 | FINAL | 111 | Chicago Bulls |
---
MVP: Even though he took an elbow to the head and had to get 10 stitches above his right eye, that didn't stop Mike Dunleavy from putting on a shooting clinic. He finished with 21 points, 18 of them coming in the third quarter.
Defining moment: The Bulls outscored the Rockets 35-16 in the third quarter to blow the game wide open after a competitive first half. Chicago drilled 3-pointers all over the perimeter and played suffocating defense, and Houston couldn't stop the onslaught.
That was ... a flawless victory: After getting blown out by the Spurs on Tuesday, the Bulls paid it forward with an impressive showing against the Rockets. Chicago played relentlessly from start to finish, and Houston could never match the energy level.
| | | | | |
| --- | --- | --- | --- | --- |
| Los Angeles Lakers | 102 | FINAL | 131 | Oklahoma City Thunder |
---
MVP: I don't suppose we can put the "OKC is better without Westbrook" rhetoric to bed now, can we? Probably not. Regardless, Westbrook was incredible, scoring 29 points and dishing out nine assists.
X factor: The Lakers shot 39 percent from the field overall but were a respectable 48 percent from behind the arc. The difference? Serge Ibaka, who made shots around the rim a chore for L.A. Ibaka finished with seven blocks, but he altered quite a few more.
That was ... streaky: Kevin Durant's streak of games with at least 25 points looked to be in jeopardy in the third quarter. But he scored OKC's first eight points of the fourth quarter en route to 29, keeping his streak alive at 30.
| | | | | |
| --- | --- | --- | --- | --- |
| Milwaukee Bucks | 97 | FINAL | 102 | Atlanta Hawks |
---
MVP: Co-MVP honors go to Kyle Korver and Jeff Teague, who dominated the fourth quarter for Atlanta. Korver had 12 points in the period and Teague had nine, including an absolute monster slam dunk with 27 seconds left to seal the game.
X factor: In one of his better games of the season, rookie Dennis Schroder gave Atlanta a great look as the team's backup ball-handler late in the game. Schroder finished with only eight points and five assists, but more importantly, zero turnovers.
LVP: Milwaukee's Khris Middleton did not have the ideal stat line for a close loss. Middleton took 15 shots and came away with only eight points to show for it.
3. Thursday's Best
Thunder duo: Kevin Durant and Russell Westbrook scored 29 points apiece to power the Thunder's rout of the Lakers, avenging Sunday's upset loss at Staples Center.
4. Thursday's Worst
Houston Rockets: The Rockets didn't bring their "A" game into Chicago, to say the least. Houston shot a measly 35 percent from the field, including a 5-of-26 clip from deep, in a blowout loss to the Bulls.
6. Tweet Of The Night
Noah on Dunleavy getting cut and coming back into the game and playing well: "It was good for Duke's street credibility."

— Nick Friedell (@NickFriedell) March 14, 2014
7. Quote Of The Night
"The hit knocked a little sense into me, I guess."
-- Bulls forward Mike Dunleavy, on scoring all of his 21 points in the second half after getting 10 stitches above his right eye early in the second quarter against the Rockets.
8. No Pain, No Gain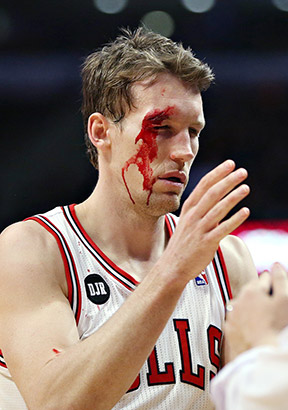 Chris Sweda/Getty ImagesDespite an early elbow to the face and a few stitches soon after, Mike Dunleavy put a hurting on the Rockets with 21 second-half points.
9. Stat Check
The Houston Rockets were outscored 35-16 in the third quarter against the Chicago Bulls on Thursday night. Before then, Houston had been outscored by 19 points or more in a single quarter in only one other game since the 2009-10 season. The New Orleans Pelicans outscored them by 19 in the fourth quarter on Jan. 9, 2013.