Ray Allen Gets Heat Back In Winning Rhythm
MIAMI -- The Miami Heat were unraveling again. It was late in the third quarter against the Houston Rockets and the two-time defending champs looked like the worst version of themselves.
Mario Chalmers passed to the other team trying to get the ball to LeBron James. Then the Heat waltzed through a sleepy possession without taking a shot before the 24-second buzzer reverberated throughout AmericanAirlines Arena. On the ensuing Heat possession, James turned the ball over, failing to protect the ball on a drive and letting Chandler Parsons poke it away for a fast-break layup. Then Wade gave an encore on the next trip, flubbing the ball trying to take it solo against Dwight Howard. Wade followed up that turnover by taking back-to-back midrange jumpers early in the shot clock.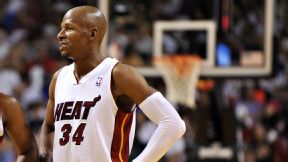 Steve Mitchell/USA TODAY SportsRay Allen scored 14 of his 25 points in the fourth quarter as Miami took control to beat Houston.
The Heat devolved into me-first, isolation-heavy basketball and the Rockets erased a seven-point lead. The Heat were on their way to their sixth loss in their last seven games.
And then Ray Allen happened.
With timely 3-pointers and deft basket cuts, the 38-year-old helped propel the Heat to a decisive 15-0 surge in the fourth quarter that left the Rockets on the losing end for the third straight game. Despite James Harden's best efforts to put the team on his back, Allen stole the show with a team-high 25 points, the most Allen has ever scored in a Heat uniform.
That Allen rescued the Heat out of their slump is not a coincidence. James, Wade and Chris Bosh require shooters like Allen to stretch the floor and provide a pressure release for the offense. Just when James and Wade fell into selfish mode, Allen helped pull them out of it. When the shooters get going, so do the Heat's star trio.
"It's always a collaborative effort with shooters," Heat coach Erik Spoelstra said after the Heat's 113-104 win over the Rockets. "It's a symbiotic relationship because you have to work together to get a shooter open."
Working together has been an issue as of late for the Heat. Wade admitted after the game that he's hunting for his shot more recently. Since he got two games off before the All-Star break, he has looked like a different player, averaging 21.4 points on 55 percent shooting. His knees feel good, and when his knees feel good, he looks like his old self as a No. 1 option again.
"I am taking my shots," Wade said. "Maybe I am focusing more on them now. When you aren't getting 20-something a game you have to focus a little more on them."
But is that a good thing for the Heat? It's no secret that James and Wade haven't made music on the court together recently. At Saturday's Heat practice, James came clean and said Wade's improved health and confidence, even though it should pay dividends down the road had "gotten me out of rhythm."
The underlying James-Wade splits have been staggering. In fact, entering Sunday's game, James had scored 34.5 points every 36 minutes with Wade looking on the bench since the All-Star break -- a huge number. However, when Wade has shared the court with him, James' scoring rate has dropped to 21.6 points every 36 minutes, which coincides with a huge decline in free throw attempts. Even if we ignore James' 61-point game, James has been at his best recently without Wade as his co-pilot.
That all seemed to change in Sunday's first half when Wade and James worked together to make life much easier for each other. After missing two layups over Howard and retrieving the offensive rebound, Wade didn't try to force a third. Instead, he dumped the ball to the streaking James who skied over Howard for a dunk. Later, on a fast break, James found Wade leaking out in transition on the other side of the floor, leading him with a perfect bullet pass like a quarterback finding his wide receiver deep on a slant route in the end zone.
But these synergistic moments disappeared in the third quarter, only to return when Allen started going off. The Rockets certainly had a hand in Allen's outburst. They routinely lost Allen on defense in the fourth quarter. On one particular possession, coming out of a timeout up five with 6:13 left, the Rockets literally forgot to put someone on him. Allen capitalized on the miscommunication by hitting a 3-pointer in the corner -- three of his 14 points in the final frame.
"I don't know what we did," Rockets coach Kevin McHale said of the play. "From that point on, we really didn't ... we missed a few shots. We had a couple of good shots and we took some bad shots. We didn't play very well down the stretch. I have no idea what happened."
After Howard was whistled for a delay-of-game technical with 4:12 left in the game, the Rockets never scored a bucket the rest of the way and the Heat ran away with the game.
Nonetheless, the Heat still have plenty of work to do to get Wade and James thriving together. For the second time in three games, James didn't make a field goal in the fourth quarter. But James and Wade survived by helping facilitate Allen's onslaught down the stretch.
"When we're unselfish down the stretch like that," Allen said, "we have a great rhythm to how we run our plays."
When asked about the common link between back-to-back 20-point games, Allen pointed to cooperation with his teammates, something that Spoelstra has been stressing in recent days as his team piled up L's in the standings.
"It's a team thing," Allen said. "It is what we're doing as a team. The team is making a more concerted effort of finding me and I'm getting great rhythm looks. In the games we've lost, we were a little impatient."
Patience has always been a hallmark of this era for the Heat. James and Wade have back-to-back championships together to show for it and with Wade healthy again, they're still searching for that right balance of individual and team. If history is any indication, chances are they'll find it soon.
"When you take instinctual players that are accustomed to having the ability to make plays for their team and have that ultimate confidence to be able to do it, there is a process to it," Spoelstra said. "The thing about that process is that it never ends."
Dimes past: Feb. 24 | 25 | 26 | 27 | March 2 | 3 | 4 | 5 | 6 | 9 | 10 | 11 | 12 | 13
ESPN Staff Writer
ESPN.com NBA analyst since 2010
ESPN.com Insider researcher in 2009
Developer of NBA DRAFT Initiative database
3. Sunday's Best
Davis
Anthony Davis, Pelicans: Davis set career highs with 40 points and 21 rebounds in a 121-120 overtime victory over the Celtics. Davis made 14 of 22 shots and sank 12 of 12 from the free throw line. Davis was the first to have a 40-20 game against the Celtics since Shaquille O'Neal on March 21, 2003.
4. Sunday's Worst
Milwaukee Bucks: Yeah, Gary Neal had to go. The guard, who clashed with coach Larry Drew and center Larry Sanders was sent packing on Feb. 20, returned and scored 16 of his 18 points in the second half in a 101-92 Bobcats win over the team with the NBA's worst record.
7. Quote Of The Night
"Look, they're down a great player, so we caught a break there. But you've still got to go out and play, and they've had a great record with and without [Russell] Westbrook."
-- Mavs coach Rick Carlisle, after his team beat Oklahoma City 109-86, ending a seven-game regular-season losing streak to the Thunder.
8. Brow-Raising Performance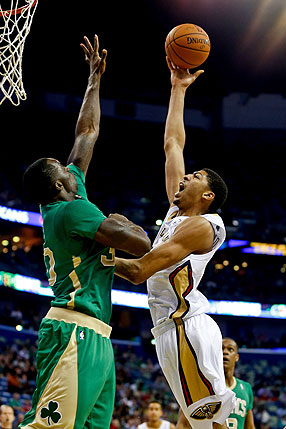 Derick E. Hingle/USA TODAY SportsPelicans star Anthony Davis posted the first 40-point, 20-rebound game of the season in a 121-120 OT win over Boston. His
numbers were strong all around.
9. Stat Check
Anthony Davis, who is just four days past his 21st birthday, scored 40 points and grabbed 21 rebounds in the Pelicans' overtime win over the Celtics. Davis is the third-youngest player in NBA history to have a 40-point, 20-rebound game. John Drew had two such games before turning 21 years old in 1974-75 as a member of the Hawks, and Shaquille O'Neal was a couple of weeks shy of his 21st birthday when he did it for the Magic on February 16, 1993.
Davis is only the third player with a 40/20 game against the Celtics over the last 40 seasons. Mike Gminski of the Nets did it against Boston on April 9, 1986 (41 points, 22 rebounds) and Shaquille O'Neal of the Lakers did it on March 21, 2003 (48 points, 20 rebounds). Both of those games were regulation length games.
Davis has scored 194 points and hauled in 86 rebounds over his last six games. Only one other player has scored that many points and had that many rebounds over a six-game span since the 2000-01 season. Kevin Love had two such stretches, one in March 2012 (202 points, 93 rebounds) and one in February of this season (205 points, 92 rebounds).