LBJ Content To Win Scoreboard, Not Scorebook
CLEVELAND -- LeBron James had the hammer raised on his former team Tuesday night, the chance to inflict another lasting scar with the sort of record-setting performance that would hang on the books for years.
Maybe it was mercy, maybe it was maturity and maybe there was just some pride from the injury-ravaged Cleveland Cavaliers. It was hard to figure exactly what happened, but James uncharacteristically stood down and perhaps allowed a chance at a record to pass and left satisfied that his Miami Heat took a 100-96 victory.
Everything was set for James to make a run at his recently established career record of 61 points that he set just two weeks ago. He was having one of his classic shooting nights, where his in-rhythm shots slice through the net with precision and his forced shots bank in off the glass or catch the side of the rim and curve through.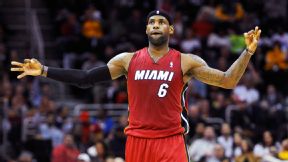 David Richard/USA TODAY SportsLeBron James had 25 points after one quarter, but then slowed his roll in a 100-96 win in Cleveland.
These sorts of nights seem to happen once or twice a year for James, usually on the road, and always when he's making 3-pointers. When Dwyane Wade is not playing, and he wasn't Tuesday, it's frequently a total green light for James to stretch out his heat checks and let it go. Tuesday the Cavs were even missing his primary defender, Luol Deng, who was out with an ankle injury.
When James made 10 of his 11 shots in the first quarter and five of them were 3-pointers it appeared the Cavs had run into a perfect storm, and James may just have a game for his mantle coming. That was the mood rising from the din after he headed to the bench with 25 points at the end of the first quarter, members of the crowd looking at each other with frustration and disbelief interspersed with partially swallowed smiles.
James, who possesses a flash-drive memory, easily remembered Allen Iverson scoring 54 points on the Cavs back in 2001 when he was a teenager in nearby Akron. It was a vendetta that night, Iverson upset the Cleveland crowd had mistreated him in his view in an earlier visit and he was determined to make a statement.
Iverson's angry night still stands as the Quicken Loans Arena record and it was so within James' grasp. James himself carries the date Dec. 2, 2010, around in his head like a family member's birthday because of the rancor he encountered in the building in his first game back after signing with the Heat. He mentions that date numerous times a year, usually when brushing away someone insinuating he'd run into a hostile crowd that particular day.
He referenced that date again Tuesday, in fact. But James doesn't seem to have the same desire to strike back as Iverson. If nothing else, James played almost 400 games in his life in the building and never eclipsed 50 but was halfway to that number just 12 minutes in.
"With that type of start, you see if you can go for 70," Heat coach Erik Spoelstra said. "It's just human conditioning to think like that."
And it's human conditioning for the coach to let his player try. Instead of sitting James to start the second quarter as normal, Spoelstra sent him to the floor to continue the streak.
Then something odd happened. James backed off. He started passing up open driving lanes. He started looking for teammates inside. He started calling plays for teammates, especially looking to get Ray Allen some open looks. He eased off the pure attack mode he seemed to be reveling in only moments before.
"When I started the game off, I felt like I could have went for 50 or 60," James said. "But you can't really dictate what's going to happen."
Most of the time in that spot James sure tries. He chased his first 60-point game with vigor against the Charlotte Bobcats and didn't stop until he got there. Against his former team, his former coach and in front of his former fans who still roundly booed him at times, he didn't seem like he wanted to dictate anything but the flow of the offense.
James would take just eight shots the rest of the game, which is simply incomprehensible after one starts 10-of-11. He took just three shots in the entire second half when the Cavs, who were also without All-Star Kyrie Irving because of a biceps injury, were pushing back and trying to pull an upset.
Just imagine how many shots Iverson might've taken had he started a game 10-of-11, much less a game in Cleveland during his prime.
James did reach the 40-point mark, getting there with some late-game free throws when the Cavs starting intentionally fouling him to stop the clock to keep comeback hopes alive. In all, he had 43 points on 14-of-19 shooting. It was barely above normal: James averages 17.5 shots a game and most of the time he's sharing the load with Wade.
"He's not a selfish player, never has been," said Chris Bosh, who was the Heat's main offensive weapon in the second half as he scored 12 of his 21 points despite a little scare when he twisted his right knee in the third quarter.
"He's still had [43], that's pretty good. Some guys probably don't have the maturity to handle that but he did a pretty good job of playing a complete game."
During the second half the Cavs did alter their game plan to try to prevent James from lighting them up further. They denied him the ball, even when he tried to get it 25 feet from the basket, and tried different defenders including big man Anderson Varejao on him. Occasionally they brought double teams to force the ball out of his hands.
Taking just three shots, though, seemed a little extreme.
"I felt it early on but, you know, other guys needed to get into a good rhythm as well," James said. "But you have to play the course and in the fourth quarter, [Bosh] got it going and they doubled me and brought guys toward me so I was able to be the facilitator."
Since James scored his 61 points against the Bobcats this has been a trend. He's faded into the pack in the fourth quarters for various reasons. He's been in a shooting slump, Wade has been playing very well and has been taking control of the games more often lately, and sometimes he's just looked a little fatigued.
Whatever it is, over the last eight games James is just 5-of-22 shooting in the fourth quarters and has averaged just 2.8 points, well below his normal production. He still made a major impact on the outcome late, coming up with two key blocks and several free throws that put the game away in the final minutes.
Bottom line, it would seem, James is now 12-1 against the Cavs since signing with the Heat and that scoreboard certainly suffices. After the game he was content to shrug his shoulders at being the first player to have two 25-point quarters in a month since Kobe Bryant back in 2006, and to enjoy a milkshake and cheeseburger shipped in from Swensons, his favorite restaurant in Akron.
"In today's age, there are players that would be looking for numbers," Spoesltra said. "LeBron is just trying to play the game the right way. That takes great maturity."
Dimes past: Feb. 24 | 25 | 26 | 27 | March 2 | 3 | 4 | 5 | 6 | 9 | 10 | 11 | 12 | 13 | 16 | 17
ESPN Senior Writer
ESPN.com NBA writer since 2010
Covered Cleveland Cavs for seven years
Author of two books
3. Tuesday's Best
James
LeBron James, Heat: On pace to tie Wilt Chamberlain's single-game scoring record after one quarter, LeBron settled into a mere mortal's pace and finished with 43 points in the 100-96 win in Cleveland. He sank 6 of 8 3-pointers, suggesting a hot hand that could have surpassed his career-high 61 points set March 3 against Charlotte.
4. Tuesday's Worst
Orlando Magic: Arron Afflalo's season-low four points ensured a sixth straight loss for the Magic. Barring a Bucks rebirth, the 101-89 road loss to Golden State appears to give the Magic a good grip on the third-worst record heading into the draft lottery.
6. Tweet Of The Night
Drew Gooden has more 3s tonight (2) than 2007-08 through 2009-10 combined (1). Seriously, what is going on here?

— Kevin Pelton (@kpelton) March 19, 2014
7. Quote Of The Night
"I am by no means an expert in basketball."
-- Knicks owner James Dolan, during a rare interview with the media following the hiring of Phil Jackson.
8. Zen Gardener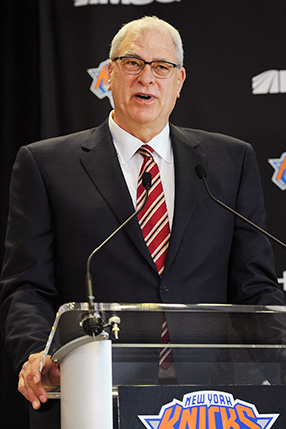 Maddie Meyer/Getty ImagesNew Knicks president Phil Jackson met the media at Madison Square Garden, ready to lead a storied franchise whose fortunes have sunk.
9. Stat Check
LeBron James is the first player with two 25-point quarters in the same month since Kobe Bryant, who had two in his 81-point game against the Toronto Raptors on January 22, 2006 (27 in third, 28 in fourth).
James is 12-1 against the Cavaliers since leaving Cleveland (.923 winning percentage). The best record by a retired player against his former team, among players with at least five All-Star selections for that former team, is Oscar Robertson's 19-2 mark against the Cincinnati Royals/Kansas City Kings.