1. OKC Better Equipped For Latest Injury Battle
CLEVELAND -- It inspired a few double takes but, yes, that was a bright green and yellow throwback Seattle SuperSonics hat that Kevin Durant was donning as part of his outfit on his way in and out of Quicken Loans Arena Thursday night.
He matched it with a pair of bright green shoes and some socks featuring Dee Brown's famous no-look slam from the 1991 dunk contest. That happened, by the way, when Durant was two years old.
The season Durant played in Seattle has always remained special to him, even if wearing the old logo probably creates depression in the Northwest and curiosity back in Oklahoma City. But there was something appropriate about it after the Thunder's 102-95 victory over the banged-up Cleveland Cavaliers.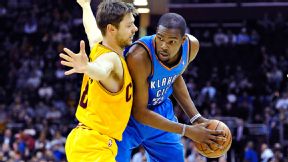 David Richard/USA TODAY SportsKevin Durant scored 35 points as Oklahoma City scored its 50th win of the season.
The Thunder won their 50th game Thursday and did so starting two rookies: Steven Adams at center and Andre Roberson at shooting guard. It was Adams' 14th start of the season and Roberson's seventh. It's the first time the franchise has started two rookies this often since it was called the Sonics, back when Durant and Jeff Green were rookies in 2007-08.
After nearly three seasons of virtually perfect health and incredible continuity, the past year has seen the percentages turn on the Thunder, and they've encountered their toughest run with injuries since they moved to Oklahoma. Ever since that unfortunate moment when Russell Westbrook ran into Houston's Patrick Beverley in the first round of the playoffs last spring, the Thunder have been fighting the injury bug.
They were without three starters against the Cavs. Westbrook missed his 32nd game of the season to rest -- the team will not play him in back-to-backs because of his knee injury, and the team plays Friday in Toronto. They have now been without both Kendrick Perkins and Thabo Sefolosha for the past 10 games, and their record in that span is now 7-3.
They've gotten some negative attention recently because the injuries have taken their toll, especially on defense, and the surging San Antonio Spurs have passed them in the standings. But had they not had these two rookies contribute and two older vets they picked up off waivers, Derek Fisher and Caron Butler, they wouldn't be celebrating a fourth straight 50-win season in mid-March.
The two rookies and the two vets combined for 28 points and 18 rebounds in the victory. Before that's passed off as insignificant, take a look around at the rest of the first round. The Cavs' two first-round picks from this season, No. 1 pick Anthony Bennett and No. 19 pick Sergey Karasev, were both out with injury Thursday and have combined to start one game this season.
In what looks like one of the weaker drafts of the past decade, the Thunder pulled two first-rounders that are helping them stay afloat while their front-line players heal.
"They're rookies, but they're good rookies," Thunder coach Scott Brooks said. "They're committed to the team, they're focused on getting better. They're not perfect. They make mistakes … When you have injuries, you can use it as an excuse or you can use it as an opportunity. It's been a tough adjustment, but we haven't let it get us down as a group."
A year ago, when Westbrook went down against the Rockets, the Thunder -- who started the same lineup in 77 of the 82 games in the 2012-13 regular season -- weren't prepared for it. This is obviously something that was on the team's mind as it came into this season, but the need to vary the options has gotten extreme.
They have had their starting lineup of Durant, Westbrook, Sefolosha, Perkins and Serge Ibaka for just 20 games so far this season. They're 17-3 on those nights. Ideally, the Thunder will be able to get Sefolosha back from a calf injury and Perkins back from a groin injury before the playoffs, in which there are no back-to-backs to limit Westbrook, either.
But if they don't, unlike last season, they will have some other options they feel they can rely on. Not just if they have to give the two rookies minutes -- and Adams will certainly get serious time in the postseason -- but Jeremy Lamb and Perry Jones have given quality minutes for the Thunder at times during this season. Neither player was a proven option last season. Neither could be turned to as a countermeasure when the Thunder fell in five games to the Memphis Grizzlies in the second round last season.
"We never make excuses. We're not going to say 'Wow, we got to 50 wins and all our players were hurt,'" Durant said. "We have a system in place where, if you put guys in the lineup, they can contribute."
Let's also be honest: none of it happens without Durant on the top of his game. All of those injuries and the 50-18 record are probably line No. 1 on Durant's Most Valuable Player résumé -- that and his streak of 25-point games, which is now at 33 after he put up 35 points on just 21 shots with 11 rebounds and six assists Thursday.
Durant is now just seven games behind Michael Jordan's record of 40 consecutive 25-point games in the 1986-87 season. That season, to put things in perspective, was the greatest scoring season of Jordan's career: 37.1 points per game. So Durant isn't exactly playing a small role. But last season he was unable to carry the Thunder when Westbrook went down, even with all his scoring ability.
The streak never seemed in too much jeopardy Thursday, even when he started 1-of-6 from the field. The Cavs are besieged with injuries at the moment and dressed just nine players. Kyrie Irving and Luol Deng, who would've defended Durant -- or at least tried to -- were among the wounded.
After the unheralded Alonzo Gee, the Cavs' options to defend Durant were undrafted rookie Matthew Dellavedova, who, in reality, is probably giving up around 10 inches to Durant, and Shane Edwards, who was on the ninth day of a 10-day contract and had 79 seconds of career playing time.
The Cavs opted for Dellavedova, a feisty Australian who is a classic undersized effort player. "Delly," as he's known, had some moments, but generally things went the way they were expected.
That's usually what happens when teams have to put inexperienced players into such a position; it doesn't go well, even though Dellavedova ended up with 11 points and 10 assists.
For the Thunder, though, going that direction this season has been working.
"We don't make excuses," Durant said. "Our young guys have done a good job."
Dimes past: Feb. 27 | March 2 | 3 | 4 | 5 | 6 | 9 | 10 | 11 | 12 | 13 | 16 | 17 | 18 | 19
ESPN Senior Writer
ESPN.com NBA writer since 2010
Covered Cleveland Cavs for seven years
Author of two books
2. Around the Association
| | | | | |
| --- | --- | --- | --- | --- |
| Oklahoma City Thunder | 102 | FINAL | 95 | Cleveland Cavaliers |
---
MVP: Kevin Durant. KD struggled with his outside shot to start, so he switched to dunk mode. After an insane alley-oop, his outside shot returned to NBA Jam form and he started making 30-foot 3-pointers. He made eight straight shots between the second and third quarters to turn a modest Cleveland lead into a double-digit OKC advantage. He finished with a 35-11-6 line in just 36 minutes.
X factor: Offensive rebounding. Despite ice-cold shooting to start, the Thunder kept the game close with 13 offensive rebounds in the first half. Serge Ibaka's offensive rebound in the final minute might have saved the Thunder. They outrebounded the Cavs 53-36 for the game.
That was … almost a miracle comeback: The Cavs were down 24 points with six minutes to go. They had mustered just three points in the first six minutes of the fourth quarter. Cleveland looked lifeless before suddenly embarking on a 21-2 run that gave it a legitimate chance to steal the game in the final minute.
| | | | | |
| --- | --- | --- | --- | --- |
| Minnesota Timberwolves | 106 | FINAL | 129 | Houston Rockets |
---
MVP: Even though the Wolves lost, Kevin Love had 29 points. Far from being someone who couldn't create his own shot, as is often claimed, he was the only Minnesota player who could do anything on the offensive end tonight.
LVP: Minnesota's guards. All of them. Ricky Rubio, Chase Budinger, Kevin Martin, J.J. Barea and Corey Brewer combined for just 26 points on 33 shots, which let Houston gang up on Love all night long.
X factor: After horrendously slumping right after the All-Star break, Jeremy Lin has recovered and bolstered Houston's bench. Tonight he had 10 assists, his highest total in about two months, with just one turnover.
| | | | | |
| --- | --- | --- | --- | --- |
| Washington Wizards | 103 | FINAL | 116 | Portland Trail Blazers |
---
MVP: Damian Lillard, who had 23 points, can always be counted on to score. But when he gets his teammates involved, like he did Thursday with 10 assists, the Blazers take on a different dimension. Lillard also grabbed six boards.
Turning point: Portland closed the first half on a 10-2 run. After the break, the Blazers picked up right where they left off, opening the third quarter on a 12-2 run. They held a comfortable lead the rest of the way.
X factor: Dorell Wright. Starting in place of the injured LaMarcus Aldridge, Wright has oscillated between serviceable and downright vaporous. Thursday, he made the most of his 20 minutes with 15 points and seven rebounds.
3. Thursday's Best
Durant
Kevin Durant, Thunder: Despite missing five of his first six shots from the field, Durant turned up the heat soon after, finishing with 35 points on 21 shots with 11 rebounds as OKC held off Cleveland to notch win No. 50.
4. Thursday's Worst
Barnes
Harrison Barnes, Warriors: Golden State eeked out the win against the Bucks but with little help from Barnes, who missed all seven shots he took, including five long-range misses.
7. Quote Of The Night
"My mind's always on the game so I didn't space out. I was instantly ready."
-- Kevin Durant, on being called into action off the bench during the Cavaliers' fourth-quarter rally against the Thunder.
8. Get That Outta Here!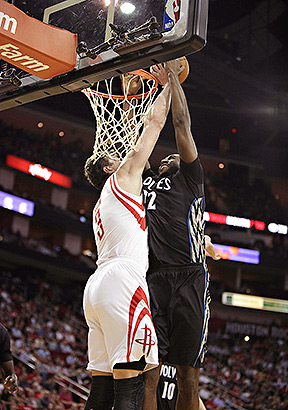 Andrew Richardson/USA TODAY SportsOmer Asik got the start for an injured Dwight Howard, finishing with 12 points and four blocks. None were as impressive as this rejection of the Wolves' Luc Richard Mbah a Moute.
9. Stat Check
Dieng
Timberwolves rookie Gorgui Dieng is the sixth player since the NBA began tracking starts in 1970 to have at least 20 points and 20 rebounds within his first three career starts.
---
MVP: Stephen Curry. In addition to distributing 11 assists, Curry scored 14 of his 31 points in the fourth quarter. He finished an incredible three-point play with 3:59 left, squeezing off a shot through a Khris Middleton hug.
LVP: Harrison Barnes. It didn't cost the Warriors a win, but Barnes started the game in place of the injured Andre Iguodala and missed all seven of his field goal attempts in 27 minutes of action.
That was ... a bad bit of luck: Bucks guard Nate Wolters left the game in the second quarter and X-rays revealed a fractured left hand. In all likelihood, his solid rookie season is over.