1. Knicks' Postseason Hopes On The Brink
NEW YORK -- Amar'e Stoudemire and Tyson Chandler used the word "flat" to describe the New York Knicks' second-half collapse to the Cleveland Cavaliers.
Carmelo Anthony said he still has "faith" that the Knicks can make the playoffs after a 106-100 loss to Cleveland at home.
Knicks fans, though, probably were using a different word to describe how they felt after watching their team suffer what could ultimately be a crippling loss to their thinning playoff hopes.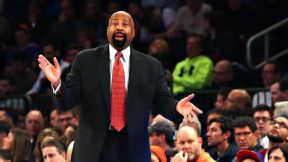 Anthony Gruppuso/USA TODAY Sports Mike Woodson saw his Knicks fall three games behind Atlanta for the final East playoff spot.
The Knicks' eight-game winning streak is history and so may be their slim playoff hopes after dropping what simply is an inexcusable loss.
The Knicks' season had seemingly flatlined a couple of weeks ago after a seven-game losing streak, and somehow they came back and pumped new life into their playoff hopes with a winning streak that came out of nowhere.
All they had to do was beat a Cavs team that was going through the motions without Kyrie Irving at home and they would head out West to face the struggling Lakers in front of new team president Phil Jackson with a nine-game winning streak. The Knicks could practically taste a double-digit winning streak.
The Hawks (31-37) lost earlier in the day and have been trying to give the eighth spot away to the Knicks. But New York (29-41) could not hold on to a 17-point second-quarter lead. Jarrett Jack transformed into Allen Iverson and exploded for 23 of his 31 points after halftime. Jack buried 10 of 13 shots in the second half and may have sunk the Knicks' postseason dreams in the process.
And the Knicks have nobody to blame but themselves. They defended the pick-and-roll like it was some offensive wrinkle they had never seen before. And offensively they were even harder to watch as New York self-destructed by taking predictable and challenged isolation shots. Each offensive possession was painful and the Knicks got nothing easy down the stretch as they missed 12 of 14 shots after leading 90-85 with nine minutes left.
All this against a Cavaliers team that had lost eight of its previous 10 coming in.
"It's a tough loss," Stoudemire said. "You don't want to lose a game like this, especially against a team that's not really making a push to the playoffs. They're just being spoilers right now."
The Knicks have 12 games remaining, starting with a five-game West Coast swing against the Lakers, Kings, Suns, Warriors and Jazz. Had they beaten Cleveland, the Knicks probably would have been able to drop one or two of the upcoming road games.
This loss slices into any slim margin for error they had to begin with. The Knicks may have to go 4-1 on this trip to have a chance. Atlanta's next five games are against the Suns, Wolves, Blazers, Wizards and Sixers.
Once the Knicks return from their West Coast jaunt, they play their final seven games all against Eastern Conference opponents that are in the thick of the playoff race. The Knicks face Brooklyn twice, Toronto twice, Washington, Miami and Chicago. With exception to the Heat, all those teams will likely still be jockeying for playoff positioning in April.
Sunday was likely New York's last "easy" game of the season considering its opponent and being at home, and the Knicks blew it.
Before this crushing loss, Mike Woodson tried to estimate what number the Knicks need to sneak into the postseason.
Woodson initially guessed "38 to 40" wins before altering it to "anywhere from 35 to 40 will probably be the number that gets you in."
The Hawks only need four more victories to reach 35. In order to reach 37 wins, the Knicks have to go 8-4 in their final 12.
It's a tall task but possible. I've maintained that I still can't see a Melo-led team failing to make the playoffs in this awful Eastern Conference. Something still tells me that the Hawks will keep the Knicks in the thick of it perhaps until the final week.
"I got faith that we can make a run," Anthony said.
Time is running out, though, for Melo and the Knicks. And so is the faint faith in a playoff berth after Sunday's unacceptable loss.
Dimes past: March 2 | 3 | 4 | 5 | 6 | 9 | 10 | 11 | 12 | 13 | 16 | 17 | 18 | 19 | 20
ESPN Staff Writer
Ohm Youngmisuk has covered the Giants, Jets and the NFL since 2006. Prior to that, he covered the Nets, Knicks and the NBA for nearly a decade. He joined ESPNNewYork.com after working at the New York Daily News for almost 12 years and is a graduate of Michigan State University.
Follow him on Twitter »
Ohm's chat archive »
2. Around the Association
3. Sunday's Best
Jack
Jarrett Jack, Cavs: With Kyrie Irving out, Jack stepped up. He scored 23 of his 31 points in the second half as the Cavs beat the Knicks 106-100. Jack, who sank 13 of 19 shots, finished with 10 assists as Cleveland snapped a four-game losing streak.
4. Sunday's Worst
New York Knicks: Just when it looked like the Knicks had closed the gap for the final East playoff spot, they let a 17-point lead slip away at home to a Cavs team that was without Kyrie Irving. Carmelo Anthony went cold late, missing 11 of his last 13 shots and all five in the fourth quarter. The Knicks are now three games behind the Hawks with 12 games to play.
6. Instagram Of The Night
7. Quote Of The Night
"I'm just telling you, pigs get fat, hogs get slaughtered. And they're getting hoggy. Just watch. Pigs get fat, hogs get slaughtered. When you try to take it too far, people turn the other way."
-- Mavs owner Mark Cuban, declaring that the NFL could be headed for a decline through overexposure.
8. Useful Addition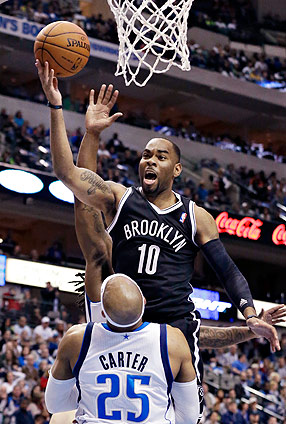 AP Photo/LM OteroMarcus Thornton had 11 of his 20 points in the fourth quarter for the Nets, who won their fourth straight game and beat a West team (Dallas) for the fifth straight time. The Nets are 11-3 with Thornton in the lineup after his acquisition from Sacramento.
9. Stat Check
Phoenix beat Minnesota 127-120. It was Minnesota's 23rd loss in a game in which Kevin Love scored at least 30 points and grabbed 10 or more rebounds. Only one player has suffered even half as many such losses during Love's six seasons in the NBA: Blake Griffin (13).