1. Pacers Find Life On Top Challenging
CHICAGO -- Somewhere along the path to a magical season the Indiana Pacers lost their innocence. Now they're losing their way.
Monday night the Chicago Bulls beat the Pacers with one of their signature defense-based wins 89-77, avenging a loss in Indianapolis last week. It was the seventh time in the last 12 games the Pacers have gone down. Previously, they'd lost seven times over a span of 28 games. They didn't even have their seventh loss of the season until Jan. 8.
The losses themselves are just a symptom, albeit a painful one, of a team that is struggling to deal with its new place in league's ecosystem. The transition from upstart to underdog was enjoyable for the Pacers over the last few seasons and especially early this season when they were the darlings of the NBA after a fantastic start.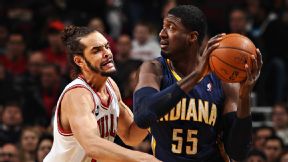 Gary Dineen/NBAE/Getty ImagesJoakim Noah and the Bulls relished a win over Roy Hibbert and the East-leading Pacers.
But life as the hunted has not agreed with them. It shows all over their faces and all over their games.
"We started off this season so great and we were excited for the end," Pacers star Paul George said. "But we forgot about the middle and the middle is the toughest part."
As this season has matured, the Pacers' environment has come under assault from opponents they can both see and can't see, from both inside and outside of their organization. Most of this is part of the process -- many teams before them have tasted the same set of developing challenges they didn't always see coming.
But the Pacers have so far been slow to readjust their comfort zones. Instead, they've been slowly getting frustrated with each other in the classic mode of a team that is underachieving.
It started from the outside. Teams the Pacers had gotten used to rolling over started to fight back. Earlier this month, for example, they struggled over a week to get three wins over league dregs the Milwaukee Bucks, Utah Jazz and Boston Celtics. They weren't ready for those teams to get up for them, weren't used to seeing teams look one way on film and another when they play like the No. 1 team in the conference.
"These teams are coming at us with great force regardless of their record," Pacers coach Frank Vogel said at the time. "These teams are playing above themselves against us."
It's also come from social media and the internet, where Pacers players have become the targets of tabloid stories recently. Not only has it been distracting but it's also been stunning. Unaccustomed to such negative attention, they'd sort of gotten used to no attention at all.
Last season, Roy Hibbert mocked media members for not paying attention when he barely showed up on the Defensive Player of the Year ballots despite his dominance. This year, Hibbert is a strong candidate to win the award but he his poor games don't go unnoticed as they once did.
Saturday he was outplayed by Marc Gasol in a loss in Memphis when he had four points and no rebounds. Monday he was outplayed by Joakim Noah, who almost had another triple-double while Hibbert had three points and just five rebounds.
Now, when he gets fouls the opposing crowds cheer. When he got his fourth foul and had to leave the game Monday, Noah when on one of his clapping and stomping routines because he was proud the Bulls had forced Hibbert from the floor. That wasn't happening in the recent past.
"I think we've had difficulty handling the success," Hibbert said.
Then there are the internal issues, the natural byproduct of a struggling and underachieving team. Team president Larry Bird has used both words and actions to express what he thinks about his team and it's clearly upset things, which may have been his intent.
Several Pacers players have pointed to February when things started turning for them, a month when Bird signed Andrew Bynum and traded long-tenured Danny Granger for Evan Turner in an effort to bolster the roster heading into the playoffs. The Pacers' players, however, were stunned by both moves. Granger's departure was treated like a mini-funeral.
"Larry is the man is charge," Hibbert said. "He made the decisions and we have to go out on the floor and figure it out."
Then, two weeks ago, Bird lashed out publicly at his players and his coach. Vogel has built a reputation for being positive, sometimes coming off as downright cocky. He has an air of assurance about him that he's passed to his players, the sort of vigor that had them talking about getting the No. 1 seed in the Eastern Conference back in the first days of the season.
But Bird targeted that method with some stinging words to the Indianapolis Star.
"I'm sort of going to Frank's side because he's had so much success by staying positive," Bird told the paper. "We do have to stay the course. But I also think he's got to start going after guys when they're not doing what they're supposed to do. And stay on them, whether you've got to take them out of the game when they're not doing what they're supposed to do, or limit their minutes. I will say, he hasn't done that enough."
Vogel has changed the lineups and reduced some players' minutes, and he's been missing some of his trademark swagger lately. Well known for calling out other teams for antics -- he once labeled the Miami Heat as floppers -- he's now more likely to issue "no comments" and move on. Behind the scenes, sources say, he has been challenging players more in the wake of Bird's comments but Vogel declined to discuss such conversations.
Bird followed it up by attacking some of his players' focus when he said: "Sometimes, I think, they're not 100 percent committed to their jobs."
The Hall of Famer has his reasons for attempting such motivational tactics. Certainly he's said many of the same things privately to the players and coaches.
But so far, it has not produced the desired effect.
"We've been dead on the court lately and that's not us," George said. "We used to be a team that played with a lot of energy and played with fun out there but we've lost that along the way."
Though its defense has been a little less consistent than desired in the second half of the season, what is causing the team the most angst is its offense. In losses to the Grizzlies and Bulls in the last few days, the Pacers have failed to crack 80 points in back-to-back games for the first time in seven years.
There are slumps abounding. Over the last 15 games, Hibbert is averaging just nine points and shooting just 44 percent. After he shot 56 percent in February, David West is shooting just 46 percent in March. George is shooting just 37 percent in March and averaging 19 points, well below his season average.
It's also not hard to miss how annoyed some Pacers are with Lance Stephenson, the young sparkplug guard who was a huge key to their early season. Stephenson has four triple-doubles this season but at times he's been too focused on getting those stats, robbing rebounds from teammates and generating some frustration.
Other times he flat-out hogs the ball. And while this happens with many players on every team, the tolerance for the younger and rougher Stephenson is much less than for the veterans elsewhere on the roster.
On Monday, Stephenson had no assists and four turnovers in 30 minutes in the loss. When he drops his head and ignores open teammates, heads shake and shoulders slump visibly. After averaging nearly six assists a game in the season's first three months, Stephenson is averaging only three assists over the last two months.
"We have [guys trying to be heroes] at times and we choose the wrong moment at times," George said.
When the Pacers talk about offensive problems, they always default to lack of ball movement. No one on the team stops the ball like Stephenson, who enjoys the status of being one of Bird's favorite players.
None of these issues are original; it happens to every team in the league. But with the Pacers, they'd lived the charmed existence of overachieving for so long that they forgot about some of them.
Nothing is fractured beyond repair; they still have all their goals in front of them. They will likely clinch the Central Division title within a week. If they can beat the Heat at home on Wednesday -- and things haven't wavered much at home, where the team is 32-4 -- they'll have a two-game lead for first in the East on Miami plus the tiebreaker with just 10 games to play.
But there's no doubt things are different now and there are fewer smiles. That's life at this level in the NBA, and the Pacers need to start getting used to it.
"We need to go out there and play for each other like we were doing in the first half of the season. It seems like we're doing that about one out of every six games right now," Hibbert said. "We're great off the court, a family atmosphere but on the court it seems like we're not clicking and we should be clicking at this time of the year."
Dimes past: March 2 | 3 | 4 | 5 | 6 | 9 | 10 | 11 | 12 | 13 | 16 | 17 | 18 | 19 | 20
ESPN Senior Writer
ESPN.com NBA writer since 2010
Covered Cleveland Cavs for seven years
Author of two books
2. Around the Association
3. Monday's Best
Evans
Tyreke Evans, Pelicans: Big night for Evans, who made 13 of 19 shots en route to 33 points in a 109-104 overtime win over the Nets. Evans also had 10 boards and seven dimes.
4. Monday's Worst
Philadelphia 76ers: Former Spurs assistant Brett Brown did not return home cloaked in glory. Instead, the Spurs earned a 14th straight win that sent the Sixers' and their head coach to their 25th consecutive loss 113-91. Philadelphia will face Houston on Thursday looking to avoid tying the NBA record for consecutive losses set by the Cleveland Cavaliers in 2010-11.
7. Quote Of The Night
"I miss the Pacers."
-- Chris Bosh, whose Heat can close the Pacers' East lead to one game with a win on Wednesday.
8. At Long Last, It's G.O. Time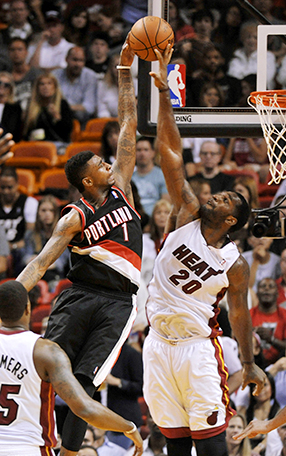 Steve Mitchell/USA TODAY SportsGreg Oden, who rose up to block Dorell Wright, but was whistled for the foul, started against the team that drafted him No. 1 overall in 2007. He played 15 minutes and had four points and three rebounds.
9. Stat Check
The Pacers held the Bulls to 33 points in the first half, but Chicago came back to outscore Indiana 56-43 in the second half to emerge victorious. The Bulls had been 0-10 over the last two seasons when scoring 35 or fewer points in the first half -- their last such victory before Monday was in January 2012 versus the Hawks.