1. Bound By Phil, For Better Or (Now) Worse
LOS ANGELES -- If the New York Knicks and Los Angeles Lakers are going to sit out the postseason -- and nothing about the Knicks' performance in their 127-96 loss to the Lakers Tuesday night screamed "playoff-bound," especially not the 51 points the Lakers hung on them in the third quarter -- at least they'll have each other.
They've never been closer, now that they have executives who are engaged. They really go back a lot further than that, from when they were meeting in the NBA Finals in the early 1970s to that singular moment in 1999 that altered the course of both franchises.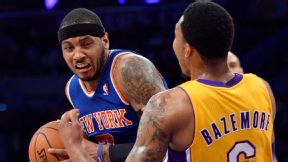 Robert Hanashiro/USA TODAY SportsMelo and the Knicks sank lower with Phil Jackson looking on from high above courtside.
You won't find a more important shot in NBA history than Allan Houston's short jumper in the lane that hit the front of the rim in the deciding Game 5 of the first-round series against the Miami Heat. If it missed, the Knicks were eliminated, coach Jeff Van Gundy was probably out of a job and New York would have a crack at Phil Jackson while the Lakers were still in the playoffs. But the ball glanced off the backboard and dropped through the net to beat the Heat and launch the Knicks on their way to the NBA Finals. Then-Knicks president Dave Checketts said later that he thought Jackson was using the Knicks to leverage the Lakers ... but what if the Knicks had struck quickly before the Lakers job opened?
If Jackson doesn't come to the Lakers in 1999, they don't win a championship in 2000 and it's possible the Shaquille O'Neal feud with Kobe Bryant would have led to a split before they ever won rings together. You could add at least one ring to Tim Duncan and the San Antonio Spurs' collection of four, and subtract enough rings from Jackson's 11 to bring him back below Red Auerbach's previous record of nine. That's the impact the Knicks and Lakers can have on each other and the league, even from across the country, like the Sun warming the earth from 92.9 million miles away. (Or like newly named Knicks president Jackson watching from a Staples Center suite Tuesday night while fiancée Jeanie Buss, the Lakers' president, sat near the court. Could that be part of the NBA's conflict of interest policy implemented on the pair?)
The Knicks finally have Jackson 15 years later. And such is the Shadow of Phil that it managed to simultaneously loom over both coaches in Tuesday's game. Mike D'Antoni is still taking questions about Jackson, whom the fans and media haven't let him forget since the Lakers picked D'Antoni over Jackson to be their coach in 2012. And Knicks coach Mike Woodson knows the reality that new executives usually mean new coaches, especially for teams that don't do anything in the postseason.
"In Atlanta I was a part of a change," Woodson said of his previous coaching job. "It happens in our sport. Until I'm able to sit down with Phil and see the direction he wants to go, all I can do is coach our team and try to do the best job I can do."
D'Antoni said, "We don't think about the other stuff. That's nice fodder for you guys, but it doesn't really affect what we do."
I keep waiting for D'Antoni to scream "You guys realize that I'm 2-0 against Phil in the playoffs, right? No other coach beat him in more than one series. So all you people chanting 'We want Phil!' can have him."
There was nothing Jackson's presence at the game or on the Knicks' staff directory could do to help them Tuesday night. The Knicks couldn't even do enough to keep him seated in his suite through the final buzzer.
But as long as Jackson's in New York and the hearts of Jeanie Buss and Laker fans are with him, as long as the Knicks and Lakers play in the league's two biggest media markets, until they make a pledge not to compete for free agents (some folks in Lakerland already wonder if Jackson will find a way to land Pau Gasol this summer) this bicoastal storyline will always have an interest level that exceeds the teams' place in the standings.
Dimes past: March 2 | 3 | 4 | 5 | 6 | 9 | 10 | 11 | 12 | 13 | 16 | 17 | 18 | 19 | 20 | 23 | 24
ESPN Senior Writer
ESPN.com senior writer since 2007
Around The Horn panelist
Formerly at Los Angeles Times
2. Around the Association
3. Tuesday's Best
Nowitzki
Dirk Nowitzki, Mavericks: With their playoff hopes needing a boost, Dirk delivered. He scored seven of his 32 points in overtime, leading the Dallas Mavericks to a 128-119 victory over the Oklahoma City Thunder. Nowitzki also had 10 rebounds and six assists for Dallas, which moved a half-game ahead of Phoenix for the final West playoff spot.
4. Tuesday's Worst

Valanciunas
Jonas Valanciunas, Raptors: Not a great night for the Raptors' center. He scored four points and posted three rebounds while compiling a minus-27 rating in a 102-100 loss to the Cavaliers, one that dropped the Raptors into fourth place in the East behind Chicago.
7. Quote Of The Night
"I think he knows why we brought him here."
-- LeBron James, on Greg Oden's usefulness in combating Indiana's Roy Hibbert
8. Shout It Out Loud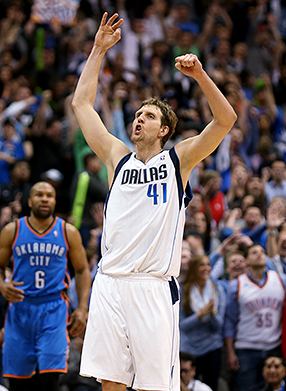 Matthew Emmons/USA TODAY SportsDirk Nowitzki reacts after sinking the dagger 3-pointer that lifted the Mavs past the Thunder in overtime.
9. Stat Check
In a classic duel between two future Hall-of-Famers, Dirk Nowitzki (32 points) and the Mavericks beat Kevin Durant (43) and the Thunder in overtime Tuesday night. It was the 22nd time in an NBA regular-season game that these two players started against each other, but only the third in which each scored at least 30 points. The other two such games game in 2010 and Nowitzki's team won both of those: January 15 (Nowitzki scored 32 points, Durant scored 30) and November 24 (Nowitzki 34, Durant 32).
Along with his 32 points, Nowitzki grabbed 10 rebounds handed out six assists and recorded four steals for the Mavericks. Only two other players in Mavericks history had that many rebounds, assists and steals in a game in which he scored at least 30 points: Michael Finley did it two days before Christmas in 1999 and Jason Kidd in March 1996.
Durant scored 43 points and handed out six assists in Oklahoma City's overtime loss in Dallas. It was Durant's fourth straight road game with at least 35 points and five assists. Only four other players in NBA history recorded four (or more) consecutive 35/5 games on the road: Oscar Robertson and LeBron James did it twice each, Nate "Tiny" Archibald and Tracy McGrady did it once each.