1. Indy Gains Edge In Supreme Court Battle
INDIANAPOLIS -- This months-long focus on home-court advantage between the Indiana Pacers and Miami Heat isn't just semantics or artificial hype or boredom management. There is a reason it matters and why it's valued.
There were a dozen or so different moments that could've changed the outcome of the Pacers' 84-83 win over the Heat on Wednesday night.
There was a quick second technical foul on Lance Stephenson that got him ejected, a rare flagrant offensive foul on LeBron James, a disallowed Dwyane Wade 3-pointer because he was ruled out of bounds when replays showed he might not have been, a James 3-pointer that rattled in and out in the last minute, what David West called the biggest 3-point shot of his career, Wade's hamstring tightening up at a bad moment that cost the Heat a star and a valuable timeout, a canceled flagrant foul on Ian Mahinmi when he grasped James by the neck, a few mistimed Heat turnovers, a Ray Allen stomach virus, Heat coach Erik Spoelstra selecting Chris Bosh for the final shot and not James and on and on.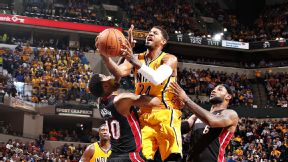 Nathaniel S. Butler/NBAE/Getty ImagesPaul George and the Pacers now hold a three-game lead over the Heat.
Rather than breaking down and obsessing over each break of the game, realize these two teams have played three games and have been separated by a total of four points this season. The home team has won each one. They've played 13 games over the past two seasons, including the playoffs, and the Pacers now have a 7-6 edge. The home team has won all but two of those games, with each team winning on the other's floor once.
Simply, this rivalry is tight, and if they meet again for a third consecutive season in the playoffs, there are going to be games that come down to the narrowest of margins, such as where a potential Game 7 is located.
The Pacers took a huge step in that direction with the victory. They now have a two-game lead in the loss column, plus they've virtually locked up the tiebreaker, which essentially makes it a three-game lead. They have assured no worse than a 2-2 finish in the head-to-head tiebreaker -- the final game of the season series is April 11 in Miami -- and they have a large lead on the second tiebreaker, which is conference record. Had the Heat won, the teams would've been tied in the loss column, and the Heat would've had the inside track on winning the tiebreak.
Don't worry too much about all those details. Just know that the Heat will have to make up three games on Indiana in the next three weeks or the Pacers will get No. 1. A pretty valuable No. 1 it could be considering the Pacers are now 35-4 at home.
All you need to understand the intensity between the two teams was crystallized in the fourth quarter when James felled Pacers center Roy Hibbert with an elbow on a drive to the basket. Hibbert was bloodied on the play and feared a concussion; James did it with gauze sticking out of his nose after an earlier hit had resulted in his own bloody nose.
Whether James intended to hit Hibbert or it was an unfortunate collision probably depended on your rooting interest. The officials decided there was intent after looking at replays, and the league office will be doing the same on Thursday.
"If I could jump in the air, elbow somebody in the face and still try to finish the play, I must be a kung fu master or something," James said. "His face happened to hit my elbow, or my elbow happened to hit his face."
All you need to understand the depth of this knowledge these two teams have with each other was crystallized in the fourth quarter when Hibbert correctly guessed the Heat's final play just by the look on James' face. With two seconds left, Spoelstra called for James to be the decoy and to set up Bosh for a chance at the game winner. Hibbert smothered it, and Bosh shot an air ball when he had to force it over Hibbert's arm.
"LeBron gave it away in his face. He didn't have that grit-his-teeth-he's-going-to-score-the-last-basket look," Hibbert said. "So I knew he was going to probably going to pass it to Bosh for the last shot."
Hibbert has turned into an unlikely, yet acute, rival for James over the past three seasons. It has been personified by a series of midair run-ins and one non-run-in that were big reasons the Heat won the title last season.
That was when Hibbert wasn't on the floor for James' buzzer-beater in Game 1 of the conference finals, a left-handed layup that was unmolested while one of the game's best rim protectors wore a towel around his neck about 90 feet away. Pacers coach Frank Vogel has never made that mistake again, and Hibbert was on the floor to snuff Bosh's final shot attempt Wednesday.
James has repeatedly challenged Hibbert's use of the relatively new "rule of verticality" that came to the league several years ago. That's where the 7-foot-2 Hibbert is permitted to leap straight into the air and make all the contact he wants without drawing the foul. Last season in Game 6, James was hit with an offensive foul when he rammed into Hibbert's vertical jump in a crucial fourth-quarter moment. James was so furious at the call that he received a technical for arguing. That play changed the outcome of that game as James fouled out moments later.
In this meeting, James went head-to-head with Hibbert in midair four different times. Once, they slammed into each other, James collapsed to the floor and the ball crawled over the rim with no whistle. Then, James did it again, slamming into the giant and scoring again.
"You learned to finished that, huh?" Hibbert said to James.
"Don't try to post me up, Hibbert," James said back after he found himself unfortunately guarding Hibbert in the post, which led to a Hibbert basket.
But Hibbert was surprised James kept coming at him. Opposing players have mostly stopped that as they try to beat him with floaters or pull-ups, but James has obviously decided he's not going to back down from the favorite for defensive player of the year.
"They call it how they want to call it. It's very frustrating. Very frustrating," James said. "As a player, you play the game the right way, and, sometimes, it just don't fall your way."
As the game intensified in the second half, James got into one of his zones. He was hitting shot after shot, splashing 3-pointers, driving for layups and banking in jumpers after fouls to create 3-point plays on his way to 38 points. His confidence was not just in the results, but in the pageantry, as he steadily moved through his physical displays of dominance from chest-pounding to doing pushups on the floor to his "lower-the-roof" gesture toward his bench.
Pacers star Paul George, frustrated by James' scoring on him despite his best attempts at defense, knew he had to answer back. So when he got a chance, he turned the corner on James and threw down an impressive dunk to trigger a late-game momentum swing. In the midst of a funk that's lasted most of two months, George showed such fire for the first time in a while, and the basket represented easily the most important of his 23 points.
"LeBron was just so confident out there at that point that I had to go back at him," George said. "I had to finish that."
All of this is the essence of what games between these teams have become: familiarity, desire and growing contempt. The newest chapter is between Wade and Stephenson, who was so proud he scored a layup after driving on Wade with five minutes to play that he stomped to find Wade and brag about it, getting a second tech.
The first tech came when Stephenson, who has a history of getting under James' skin dating to 2012, got in Mario Chalmers' face and Wade came over to defend his point guard, and both got dinged by the officials. Wade, of course, confronts Chalmers virtually every night, but he quickly got irritated when Stephenson tried the same maneuver.
About the only thing the Heat and Pacers agreed on, interestingly, was that Stephenson was out of line.
"I let my teammates down by doing that, and I'm wrong," Stephenson said. "You're playing against the Heat. The Heat is a great team, and we're a great team. It's going to be a battle all the time."
On that last point, though, Stephenson is quite correct. This does indeed promise to be some fight to determine an ultimate winner. There's a good chance there's going to be a handful more of these games before it's decided, with many skirmishes along the way. And Wednesday's result qualified as a significant body-blow point to the Pacers.
"It feels like you have to play a perfect game to beat Miami," George said. "This is a dominant team, and we're set up to try to beat them."
Dimes past: March 2 | 3 | 4 | 5 | 6 | 9 | 10 | 11 | 12 | 13 | 16 | 17 | 18 | 19 | 20 | 23 | 24
ESPN Senior Writer
ESPN.com NBA writer since 2010
Covered Cleveland Cavs for seven years
Author of two books
2. Around the Association
3. Wednesday's Best
Duncan
Tim Duncan, Spurs: Old Man Riverwalk, he just keeps on rolling. Duncan spurred his team to a 15th straight win with 29 points, 13 rebounds and five assists as the Spurs overcame a fourth-quarter collapse to beat the Nuggets 108-103. Duncan scored all but one of the Spurs' final seven points.
4. Wednesday's Worst
Paul
Chris Paul, Clippers: Looks like Cliff Paul was in charge of the shooting tonight, with a stunning 0-for-12 shooting night in a 98-96 loss to the Pelicans. At least Chris Paul was still in charge of the assists, posting a dozen in his return to N.O.
6. Tweet Of The Night
I shot a 3 in practice today.... Thibs started hatin though

— Joakim Noah (@JoakimNoah) March 26, 2014
7. Quote Of The Night
"If I could jump in the air, elbow somebody in the face and still try to finish the play, I must be a kung fu master or something."
-- LeBron James, on the flagrant foul he was called for after his elbow hit Roy Hibbert in the face.
8. How West Helped Indy Win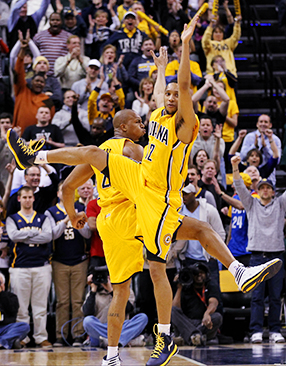 Pat Lovell/USA TODAY SportsDavid West and Evan Turner had much to celebrate, including West's rare 3-pointer with 50 seconds left that gave Indiana an 84-80 lead. It was his fourth 3-pointer of the season, and 44th overall in 11 NBA seasons.
9. Stat Check
LeBron James scored 38 points but committed six turnovers in Miami's one-point loss to the Pacers on Wednesday night. It marked the 11th time that James has committed more than five turnovers in a game against Indiana, by far the most such games he has had against any team (next most: eight, against the Nets).
James' six turnovers are the third most he has ever committed in a one-point loss. His two highest totals also came against the Pacers: seven on Nov. 7, 2003, and Feb. 10, 2009 (both when he was with the Cavaliers).