1. Sixers' Losing Battle: Streak Reaches 26
By
Tom Sunnergren
| Special to ESPN.com
Since the Philadelphia 76ers last won a basketball game -- eight weeks ago, Wednesday -- the Winter Olympics began and ended, Russia became a credible threat to invade a sovereign state, an airplane disappeared and approximately 21 million new infants were brought screaming into the world.
So, it's been a while.
But with Thursday's 120-98 loss to the Houston Rockets, trivia was elevated to history. With their 26th consecutive loss, the Sixers tied the post-LeBron James 2010-11 Cleveland Cavaliers for the longest losing streak in the very long history of the National Basketball Association, a history which encompasses roughly 53,000 regular-season games spaced over 69 seasons and 12 presidential administrations.
Springfield, Mass., here they come.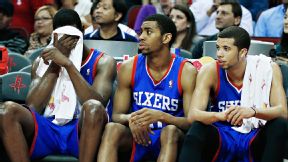 Scott Halleran/Getty ImagesEven the players can barely watch as another "L" hits the record books for Philly.
But Philadelphia's lack of basketball sense -- the Sixers played defense like a family of wobbly kneed fawns as their opponent broke 100 points in the third quarter -- was, with respect to narrative, outmatched by its sense of the moment. The Sixers had the presence of mind to begin this streak on the precise date that would tee up the record-tying loss in Houston, against a Rockets franchise the Sixers, however impractically, aspire to become.
The Rockets play fast -- or did before Dwight Howard came to town -- shoot 3s with abandon, have a surfeit of productive and cheap labor pocked from the draft's second round and have not one, but two legitimate superstars on their roster. Oh, and not for nothing, they're contenders. This is Philadelphia's blueprint for the future.
When Sixers general manager, and former Rockets assistant GM, Sam Hinkie sat in the executive suite on Thursday -- or wherever he was -- he had the unique experience of watching a great thing he had a hand in building toy with what he hopes to build in its image. "Someday," you can imagine him saying to himself.
But not today. As it was, the gulf between the two franchises could not have been more marked. The game was a study in contrasts. Houston started James Harden and Howard at shooting guard and center, respectively. Philadelphia rolled out James Anderson and Henry Sims, respectively.
When Thaddeus Young hazarded a drive to the basket in the first quarter, with the Sixers already trailing by nine, he was blocked and knocked to the floor by Houston's powerful center. As Young lay dazed on the opposite baseline, the Rockets scored again to take a 28-17 lead. To imagine what the Sixers would be reduced to if he'd stayed down, or been traded at the deadline, is to contemplate a deep darkness. Young left the game, then returned, but it made little difference. The band marched on.
By the fourth quarter, with the outcome long since decided, the Sixers stuck to their rotations while the Houston starters laughed on the bench and tossed T-shirts into the stands. A buzzer sounded and history was made, or tied at least.
Sixers coach Brett Brown was philosophical after the loss. He's been very philosophical lately.
"We move on. We're on a different path," Brown told reporters. "We see this whole thing through a far different lens."
Through this looking glass, what the Sixers see is a bright future, a roster stockpiled with the raw talent, the megawatt star power to rival any organization in the association. Michael Carter-Williams, wreaking havoc as a 6-foot-6 floor general with smarts and instincts. Nerlens Noel as the elite rim protector. A 2014 lottery pick lighting up the scoreboards while an arena of fans clad in his jerseys roar until they're so hoarse they have to call out of work the next morning. And titles, definitely titles.
But first things first. The Sixers still have to lose a bunch of basketball games, get good draft picks and use them judiciously. Phase one, so far, is going swimmingly for Philly.
"We've been very transparent from day one that we were trying to grow something and build something," Brown said postgame. "The short-term pain, which we hope will produce a long-term gain, we think will fade to a distant memory in September."
It can't anymore, coach. The 2013-14 Philadelphia 76ers now belong to the record books.
Dimes past: March 9 | 10 | 11 | 12 | 13 | 16 | 17 | 18 | 19 | 20 | 23 | 24 | 25 | 26
2. Around the Association
3. Thursday's Best
Harden
James Harden, Rockets: The Sixers had every reason to fear the beard Thursday night in Houston, as Harden poured in 26 points, 10 rebounds and 10 assists for his second career triple-double. He did all of his damage in only 31 minutes of action, sitting the entire fourth quarter.
4. Thursday's Worst
Streaking Sixers: With their loss to the Rockets, the 76ers matched the NBA record for most consecutive losses, tying the 2010-11 Cavaliers' mark of 26 straight defeats. Philly will try to avoid owning the record outright on Saturday when the Pistons come to town.
6. Tweet Of The Night
@russwest44 you my homie and all but I got Florida tonight. Don't get in your feeling either. CUPCAKE

— Kendrick Perkins (@KendrickPerkins) March 28, 2014
7. Quote Of The Night
"We are on a different path. We see this whole thing through a far different lens."
-- Sixers coach Brett Brown, on his team's 26th straight loss Thursday night in Houston.
8. Back To Business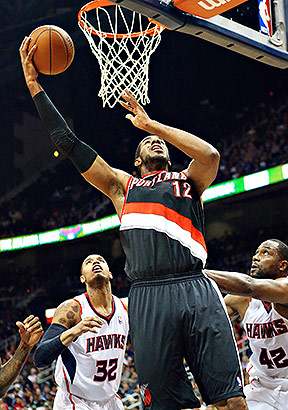 AP Photo/Curtis ComptonReturning to the court after missing seven games with a back injury, LaMarcus Aldridge lifted Portland with 25 points and 16 rebounds in a win over Atlanta.
9. Stat Check
During their 26-game losing streak, the 76ers have led in the fourth quarter for all of 20 seconds. Those were the first 20 seconds of the fourth quarter against the Orlando Magic on March 2.