1. Pop's Culture Lays Groundwork For No. 19
By
Andrew McNeill
| TrueHoop Network
SAN ANTONIO -- Gregg Popovich doesn't care much for records, accolades and things of that nature. The San Antonio Spurs picked up their 19th consecutive win by beating the Golden State Warriors 111-90 on Wednesday night, continuing a franchise-record streak. The Spurs also logged their 31st straight home victory over the Warriors. Despite those milestones, Popovich would rather focus on the teachable moments.
"Strings, records, they don't mean anything," Popovich said before the game. "What we care about each game is how well we play.
"And if that's your goal and your focus, usually that will bring more wins than losses, considering everything else to be equal."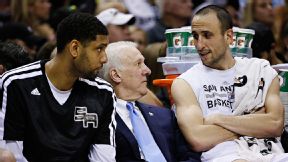 Soobum Im/USA TODAY SportsThe core of the Spurs, including coach Gregg Popovich, Tim Duncan and Manu Ginobili, has helped LeBron James grow, the Cavs' star says.
Facing a Warriors team on the second night of a back-to-back and without big men Andrew Bogut and David Lee, and defensive force Andre Iguodala, the Spurs relentlessly attacked Golden State inside. San Antonio finished with 52 points in the paint and shot 53 percent from the field, despite hitting just 4 of 19 3-point attempts.
"It wasn't a fair fight," Popovich said later.
Golden State started 35-year-old Jermaine O'Neal at center, but O'Neal -- who played 33 minutes on Tuesday night in the win over Dallas -- logged just more than four minutes of action in the first quarter before sitting out the rest of the contest.
"He could've played," Warriors coach Mark Jackson said after the game. "We're just being smart."
With O'Neal out, and Marreese Speights and Hilton Armstrong the only other Warriors taller than 6-foot-8 available, Tim Duncan scored 12 points on 6-for-7 shooting in the first quarter. Meanwhile, San Antonio's guards drove to the rim with little in the way of a deterrents. The Spurs hit 12 of 18 shots inside the arc in the first quarter.
"We were aggressive the entire night. The 3s didn't drop, but I thought we got inside pretty well," Popovich said.
After falling behind by 19 points early in the third quarter, Golden State chipped away at the Spurs' lead and got it down to seven points with 4:30 remaining in the period. From there, the Spurs reeled off a 20-2 run spanning the end of the third and beginning of the fourth quarter to make the score 94-69 and take any wind out of the sails of a Golden State comeback.
"We knew they were going to fight and claw back; they're a playoff team," Spurs big man Jeff Ayres said. "This is the type of thing we have to get ready for come playoff time. Teams aren't going to just let you run them over."
It was the type of run that has been all too common during San Antonio's 19-game winning streak.
While there may not have been a lot in the way of talking points for Popovich, he can't argue much with the results his team is seeing.
The Spurs' last loss came on Feb. 21 at the Phoenix Suns. The following game, Kawhi Leonard returned to the lineup from a broken hand and San Antonio kicked into gear. Over the past 19 games, the Spurs have outscored their opponents by 16.2 points per 100 possessions and held opponents to less than 43 percent shooting from the floor.
Austin Daye, who was traded to the Spurs from the Toronto Raptors for Nando de Colo on deadline day has seen just one loss in his tenure with the silver and black.
"We've always used these regular-season 82 games to turn our team into the kind of team we want it to be. We've done just that, added some pieces, but incorporated them really well and our system's working," Duncan said.
Along the way, the Spurs picked up their 50th win of the regular season, the 15th straight season San Antonio has achieved that milestone.
These are heights that so few teams in the league's storied history have matched, but they are not the type of details that give Popovich any noticeable sense of accomplishment. The chips will fall as they may, and Popovich will be there to make sure his team learns from it.
Andrew McNeill's work appears regularly on 48 Minutes Of Hell, part of the TrueHoop Network
Dimes past: March 17 | 18 | 19 | 20 | 23 | 24 | 25 | 26 | 27 | 30 | 31 | April 1
2. Around the Association
3. Wednesday's Best
Faried
Kenneth Faried, Nuggets: Limited to 27 minutes by foul trouble, The Manimal made every minute count. Faried went 14-of-19 from the field, registering a career-high 34 points, 13 rebounds and three blocked shots to lead the Denver Nuggets to a 137-107 win over the New Orleans Pelicans.
4. Wednesday's Worst
Randolph
Zach Randolph, Grizzlies: Z-Bo had just four points on 1-for-8 shooting and Memphis lost to Minnesota 102-88 in a game that Memphis coach Dave Joerger called a must-win before tipoff. Now the Grizzlies, Suns and Mavs are in a three-way tie for the last two Western Conference playoff spots.
7. Quote Of The Night
"There's no way in hell we're going to try and lose games to match up against anybody."
-- Bulls center Joakim Noah, on whether it would be better for his team to lose to get a better playoff matchup.
8. Kyrie's Back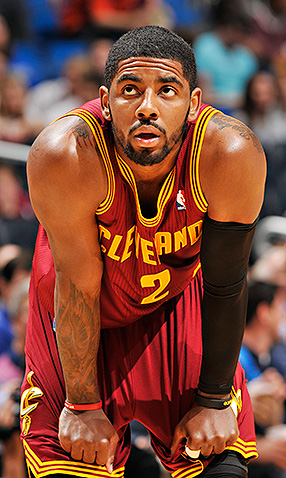 Fernando Medina/NBAE/Getty ImagesKyrie Irving returned after missing the last eight games with a torn bicep muscle. The Cavs' All-Star had 17 points, eight assists and six rebounds in a 119-98 win over Orlando.
9. Stat Check
The San Antonio Spurs beat the Golden State Warriors 111-90 on Wednesday night. It's the Spurs 31st consecutive home win against the Warriors, the second-longest team-versus-team home winning streak in NBA history. The Los Angeles Lakers won 43 consecutive home games against the Sacramento Kings from 1975 to 1992. The Warriors' last victory in San Antonio was on Valentine's Day in 1997, during Gregg Popovich's rookie season as an NBA head coach.