1. Sweep Finish: Mason Plumlee's Surprise Swat
MIAMI -- Paul Pierce was appalled when he saw Mason Plumlee smiling in the corner of the locker room as he basked in the warmth of a few of the finest moments of his basketball life.
"Get the towels, I need some wings and get the bags!" Pierce shouted at him. "You done changed, haven't you? They don't make rooks like they used to!"
Deron Williams, icing his ankles across the room, smiled and sang, "I'm the man, I'm the man, I'm the man" as he laughed at Plumlee's discomfort as the center of attention.
Just minutes before, Plumlee was flexing and screaming while lording over LeBron James on James' own turf, but now he couldn't help but blush as his teammates continued to give him the standard rookie treatment.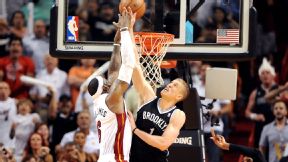 Robert Duyos/Sun Sentinel/MCT via Getty ImagesMason Plumlee ensured that Brooklyn did not taste defeat this season from Miami.
After all that, Plumlee told some truths and told some lies about what was a memorable and endlessly intriguing Brooklyn Nets' 88-87 win over the Miami Heat on Tuesday night.
The young center from Duke had the game-winning basket and the game-winning block in the final minute, his midair meeting with James with two seconds left surely being the basis for thousands of arguments the next few days.
After a great pass from Rashard Lewis, which will be lost in the clutter, James took off for what he thought was going to be a game-winning dunk and/or a foul that would've sent him to the line to win or tie.
Plumlee caught him, getting the ball and then James' right hand. That part is not very debatable. Whether or not it was a foul, of course, is. Official Brent Barnaky, a younger referee currently in his fourth season, was behind the play and didn't have the greatest view. He did not make a call -- in fact, he literally backed away from the action.
Veteran ref Scott Foster, who is in his 20th year and is such a strong official that he worked three Finals games last season, had the best angle and also made no call.
"Really, my initial thought was just foul him and make him earn it at the free throw line," Plumlee said. "But I didn't foul him, and I don't think he would say it was a foul, either."
That would be an incorrect assumption for Mr. Plumlee.
"It was a foul," James said flatly.
So, to put it mildly, it was disputed.
Let's consider a few things not in dispute.
Foster is not afraid to make any call or not make any call in any situation in any arena on any player in the league. And he did not make a call. If the league could've put any official in that position, Foster probably would be one of the two or three referees they would choose.
In the new era of the league publicly announcing reviews on the officials recently ushered in by commissioner Adam Silver, if it was deemed an error was made, after frame-by-frame replays and forensic examination of the rule book, it may be announced. Or not.
Here's another truth: The overwhelming majority of the time a superstar on his home floor in front of a screaming crowd goes head-to-head with a generally unheralded rookie, a four-time Most Valuable Player will get that call. But James did not.
Now yet another truth: There were several vital calls in the game's final two minutes that could've easily swung the game in different directions. Plumlee had a crucial block on a Chris Bosh shot with two minutes left and the Heat up by a point that sure looked like a goaltend. But 40 seconds before the James non-call, Plumlee looked like he got body-checked by Mario Chalmers on a layup that ultimately gave the Nets their winning points and there was no whistle for a potential three-point play.
"I didn't think that was a foul, either," Plumlee said of that one. "So I thought the refs called a great end of game."
That's probably a white lie from the rookie, but no big deal. In tightly contested games late in the season and playoffs, there are often numerous borderline calls that go both ways. There will be many, many more before mid-June.
Bottom line, the Nets are 4-0 against the Heat this season with three one-point wins and one game that the Nets won in double overtime after James fouled out. Come to think of it, whenever James is accused of getting too much star treatment by the league's officials, he could just put forth the dossier from these regular-season Nets games as a defense.
Of course, quite often James does get a friendly whistle. But it doesn't happen all the time, which does have the pleasant side effect of keeping everything nice and interesting.
When the Heat simmer down from this loss, there are a few things they should be considering beyond the fact that the Nets are the first team to beat them four times in the regular season since the Big Three was formed in 2010.
Since Jan. 1, which is a nice date for timeline purposes but legitimate because that's when the Nets made lineup changes that turned around their season, Brooklyn is now 33-13. The Heat over that same span are 29-16. The Indiana Pacers, who will be discussed further in a moment, are 28-20. The Toronto Raptors are 31-17 and the Chicago Bulls are 33-14.
As an aside here, consider the current No. 3 seed Raptors are 39-20 since they traded Rudy Gay on Dec. 8 in a deal that looked like it was a rebuilding move.
The Bulls are an amazing 31-14 since they traded team mainstay Luol Deng on Jan. 7 in salary-cap move.
This explains how the Nets, despite being the best team in the Eastern Conference over the past three-plus months, are stuck in the No. 5 seed and likely won't have home court at all in the playoffs.
These are not small sample sizes. This is more than half the season, and it speaks plenty. Since March 1, the Nets are 17-5, while the Heat are 12-9 and the Pacers are 9-12. The Bulls and Raptors are both 13-6 in that span. The Charlotte Bobcats are 12-7. Point being, assuming the East playoffs are going to be boring might be mistaken thinking.
Hours before the Heat played the Nets, up in Indianapolis Pacers coach Frank Vogel announced he might rest his players over the final four games of the season in a move that sure sounded like the Pacers were raising the white flag on the No. 1 seed after what has been a miserable six or so weeks of play.
Vogel might want to reconsider that now that the Heat's lead in the loss column is down to one game. Miami plays a tough back-to-back Wednesday in Memphis against the desperate and more rested Grizzlies team, and Dwyane Wade is still questionable with a hamstring strain after missing another game Tuesday.
Meanwhile, the Pacers play in Miami on Friday and they already have the tiebreaker, setting the stage for a final meaningful regular-season clash for the two contenders -- who actually have the fourth- and fifth-best records in their conference in 2014.
What does it all mean? As he walked out of AmericanAirlines Arena for what he hopes is not the last time this season, Pierce called on his many years of experience and explained all of it simply and succinctly.
He already told it to the rookie who had the big night and would tell it to anyone who would listen.
"It doesn't matter if we beat the Heat four times in the regular season, what matters is what happens in the playoffs. When I was with Boston, we beat them three times every year in the regular season and they beat us out two years in a row," Pierce said.
"The seedings can change any given minute -- we don't know, first round, second round, third round. But we know if we're going to try to win the championship this year, we're probably going to have to go through Miami."
Dimes past: March 20 | 23 | 24 | 25 | 26 | 27 | 30 | 31 | April 1 | 2 | 3 | 6 | 7
ESPN Senior Writer
ESPN.com NBA writer since 2010
Covered Cleveland Cavs for seven years
Author of two books
2. Around the Association
3. Tuesday's Best
Rubio
Ricky Rubio, Wolves: If Rubio can hit the net with the accuracy he hits teammates with passes, look out. Rubio made a career-high 10 field goals in 17 attempts and scored nine points on 4-for-5 shooting in the first quarter, his 23 points helping the Wolves to a 110-92 win over the Spurs.
4. Tuesday's Worst
McCallum
Ray McCallum, Kings: After some strong games running the point, the Kings guard's 3-for-14 shooting performance in a 107-92 loss to OKC marked his third straight ironman game with errant shooting. He's now 9-for-40 (22.5 percent) over the Kings' past three games, all losses.
6. Tweet Of The Night
Congrats to the Great @SteveNash on passing me on the All Time Assist list! I'm Honored!! God Bless #4

— Mark Jackson (@MarkJackson13) April 9, 2014
7. Quote Of The Night
"He still got to come in here and carry the bags and get the towels."
-- Nets forward Paul Pierce, on whether Mason Plumlee earned a night off from rookie duties.
8. Dirk Nowitzki's Top 10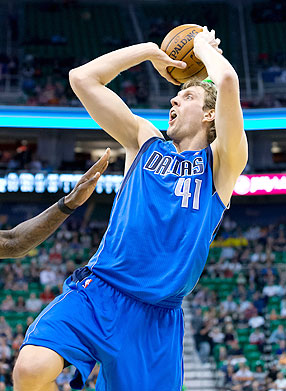 Russ Isabella/USA TODAY SportsDirk Nowitzki scored 21 points in Dallas' win over Utah, lifting him into 10th place on the all-time scoring list, passing Oscar Robertson.
9. Stat Check
The Brooklyn Nets swept four games against the Miami Heat this season. It is the first time a LeBron James team was swept in a season series of four or more games.
Only three teams have ever won the NBA title after being swept 4-0 by single team during the regular season -- the 1988-89 Detroit Pistons (swept by the New York Knicks), the 1994-95 Houston Rockets (swept by both the Seattle SuperSonics and Los Angeles Lakers) and the 2000-01 Lakers (swept by the SuperSonics).
Three of the Nets' wins were by one point. The last team to beat the same opponent by one point three times in the same season: 1979-80 Phoenix Suns over Portland Trail Blazers.