1. All Together Now: Thunder Back In Tune
LOS ANGELES -- This was the flashback lineup, which was a good thing for the Oklahoma City Thunder. Maybe it's a flash forward, which would be even better for them.
The Thunder had their customary starters intact for the first time in more than three months in their playoff-like (and playoff-seed-solidifying) 107-101 victory over the Los Angeles Clippers, and served up a reminder that they deserve more than a mere mention in the championship conversation. Thunder coach Scott Brooks seemed so happy about it he kept the starters in down the stretch as well, scrapping his old rotation -- or at least the one we'd grown accustomed to.
"It's been so long," Brooks said. "We knew that this day would come, that everybody would be together."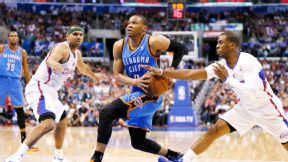 AP Photo/Danny Moloshok
Before Wednesday night, the last time Oklahoma City started Kevin Durant, Russell Westbrook, Thabo Seflosha, Kendrick Perkins and Serge Ibaka was Dec. 25. Remember Christmas Day? A blowout over the New York Knicks in Madison Square Garden gave Oklahoma City a 23-5 record, tied for the best in the NBA.
Then Westbrook had his right knee scoped, keeping him out of action for almost two months. That was followed by injuries to Sefolosha and Perkins (17 missed games apiece). The Thunder went 6-5 in February, as San Antonio began its surge to the top of the Western Conference and Durant couldn't keep up the supergalactic 36 points per game he averaged in January and reverted to merely stellar.
It could have been worse. The two other teams tied with OKC on Christmas Day: the Indiana Pacers and Portland Trail Blazers. That fact alone should remind Oklahoma City fans that even though the Thunder couldn't hold that pace, at least they didn't drop off as drastically as the Pacers and Trail Blazers. And Wednesday night's reunion of that starting five should remind them just how dangerous the Thunder could be in the playoffs.
Sefolosha and Perkins average only 10 points -- combined. But, man, the defensive impact. How many other lineups could get away with switching a guard onto Blake Griffin without it resulting in a dunk for Griffin? But Sefolosha wound up on Griffin during an early Clippers possession and Griffin never even got the ball. Oklahoma City's length turned J.J. Redick from a shooter into a playmaker; when he did manage to elude Sefolosha he wound up having to contend with the likes of Durant and Ibaka. Redick finished with eight assists, but shot only 1-for-7 from the field.
The Thunder were staunch defenders of the rim, fully aware that dunks are the accelerant that the Clippers use to burn down the house. They contested everything near the hoop, fouling if they had to, keeping Lob City from enjoying its first slam until Chris Paul threw a lob to DeAndre Jordan with 4 minutes, 10 seconds left in the second quarter.
"That's [Jordan's] way of getting going," Perkins said. "In the first quarter he was invisible. Then he gets a couple of dunks, he kinds of gets going a little bit. Now he's talking on defense. But if you take away them dunks, he kind of fades away."
Jordan and the Clippers never faded away completely, managed to make Oklahoma City sweat out what had been a 17-point lead.
But like Kentucky against Connecticut in the NCAA championship game, the Clippers never found the one play to get them over the top, while the Thunder kept providing answers.
Paul and Blake Griffin missed fourth-quarter free throws. Meanwhile, Ibaka kept coming up with plays, materializing from nowhere to terminate what appeared to be an open Chris Paul drive to the hoop, or fighting through a screen to get a piece of Redick's last-gasp 3-pointer. Westbrook had a vicious putback slam, in addition to a key offensive rebound born of sheer aggression.
"We made the championship-type plays," Durant said. "Rebounding the basketball, Serge contesting the shot. That's what wins you games. Where we're trying to go, that's what you've got to do to win the big games."
The Thunder players raved about their communication on defense, how everyone knew where on the floor they were supposed to be and made the right rotations, something that came back to them instantly despite all the time off. It's a lineup we've seen so often since Perkins came from Boston in 2011, a lineup that had been mostly injury-free until Westbrook went down in the playoffs last year. But all the habits, tendencies and knowledge built up over all those games are still there.
For instance, "I know that if I see Serge out of the corner of my eye, I'm going to let my guy take a tough shot," Sefolosha said. "I'm not going to reach in or anything like that. He's probably going to go get that [ball]. It's small things, but after a while, it helps."
The small things add up. Durant mentioned "championship-type." I wondered, having been so close to it in 2012, what he saw in this group that made him think they can do it.
"We have the talent, we have the coaching staff, we have the experience," Durant said. "Guys that [have] won championships, been in the Finals. So it's just a matter of us doing the small things. And tonight, I think we did the small things. We got on the floor, we rebounded, we made big plays down the stretch. We played defense. The shot wasn't there sometimes but we made up for it by our hustle plays. If you do that you give yourself a chance.
"I don't know what it feels like to win a championship, but I know what it feels like not to win. The small, detail things we have to do in order for us to win basketball games night-in and night-out. We did that tonight."
They're back together. And they're very much in the hunt for a championship.
Dimes past: March 20 | 23 | 24 | 25 | 26 | 27 | 30 | 31 | April 1 | 2 | 3 | 6 | 7 | 8
ESPN Senior Writer
ESPN.com senior writer since 2007
Around The Horn panelist
Formerly at Los Angeles Times
2. Around the Association
3. Wednesday's Best
Westbrook
Russell Westbrook, Thunder: Westbrook had 30 points, 11 rebounds and a huge putback dunk that helped the Thunder fend off the Clippers 107-101 in a possible playoff preview. Westbrook, who has missed 34 games this season with a variety of injuries, had sat out two of the previous three games.
4. Wednesday's Worst
Ariza
Trevor Ariza, Wizards: Laid low by the flu, Ariza spent 39 miserable minutes on the court of the 94-88 overtime loss to Charlotte, missing all six of his shots as the Wizards dropped to the No. 7 East seed.
7. Quote Of The Night
"The way we play right now, we ain't going to beat anybody, including Milwaukee."
-- Wizards center Marcin Gortat, whose team lost to Charlotte and fell to the No. 7 seed.
8. Bears Of Triumph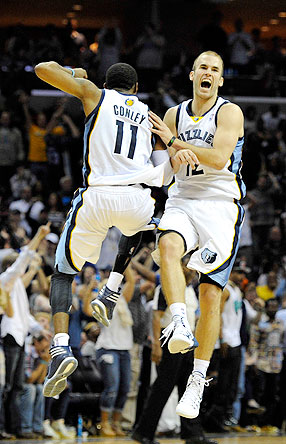 Justin Ford-USA TODAY SportsMike Conley and Nick Calathes helped the Grizzlies beat the Heat and stay in contention for a West playoff spot.
9. Stat Check
With all five of the Indiana Pacers' starters watching from the bench, Chris Copeland hit a tiebreaking layup with 1.2 seconds remaining to give Indiana a 104-102 victory in Milwaukee. That was the first time in Copeland's two seasons that he even attempted a potential go-ahead field goal in the final 10 seconds of a game. The last Pacers player before Copeland to make a game-winning shot in the final 10 seconds of regulation was George Hill in November 2012 against the Lakers.
Roy Hibbert, Paul George, Lance Stephenson, George Hill and David West have played more time on-court together this season -- precisely 1,432 minutes, 21.6 seconds -- than has any other five-man unit in the NBA. In fact, only four other teams (the Trail Blazers, Timberwolves, Mavericks and Warriors) have used a particular five-man unit on-court together for even half as much time as the Pacers' quintet has logged.