1. Pacers Find Themselves Back In Charge
INDIANAPOLIS -- It was one of those moments where the father stepped to the forefront, raised his voice and Paul George knew he had to listen.
George, isolated on the wing, drove toward the baseline only to have the ball stripped away by Oklahoma City's Kevin Durant. George got the ball back and was ready to go at Durant again when David West yelled, "Paul, easy!" with plenty of bass in his voice.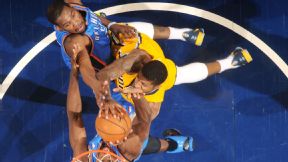 Ron Hoskins/NBAE via Getty ImagesPaul George listened to sound advice, finding it wise to not always challenge OKC straight on.
This wasn't the time to be trying to one up Durant. The picture was much bigger for the Indiana Pacers.
The top seed, something that didn't seem imaginable at times over the past few weeks, was sitting there for the Pacers.
Getting ahead of themselves is exactly why the Pacers didn't lock up the No. 1 seed in the Eastern Conference weeks ago.
George pulled the ball back out, swung it to West, who made a 17-foot jumper.
Patience. Execution. Discipline.
The Pacers didn't always do those things Sunday afternoon against the Thunder, but they did just enough to move their magic number to clinching home-court advantage throughout the East playoffs to one game with a 102-97 victory. A Heat loss in either of their final two games or a Pacers victory at Orlando on Wednesday will give Indiana the No. 1 seed.
Hard to imagine that after the way the Pacers have played over the past month, huh? "We're just trying to put together good basketball at this point and hopefully carry momentum into the playoffs, being positive and upbeat about where we are," West said.
The talk of being the No. 1 seed has died down from the Pacers after they spent the majority of the season discussing it with anybody who would listen.
Coach Frank Vogel brought it to his team's attention days before their March 31 game against the San Antonio Spurs.
The Pacers had become too distracted reading their own clips, watching themselves on the highlights and believing stepping on the court would be good enough for them. Success went to their heads, and for a team that got to this point playing with a purpose, that was the worst thing that could happen to them.
Center Roy Hibbert looked around, noticing how teams like the Heat, Thunder and Spurs went about their business. It didn't take long for him to realize the Pacers didn't have that same professional approach.
"Most of us have never been in that position before," West said. "Since I've gotten here and most of the guys, with the exception of Evan [Turner], everybody is sort of under-drafted, not drafted or simply passed over. Everybody's attitude has been with the underdog mind-frame.
"Then you get out front, nobody doubts you because you have a five-game lead and everybody is pumping you up. I don't think we handled that the best. Only way you can deal with it is to go through it and experience it. That's what we've done."
Indiana is at its best doing the little things, even if that meant staying silent about its goals: defending the pick-and-roll, talking on defense, moving the ball and having fun playing with each other again.
West, the backbone of the Pacers' locker room, made the defensive play of the game when he sniffed out Oklahoma City's inbounds play, left his man and blocked Durant's 3-pointer to maintain their three-point lead with 57.8 seconds left.
"[The Thunder] run that play, called elevator action, two bigs try to squeeze the shooter and [West] is one of the best at switching out at [this] in the game," Vogel said. "Switched out and made a big block."
Lance Stephenson grabbed the loose ball after West's block and had a chance to drive to the basket, but West held up his hand, similar to the way he did to George in the third quarter, to tell Stephenson to hold up. Vogel called a 20-second timeout to set up a play. Stephenson, defended by Durant on the wing, hit a 3-pointer to put the Pacers up six with 34.2 seconds left.
Stephenson then turned into an entertainer. He ran back down court, slapped hands with Vogel along the sideline and turned toward the sold-out Bankers Life Fieldhouse crowd to get them excited.
Stephenson resorted back to his early-season ways of being the facilitator, scorer and rebounder for the Pacers.
He recorded his league-leading fifth triple-double -- 17 points, 11 assists and 10 rebounds -- in 41 minutes.
"That was Lance wanting to take over the game," Vogel said. "Nothing to do with me. It worked. Lance is a big part of who we are. We have to make sure he's playing the right way, playing within himself. ... He's a big part of our personality, big part of our edge. A fan favorite with good reason."
It would be foolish to say the Pacers have turned the corner because they still turned the ball over 23 times and they're still 9-13 since March 4.
But they're also a game away from locking up the top seed in the East playoffs, something they often talked about for the past 10 months.
"We should have [stopped talking] from the beginning," George said. "We should want that goal still and be confident about embracing the goal. But it was putting the pressure on us."
Dimes past: March 20 | 23 | 24 | 25 | 26 | 27 | 30 | 31 | April 1 | 2 | 3 | 6 | 7 | 8 | 9 | 10
ESPN Staff Writer
Previously worked at Indianapolis Star, covering the Indiana Pacers for nine seasons
Also covered Vikings for St. Paul Pioneer Press
2. Around the Association
3. Sunday's Best
Curry
Stephen Curry, Warriors: His season-high 47 points were not enough in a 119-117 overtime loss in Portland. He made 16 of 29 shots, including 7 of 14 3-point attempts. According to ESPN Stats & Info, 26 of his points came on pull-up jump shots. He leads the league with 10.8 points on pull-up jump shots this season, according to the NBA player tracking data.
4. Sunday's Worst
Martin
Kevin Martin, Wolves: If the former King wanted to show his old team what they're missing out on, consider this mission not accomplished. He returned after missing five games with foot problems and proceeded to miss all eight shots en route to a goose egg in the Wolves' 106-103 loss to the Kings.
6. Tweet Of The Night
Joel Embiid sitting court side at Lakers game. Scouting report: tall. He looks the full 7 feet, and then some

— J.A. Adande (@jadande) April 14, 2014
7. Quote Of The Night
"On paper we might be the best team in the league. We've got great players on this team who accomplished so much. We just couldn't put it together."
-- Amar'e Stoudemire, on his his Knicks, which currently stand 35-45, good for ninth in the East
8. Stephen Curry Unleashed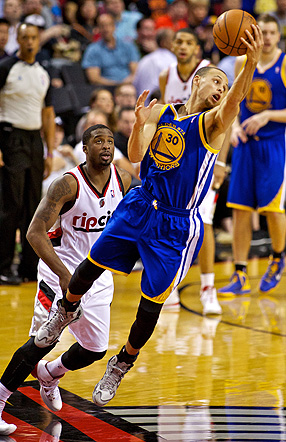 Craig Mitchelldyer/USA TODAY SportsStephen Curry's season-high 47 points were not enough in Golden State's 119-117 overtime loss in Portland. He made 16 of 29 shots, including 7 of 14 3-point attempts. The Warriors still have two chances to reach 50 wins for the first time since 1993-94.
9. Stat Check
Lance Stephenson had 17 points, 11 assists and 10 rebounds on Sunday for his league-leading fifth triple-double of the season. Stephenson is the first player in Pacers history with 5 triple-doubles in a season.